As with all things Donald Trump, it's hard to get real numbers regarding his business activities or properties. But as his political positions become more combative and derogatory, it now appears there's a trend showing that his properties and products are being impacted. Consumers it seems are voting before the election, and casting their vote with their hard earned cash.
Trump it seems is no longer the aspirational brand for the strivers and hopeful moguls.
A prime example can be found in hotel bookings.
Looking at reservations placed through Chipmunk researchers saw bookings drop a massive 59% compared with Q1 of 2015 last. The hotel suffering the most is in New York: Trump SoHo is down 74%, Vegas 71%, Toronto 47%, Chicago 31%, and Atlantic City 17%. It turns out that customers who have to spend $500 a night on a Trump Hotel room may not be fans of Trump's often contentious political statements.
Meeting planner Timothy Arnold told Fortune.com: he's seeing the same thing. "I have sourced Trump hotels for many meetings, but have not booked one since Donald Trump threw his hat in the ring for president," he said.
There's a pragmatic reason for steering clear of a Trump hotel, he adds. "The majority of my clients feel that booking one of his hotels would be too polarizing right now, potentially driving away a good portion of their members," he says. "There is clear concern about driving away attendees who are or might be against his bigotry, racism, xenophobia, and intolerance."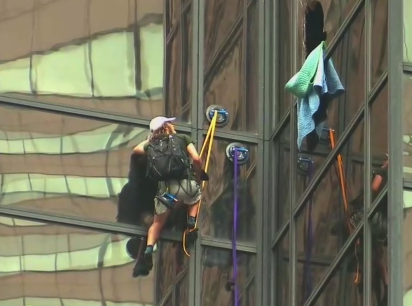 Trump Hotels, the hotel management company, says it won't release any occupancy data.
So is this downturn just effecting Trump's hotels, or is hitting his brand more broadly?
The real estate brokerage firm Redfin conducted a survey and found that condos with the Trump name are no longer get a market boost. "Our study carefully controlled for many factors in order to compare Trump-branded condos to other luxurious homes to ensure we were not comparing apples to oranges," Nela Richardson, chief economist at Redfin, told Luxury Daily. "We did, in fact, find that there was a Trump premium prior to his campaign and that it vanished in the first five months of 2016."
And broadcaster Keith Olbermann may be the most public face of this emerging excusdus.
Olbermann penned an OpEd for the WashingtonPost titled: "I can't stand to live in a Trump building anymore"
"Okay, Donnie, you win. I'm moving out.
Not moving out of the country -- not yet anyway. I'm merely moving out of one of New York's many buildings slathered in equal portions with gratuitous gold and the name "Trump." Nine largely happy years with an excellent staff and an excellent reputation (until recently, anyway) -- but I'm out of here."
He published it on March 8th, put his Trump Condo on the market, and announced the sale of it - at a loss - on July 19th. #MakeAmericaWorthTenPercentLessAgain," Olbermann tweeted. The luxury three-bedroom, 2.5 bathroom apartment on the 40th floor of Trump Palace sold for $3.9 million, about 7% less than what he paid for it.
He also made a real estate prediction: "Now that I've escaped, I can report to you that the market in NYC @RealDonaldTrump apartments is in free fall #TitanicsWithMortgages."
What's happening to other Trump branded businesses?
Trump-branded steak, Trump Magazine, the Trump airline, Trump Wine, Trump University, Golf Courses (The Trump Organization currently owns seven golf courses in the United States) and Trump Water.
That data is hard to come by, but reporters are certainly looking to see if the can spot a trend.
Calling all HuffPost superfans!
Sign up for membership to become a founding member and help shape HuffPost's next chapter