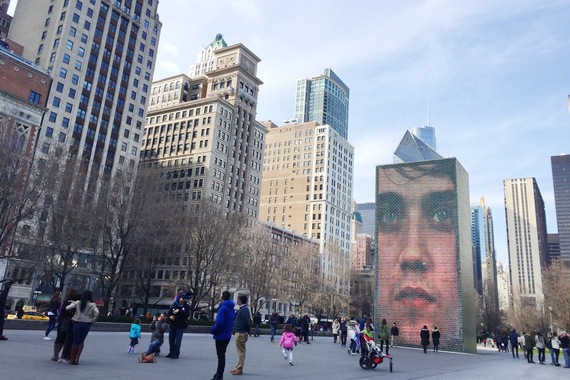 And then, just like that, I'm moving to Chicago.
I know. Crazy. But it really wasn't "just like that." This move began a long time ago.
LA was my first home. It's where my mom grew up. It's where I was born. She didn't want to raise a family in the city so my sister and I grew up in the suburbs. But my mom would drive us to LA to visit family and all the things she still loved about the city that was her first home too.
I think that's when I caught the urban bug, the desire to be surrounded by art and theatre and old parks with fountains. I wanted to be where everything moves fast. I wanted to move fast too.
My first memory of LA is the murals along the 101 Freeway in Downtown. I loved coming to the city. I'd see the skyscrapers growing in the distance and lean forward in the car to get closer to them. I wanted to hug them, to leap into their laps and shout, I'm here! As if, LA were waiting for me. Once I spotted those murals, I knew I was home.
First chance I got I left suburbia and moved to Los Angeles. UCLA was far enough from home that I felt independent, cosmopolitan, and worldly, though Mom and Dad were only an hour away. Yet, once LA became familiar, I wanted more city. I wanted more tall buildings to wrap around me. More funk, more salty scenery, more life. I traveled and fell in love with San Francisco, Paris, London, and New York. I'd have taken any of them.
The urge to leave the familiar behind and explore the laps of other cities was so strong I jumped when opportunities to move arose. When a friend in New York needed a new roommate I promised to be there in two months. That same friend decided a few weeks later Manhattan was too expensive and moved back to LA. When I applied to Teach For America, I ranked urban areas all over the country ahead of LA - Boston, Baltimore, Washington DC - only to be placed in the Los Angeles Unified School District. A few years later, I thought grad school might get me out of Southern California. Yet, the only schools that accepted me were right here in my own back yard.
Of course, I didn't need an invitation to move and find adventure in a new city. I could have picked up and moved for no reason at all. I could have said, "Seattle sounds nice," and then packed my bags and be off. But I didn't. Over time, LA became comfortable and moving without a reason or a support system in place felt too gosh darn scary.
I've always been a little bit disappointed with myself for not taking that leap. It felt like the real "me," the person I hoped to become, lived in a far away city. If I could only move there, I'd find her. I still marvel at those who come to LA (or move anyplace for that matter) with little more than a dream and some cajones.
I talked myself into being okay with right here, right now. And anyway, I always imagined Los Angeles would be my happily-ever-after home, the place I'd throw down roots after all the great adventures of my youth were over. And I love it here. And I have a family now.
And then one day, my husband says to me, "I want to apply to grad school." All but one was in California.
It's funny because this is exactly what I wanted... when I was 22. Life is like that. Giving you what you want a decade and a half after you asked for it.
Here's the thing, I could have loaded up all my belongings in my tiny car years ago and drove into the sunrise with my gaze set firmly on finding the person I hoped I'd become. And on the other side of the highway there would have been a girl exactly like me headed west with the same hopes sitting in the seat beside her.
We always think the thing we're searching for is far, far away. We'll find it stomping around barefoot in an Italian fountain or sipping sake under neon lights. The thing we're looking for seems too exotic or romantic to be found in the familiar.
And this is the part that really makes my head flip. Sure, I was too scared to move away from LA when I was younger. But I think I wasn't meant to move away. The work I needed to do was here. Everything unfolded exactly as it was supposed to. All the jobs, all the boyfriends, all the adventures happened here. Now I realize all that heart-thumping for other cities was just preparing me to be okay with this move - the one I am meant to make with my husband and my kid. It turns out the person I hoped to become was right here in LA.
And yeah, as humans we're always evolving. So, I'm not done yet. The next chapter is happening in Chicago. There is this other person I'll become. But I won't have to go far to find her.

This blog post was originally published on WritingInBold.com, where you can find more writing by Jazmine Aluma.