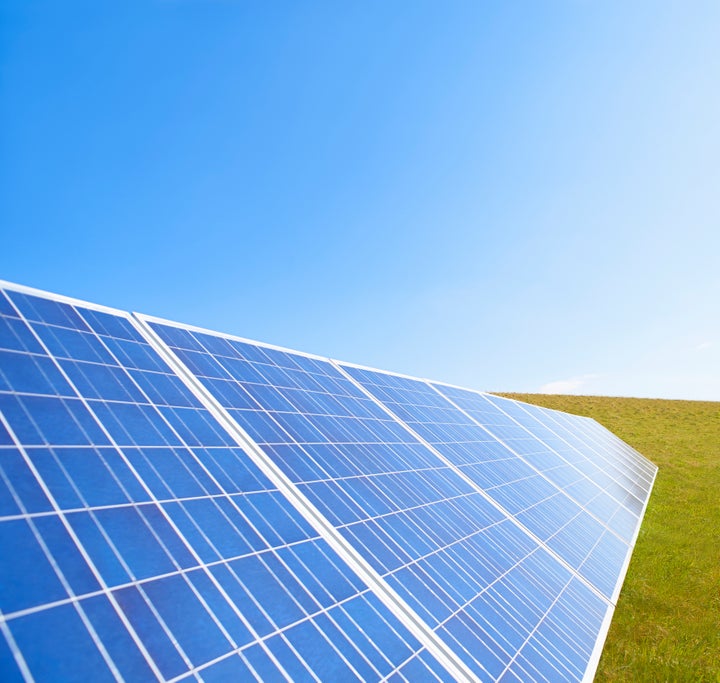 Efficiency is an interesting concept when you talk about renewable energy. Mostly, it's meaningless except as input to a more useful economic discussion.
Efficiency is a much greater factor for non-renewable energy sources because they have to pay for their fuel. Renewable sources don't. The wind blows and the sun shines regardless of whether anyone puts up a solar or wind farm to capture it. The wind and sun are free resources.
Efficiency is explicitly a measurement of how much of a given resource's energy potential gets turned into electricity. With solar panels, this is around 20%, but the 80% isn't an expensive waste.
And 20% isn't that bad actually. Car engines only turn about 20% of the energy in gas into movement, with the rest being waste heat. Coal plants achieve from 33% to 40% efficiency in the best cases, with the rest being just wasted heat. Combined cycle gas plants, where the heat is used in addition to the mechanical energy to generate electricity manage to make it up to about 54% efficiency.
But all of those fossil fuel sources are paying for 100% of the fuel, and the negative externalities of the fuel are from 100% of it. In fact, CO2 emissions are two to three times the mass of the fuel inputs, so it's arguable that we are paying for 300% of the fuel but only getting 20% to 50% out of it.
Wind energy, coincidentally, has a theoretical maximum efficiency of 59.3%, known as the Betz' Limit. The best wind turbines reach about 95% of that, which is pretty awesome, but still isn't that much different from a combined cycle gas plant. The wind is still free, however.
Solar and wind have another factor which is important for economics. While the wind and sun are free, they don't blow all the time and aren't always blowing or shining hard enough to make the wind farms and solar panels generate electricity at maximum potential. Over the course of a year, the ratio of actually generated electricity to potential maximum electricity is called the capacity factor.
For solar, the capacity factor ranges from 15% to 25% depending on where you are located and whether the panels follow the sun on (more expensive) trackers or not. For modern wind farms, capacity factors range from 40% onshore to 77% one year for the best offshore site. And now the very flexible wind and solar farms are sometimes curtailed because the much less flexible nuclear and other baseload forms of generation can't be turned down quickly even though they often have much worse economics in many cases.
But even there, lots of legacy forms of generation have lower capacity factors. Nuclear is high at 90% because it can't actually run at less than that capacity factor and pay for itself. Coal in the USA was at 60% or so a decade ago, but now it's at 50% for the country because wind, solar and gas are cheaper so it can't compete. Many gas plants are at 10% simply because they only turn them on to provide peak power at highest profit.
So wind and solar don't have to be efficient, they just have to run enough over the course of time to pay for their capital costs. Their marginal operating costs are dirt cheap, much cheaper than coal and gas plants.
Efficiency being a problem is overrated.
This question originally appeared on Quora - the place to gain and share knowledge, empowering people to learn from others and better understand the world. You can follow Quora on Twitter, Facebook, and Google+. More questions:
Related
Popular in the Community