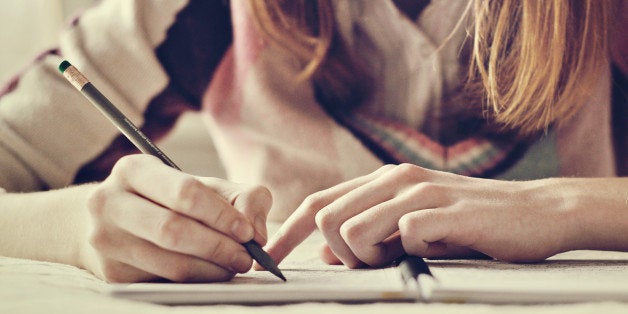 More students are applying to more schools, leaving a small window for completing all those essays and applications on time, especially in the madness of senior year schoolwork. With more writing and less time to complete it all before early and regular decision deadlines, is it wise for students to build some essay-writing time into their summer breaks?
The simple answer: Yes, rising seniors should get a head start on their applications this summer.
The college admissions process is competitive, with almost a third of students applying to seven or more schools. For those looking to apply to selective institutions, it's necessary to get a head start. Colleges know this, starting a trend of releasing essay prompts before applications actually open, allowing students the chance to start on their essays in the summer months.
Even the Common Application has given students a sneak peek at the 2014-15 essay prompts, months ahead of its Aug. 1 open date.
Getting a head start doesn't mean students need to be ready to hit "submit" by the end of July (although some schools will allow students to!) By brainstorming essay topics and working on essays now, seniors will already have a leg up on applications before they start the school year, alleviating stress and the overwhelming workload that comes with balancing senior year academics and applications in the fall.
Here's why rising high school seniors should be working on their applications now:
More time. Time is the biggest factor here. Great college essays don't come together overnight; they take time to polish. By giving themselves ample time to work on their essays this summer and fall, students can get a bulk of the drafting out the way before the first day of school, relieving some of the pressure of the application process. Also, starting in the summertime preempts competing academic responsibilities and distractions, allowing students the opportunity to focus and create quality work.
The early (decision) bird gets the worm. By deciding to apply to a college early decision or early action, not only are students making a commitment to the college, but also to an earlier application deadline. By starting essays early, they'll have plenty of time to brainstorm, write, revise, and complete the application well ahead of any October or November deadlines. This will result in quality essays that can enhance their chances of admission, instead of coming across as rushed and unpolished.
Less work this school year. Perhaps one of the biggest benefits of starting on college applications during the summer is the promise of a lighter workload during senior year. Chances are students are already taking challenging courses their last year in high school, and the added commitment of several essays and applications can cause immense pressure and even hurt academic performance. Fall semester grades are important to admissions officers; they want to make sure students are prepared for a college workload. Declining grades as a result of spending more time on college applications rather than academic work can backfire and hurt their chances of admission. Not to mention some colleges will even rescind acceptances if they see a drop in grades after the fact. By planning ahead and starting early, students can reduce stress and have a happier and more productive fall semester.

More opportunities for meaningful feedback from counselors and teachers. Good feedback is crucial to improving college admissions essays, but it can be hard to get when fighting for one counselor's attention during the peak of the application season. Students should have a draft or two of their essays ready for counselors to review at the beginning of the school year, when they're less likely to be overwhelmed with other students' work. By getting a head start on the feedback process, students will beat the essay edit rush, and counselors will have more time to spend reviewing individual essays and providing helpful feedback.
It's an exciting time for rising seniors as they prepare for their last year of high school and the college admissions process this fall. They should enjoy the rest of their summer break, but also spend some time working on the essays they know they'll be submitting with their applications. Getting a head start is crucial to a successful application process, and it will make senior year a little easier!
Calling all HuffPost superfans!
Sign up for membership to become a founding member and help shape HuffPost's next chapter