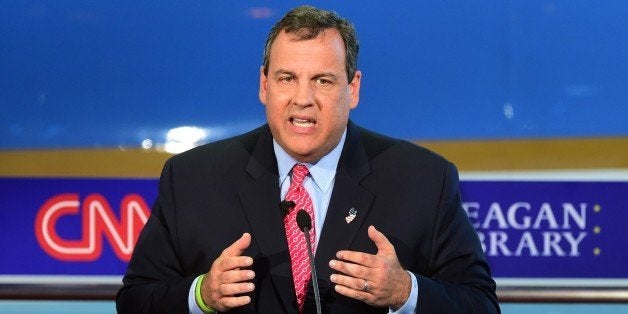 On September 22, news broke that governor and U.S. presidential candidate Chris Christie had given General Michael Cunniff, the leader of New Jersey's 9,000+ national guardsmen, a weighty ultimatum. The general had 90 days to slim down -- or he would face dismissal.
As it turns out, General Cunniff did not meet the military's basic combat-readiness criteria, and the governor was the one who had to issue the command.
In response, Cunniff said: "Many people struggle with weight control -- I am not immune from this."
The irony, of course, is that Governor Christie himself has had his own share of weight struggles. In fact, in 2013, the governor had surgery -- known as a gastric band procedure -- to close off a section of his stomach. At the time, experts believed he weighed in at more than 400 pounds.
Many people pointed the obvious finger at Governor Christie, accusing him of hypocrisy.
But I think these people missed the whole point.
Whatever you think of their politics or positions, there is no doubt that both Governor Christie and General Cunniff are smart, motivated, successful men.
And therein lies the powerful enigma of obesity.
More than two-thirds of all Americans are overweight. And right now, more than 108 million Americans are on a diet. The average dieter makes four or five attempts each year. And less than one percent of these attempts actually result in long-term weight loss.
We hear these statistics all the time, but I think we've become numb to what they're actually telling us. Is there any other sphere of endeavor where so many people try so hard with so little success? What would we think if fewer than 1 percent of people who enrolled in college ever graduated, while the other 99 percent spent billions dropping out and re-enrolling four or five times each year?
Many of life's problems can be solved by an onslaught of intelligence, ambition, motivation, and perseverance. But for the vast majority of people, that just isn't true for weight. So clearly our approach and commonsense understanding are flawed.
The fact is that, for most people, lasting weight loss takes a lot more than willpower or desire. According to recent research, it takes a fresh understanding of how the brain interacts with food.
Dr. Susan Peirce Thompson is a tenured psychology professor with a Ph.D. in Brain and Cognitive Sciences. For 16 years she struggled under a torturous relationship with food. She dieted again and again, only to watch her weight balloon back up. She was clinically depressed, and, in her darkest hours, would lie in the fetal position and weep for a solution.
Finally in 2003, Dr. Thompson's cognitive studies put her in the path of the answers she'd been seeking. She shrank from obese to slender in six months and today she's among the top .01 percent of successful weight loss maintainers.
Now Dr. Thompson has created a program called Bright Line Eating to share what she's learned about how the brain blocks weight loss and so far the results are promising. She reports that for the first 1,000 graduates, her program was three times more effective and seven times faster than Weight Watchers.
I asked Dr. Thompson if she had any insight into why Governor Christie and General Cunniff might be struggling to lose weight, despite intense scrutiny from the public and the threat to the viability of their future careers, not to mention their health.
I don't know them, of course, but my guess is that they're both really high on the Susceptibility Scale. That's the scale that measures how susceptible someone is to the addictive properties of refined foods. They're not alone. Research shows that one-third of people are high on the Susceptibility Scale. It makes it nearly impossible to lose weight unless you understand what you're up against. If you're low on the Susceptibility Scale, indulging in a craving makes it go away. But if you're highly susceptible, indulging just makes the craving stronger.
In evolutionary terms, Dr. Thompson explained to me, being highly susceptible was a good thing. But today we're surrounded by cues to eat foods that have been refined to affect our brains exactly the same way as drugs do. We have a food industry that spends tens of billions of dollars every year marketing highly processed, highly sweetened, and highly addictive foods. In this context, being susceptible is seriously dangerous.
We live in a society that, all-too-often, blames overweight people for their suffering -- as if they lacked willpower. But, according to Dr. Thompson, the problem isn't at all a deficiency of willpower. The problem is that some of us are highly susceptible to food addiction -- and have no roadmap to conquer it.
Fortunately, there are answers that can help. And Dr. Susan Peirce Thompson has developed something that appears like it could provide tremendous help to a lot of people.
Perhaps even Governor Christie and General Cunniff.
Popular in the Community