On a recent Friday night, I attended a Galentine's party. I stopped to pick up heart-shaped cookies from a local bakery along the way. I had baked some of my own the night before, but they came out of the oven not edible in the slightest, so I had to throw them out. Turns out, mixing different types of gluten-free flour takes practice.
On my way to the party, I stepped my dark brown combat boots into a giant pile of slush. I wondered if maybe I should turn back around and call it a night. It hasn't been just my baking that has gone wrong lately. I hadn't been out in awhile, and I was feeling distant from my relationships. As I continued on my way to Galentine's, I told myself I didn't have to stay long if I didn't want to.
It wasn't until later that I welcomed the slush, seeing it as a piece of a winter where every snowfall has become a symbol of Heaven's pursuit of the restoration of purity in my life. Every time I embrace the mess, I am covered in clarity once more.
When I arrived at the party, I recognized a few sweet, young women I know from past volunteer projects. When the hostess of the party served me a drink, a pang of nervousness filled me like a passenger in a cab after the driver has slammed on the brakes. I asked her what was in it. I haven't consumed alcohol outside of a glass of wine once or twice in the course of close to three years.
"Oh, it's so good," she told me. "Just a lovely little mixture." I forget what the rest of her explanation was, but since it didn't seem to include alcohol, I inhaled and took a sip of the (delicious) fruity seltzer drink. I exhaled, sat down and started cutting out paper hearts.
Earlier that week, I had my eighth grade literacy students write down 10 things they know to be true. It was supposed to be an exercise in the poetry of life lessons. I borrowed this lesson from Sarah Kay, a spoken word poet I love listening to for writing and teaching inspiration. My student asked me if it was OK if she put something on our list about drinking. Her question put me in a professional mode that only gave a hint of my personal reaction to her question.
I said, "Since the drinking age is 21, I cannot let you write about drinking for this assignment." Another eighth grader said the drinking age should be lowered and the class laughed. I said that that I thought it shouldn't be. I explained how the brains of teens are not fully developed and how impairment from alcohol can lead to dangerous situations like automobile accidents. The realities of addiction swirled in my head. Then my inner artist, self-expression cheerleader side felt bad for cracking down on the truth my student wanted to express. I found myself asking her what exactly she wanted to write about drinking.
She hesitated, probably wondering if she could be 100 percent honest with me. I waited, and she shrugged, saying she wanted to write, "drinking is fun." I asked her why and she said that it makes you forget about your problems. I let her know that I wanted to explore this truth further with her as the Saturday writing program continued for the year. I inhaled and told the class a half-truth.
"You know what?" I said. "Drinking is fun."
It's time for the whole truth now.
I wish I had replaced "is" with "seems." Drinking seems fun. It seems even more so when you consider the popularity of the quote that is often attributed to Marilyn Monroe: "Nothing lasts forever. So live it up, drink it down, laugh it off, avoid the drama, take chances and never have regrets because at one point you wanted it."
That quote was on at least 75 percent of the Facebook profiles of my college peers. The quote's meaning permeated the actions of many around me -- myself included. I once used a fake ID to buy liquor for a chance to "live it up." Perhaps that quote would be super-imposed on a widely circulated photo of a group of girlfriends dancing in a circle at a bar or party. The message was so obvious. You had to be drinking to be having the time of your life. The message was clear, but the reality was murky. What exactly does "living it up" even mean? It's time young people ask themselves that question.
What I want to explain to my 13-year-old student is that there are far too many things that cannot be wrapped up in the bow of "hey, at one point you wanted it." My drinking days included a slew of horrible memories, some of which were emotionally excruciating. I was not even in touch with what I truly wanted. I wanted to be known and loved, to have access to my destiny and be truly connected with God and others.
The truth was that I was often so disconnected from others that I needed a substance between myself and the world so we could have something in common. Even though I wasn't aware of what my true desires were, I would try to meet the needs of my soul through the sometimes shallow and empty nature of getting drunk. It is painful to constantly consume when you know deep down you were born to create. It's a slow death for a spirit to have a mindless conversation about beer pong when you want to exchange experiences, ideas and passions.
I know deep connections can start off with simple chatter. There's always room for depth and there is pleasure in bonding over light things as well. It's just that I've grown to see my body and life as a story and right now, we're at the rising action. It's a story that started with the intense yearning for possibilities outside of my imagination. It's the human story of desiring more. Alcohol is not a supporting character in this story. It is no longer the path to soothe my longings, nor is it the chosen manufactured conflict in the overall plot of life.
The funny thing is some of my friends from my partying days assumed that when I moved to New York, I got all religious and don't drink anymore because of the Bible or something. I get it. That's the narrative we're used to hearing. It's not my narrative, though.
The truth is I actually stopped drinking almost a year before I reconnected with the God I used to be so close with in my early teenage years. Since I drifted spiritually, the lifestyle I had didn't match up with the one I wanted so I changed. The advice remains. Eat, drink (or not!) and be merry yet (I'm paraphrasing here) do not get drunk (see the above reasons I gave my student) but be filled with the Spirit, the One who makes music with what's in your heart.
Now that I'm back in step with the Lord, I'm reminded that he is the God who turns water into wine. Jesus is a party-starter. I'm the one who has been a little too serious the past few years, but that is changing. I'm learning about what kind of fun I want to have now.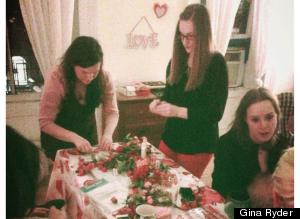 My journey of to having authentic face-to-face connection always takes me to new heights, even if there are some lows in-between. As my night at the Galentine's party continued, I made a crown for my hair out of flowers and craft wire at a station in the center of the party. I love art projects and I loved the way I naturally made my way to the table to create something. I left that night with the crown on my head and a huge smile on my face. Spring is near. Making flower headbands and paper hearts with girlfriends is fun. This is what I know to be true.
REAL LIFE. REAL NEWS. REAL VOICES.
Help us tell more of the stories that matter from voices that too often remain unheard.