 Over the past twenty years, student debt has risen rapidly and now totals $1.3 trillion, the second largest category of consumer debt. With the rise in student debt, and the deep recession, defaults and delinquencies had also increased sharply, though over the past couple of years, they have stabilized and started to fall modestly. That's why for the last seven years, President Obama has worked hard to make college more affordable and student debt more manageable. Investments in education typically have high returns, and it's essential to address the challenges of student debt, so that all Americans can gain the economic benefits of higher education, while minimizing the risks like failing to complete a degree, receiving a low-quality education, and finding a job with low earnings. A new report by the Council of Economic Advisers brings new data to bear to better understand the nature of these challenges.
First, and most importantly, we must understand the benefits of the education financed through student loans. Higher education is one of the most important investments individuals can make for themselves and for our economy, with bachelor's degree recipients typically earning $500,000 more in present value over their lifetime compared to high school graduates. Given the economic benefits of a college degree, more and more students have chosen to attend college; much of the rise in total student debt stems from more students attending college and also a rise in the number of lower-income students attending college and financing their education through loans. While student loans in some sectors do present meaningful concerns, on average, the additional earnings from a college degree far exceed the amount of debt students borrow for a degree, which averaged $20,300 for all students or $29,400 for students with debt (in 2012).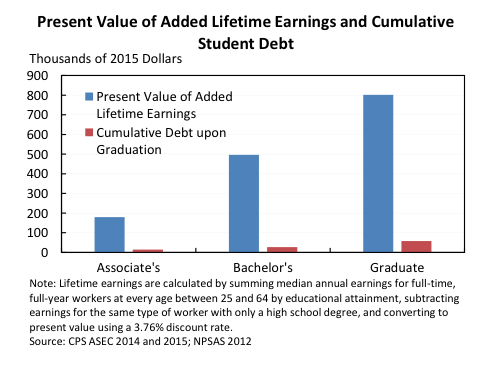 It is also important to understand which factors put students most at risk for default. Although much attention has been paid to some cases of students with very large loan balances, in general these large loan balances are incurred when paying for graduate school--an investment that generally leaves people able to repay the loans with their additional earnings. In fact, the highest rates of student loan default occur among students with the smallest amounts of debt. That's because students with lower amounts of debt are much less likely to have completed, having left school before paying for the full cost of a degree. Completing a degree substantially raises the likelihood of finding a well-paying job and successfully repaying student loans--which is why the President has been so focused on college completion.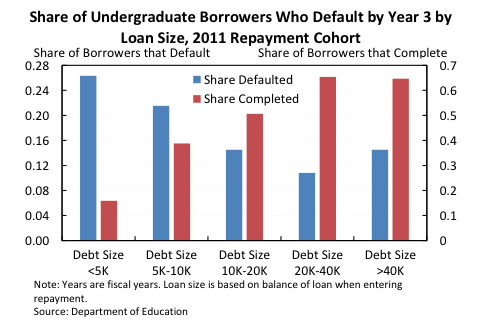 At the same time, some students who rack up high debt face real challenges, especially in cases where they receive a low-quality education that does not prepare them for their futures and careers. Students who attend for-profit colleges, come from low-income backgrounds, or attend college part-time typically face greater challenges in repaying student loans. That's why it's particularly important to help students choose a high-quality college that provides a worthwhile investment. The Department of Education's College Scorecard provides prospective students with clear, accessible, and reliable information on college cost, completion, debt, repayment, and post-college earnings at each school they are considering. New regulations will also cut off federal aid to career college programs that consistently fail accountability standards and proposed regulations would protect borrowers from schools from using deceptive recruitment tactics. And expanded Pell Grants and tax credits for college are helping to make college more affordable, especially for students from lower-income backgrounds.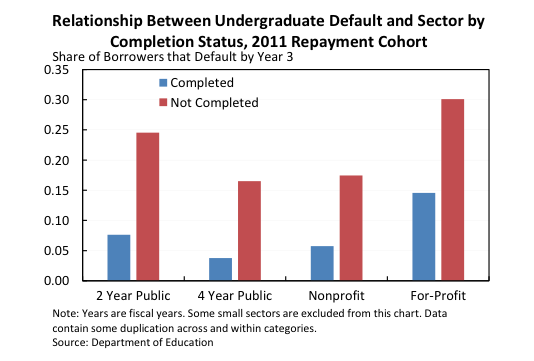 While college has high returns on average, it also comes with risks--with some college graduates doing substantially better while others face greater challenges--making it important to provide safeguards for students. To that end, the Administration has taken steps to help borrowers struggling to repay their loans by creating better repayment options like the Pay as You Earn (PAYE) plan, which caps monthly student loan payments at 10 percent of discretionary income--thus ensuring mechanisms are in place to help borrowers afford and manage federal student loan debt.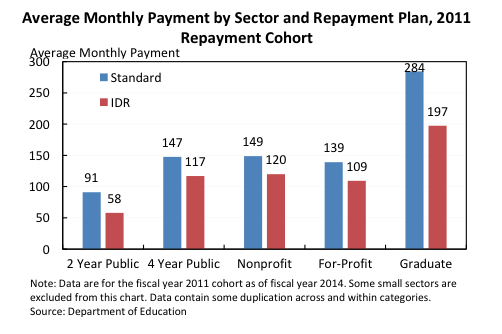 These income driven repayment plans like PAYE better align the timing of loan payments with the timing of earnings benefits by allowing borrowers to make smaller payments early in their careers and to adjust their payments as their earnings grow. PAYE and other plans can also help borrowers stay out of default if they face low earnings or unexpected shocks. Today, about 5 million borrowers are enrolled in PAYE and other income driven repayment plans, though many others could potentially benefit from these smarter repayment plans. The new website can help borrowers decide which repayment plan is right for them.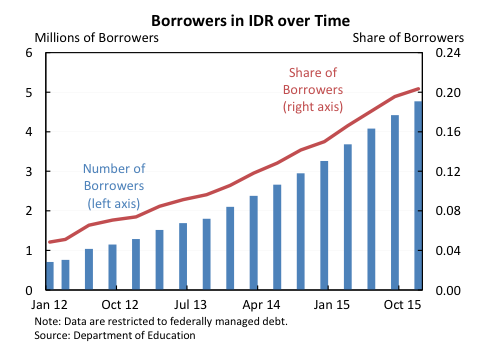 The benefits of investments in college education for both individuals and our overall economy are clear, and last year, federal student loans helped 9 million Americans make investments in their futures. Typically, this investment pays off many times over, but ensuring that this is true for all students remains a challenge and a key priority in the coming years. The Obama Administration has taken many important steps to increase college quality, help more students complete their degrees, ensure that a college education does not mean being saddled with high student debt, and help those struggling with student debt enroll in plans that adjust to their financial situation. But we will continue working to build on this progress so that all Americans can access a high-quality and affordable college education.
Related
Popular in the Community