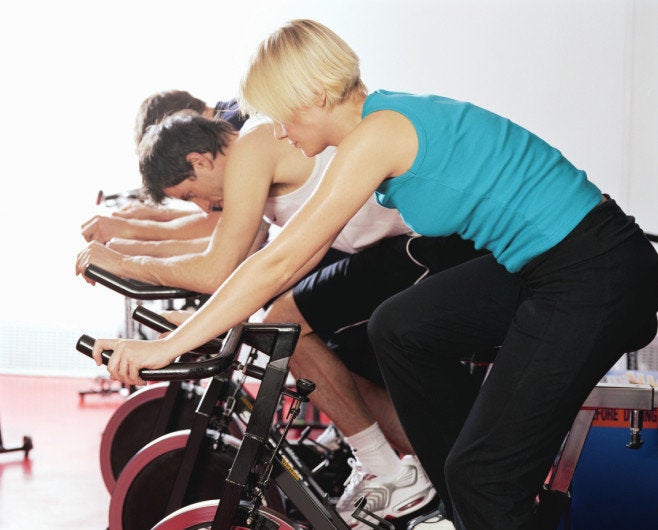 Indoor cycling is an amazing experience. I call it an "experience" because, while its physical benefits are outstanding, indoor cycling has the ability to transcend the physical and have enormous impact on your mental and emotional states.
First, the physical: One of the many attractions of indoor cycling is that people at any fitness level can not only enjoy it, but also benefit greatly from it. People who are in excellent physical shape do it to push themselves to meet new goals, to train for other major sports challenges and competitions, or because they simply love it more than other forms of exercise.
People at the other end of the spectrum appreciate the ability to control their own pace in an environment that encourages them to establish benchmarks and then surpass them when they are ready. This group can get inspired by the fitness gurus in the class without having to feel intimidated by them.
I always enjoy hearing people rave about the amazing workout they get from indoor cycling in general, and specifically from the company I co-founded, Flywheel Sports. Usually, it's when they come out of a class sweaty, exhausted and elated. I hear this from people of every age, shape and personality type. In any given class at Flywheel, you'll find hard-core type-A business sharpies (men and women!), mild-mannered girl-next-door types who let it all out in our dark rooms throbbing with heart thumping, make-you-wanna-dance music and newbies who are checking out the sport for the first time.
But the most rewarding feedback I receive -- personally and professionally -- is from clients whose lives have literally been transformed because of their commitment to indoor cycling. Time and time again, clients reach out to me privately describing the weight they've lost (often 50 or 60 pounds, and sometimes more!) from our programs, and how the whole experience has
changed their lives. They have dramatically improved self-esteem, they're healthier, their friends and family have given them great recognition, and they feel like they belong to a new community of friends at Flywheel. These stories are truly inspirational!
And as great as indoor cycling has been for many years, it still needed a makeover. Enter Flywheel! Two years ago, a small team of people decided that the sport could be greatly enhanced with some fresh thinking. So we sat down and came up with a list of improvements that would re-invigorate the experience. Here are some of the key offerings we hang our helmets on:
1) We created stadium-style seating in which our studios are set up like amphitheaters with curved rows of bikes, each row set on risers so there's no bad seat in the house. This keeps all riders focused on the instructor and makes the room feel cozy.
2) We brought technology to the sport. We have tech packs on our bikes that measure resistance (we call it "torque"), RPMs and power output. This gives riders the ultimate control. While instructors pace the class with recommended targets on these measures, riders use
the recommendations to fit their own needs. With these measures, riders always know how they're doing and can set personal goals. For people who thrive on a little competition, we also have two big screen TVs in the studio that occasionally flash the status of riders who choose to participate. And, for all riders, we offer private performance stats from each ride they take in their accounts on our website.
3) We developed a philosophy of inclusion that we are religious about. We welcome everybody to our workouts. Everybody! In every class we have riders who are new to indoor cycling. Our instructors seek them out and offer personalized set up on their bikes so they can relax, get comfortable and fully enjoy their debut ride.
Whether there's a Flywheel studio near you or not, I encourage indoor cycling. It's simultaneously demanding, thrilling, private, social, and rewarding. And, importantly, it's an exercise regimen that is sustainable over many years. Not just because it's low impact on your joints, but because at a great studio, every ride is fresh, whether it's music that changes,
instructors who teach you something new in each class, fellow riders with whom many participants develop relationships, and the way it makes you feel. A fad? Yeah, like sushi.