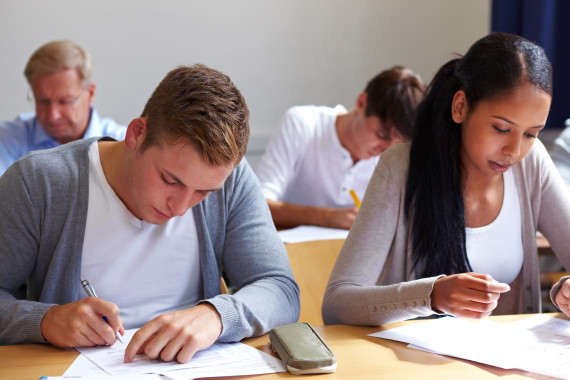 As the Class of 2014 submits the last of their college applications, much of the focus going into the New Year is around who will get in where, and if there will be historically low admissions rates yet again this year.
What most people don't realize is that, while a lot of focus is on anxious seniors, this time of year is the prime test-prep season for underclassmen. October of senior year is usually the most popular date for students to take the ACT or SAT, but often this is a retake.
Ideally, students should start test prep in the spring of their sophomore year in order to be prepared to take the tests in the fall or spring of junior year. By acing standardized tests junior year, students will have more time to focus on college applications come senior year, rather than taking the SAT or ACT again.
Before switching into all-out test-prep mode, families need to understand how standardized test scores factor into the college admissions process, and what to do if a student isn't performing as well as expected on the SAT or ACT.
ACT vs. SAT: Which looks "better" on a college application?
When it comes to deciding which standardized test to take, there is no test that is "better" or held in a higher regard to the other.
How do students know which test is the best-fit? Take multiple, timed practice tests. We advise students to take at least three or four practice exams in order to see what they need to work on, and to get accustomed to the test-taking conditions and time limits.
The ACT consists of four multiple-choice sections (English, Reading, Math and Science) and an optional writing portion. The SAT divides its Math, Writing and Critical Reading topics into multiple sections with a variety of question formats, and also includes an additional experimental section.
By taking practice test, students become familiar with the content and format of each test, enabling them to determine which best suits his or her strengths. Currently, differences lie in content and testing format. For example, the ACT tests on higher-level math than the SAT, but the questions are more straightforward than on the SAT. Also, the SAT tends to be "trickier," with questions worded in a more complicated fashion, and many tend to be logic-based.
How are standardized test scores used when evaluating college applications?
While many students put most of their energy into acing standardized tests, in reality, grades and the rigor of a student's curriculum are the most important factors in a college application.
Standardized test scores are often necessary, but not sufficient for determining admission on their own. Test scores need to be high enough to be in the "Let me think about it," pile instead of the "no" pile. As schools go from an admit rate of 20 percent to 10 percent, it becomes necessary to get an SAT/ACT score within the range of the averages at that school, or certain applications won't even be considered.
That being said, how you perform day in and day out of the classroom over four years is much more important than how you performed for four hours on a Saturday morning, and admissions officers recognize this.
While scores from every SAT test sitting are usually sent to the schools the student designates, students have the option of Score Choice. This means that students can choose which scores by test date they send to colleges (depending on the institution's score-use policy). So if a student does poorly on one sitting, he or she can either cancel the scores within a few days of taking the test (in this case scores will not be reported to the student or any institutions), or choose not to let a school see those scores later by using Score Choice.
However, schools often prefer to look at all scores from all tests, not just the overall or composite score, and some may even calculate a "new" composite score made up of the highest scores from each section, even if they're from different testing dates. This is called "superscoring," and this often helps bump up the score. Different schools have different policies on superscoring and how scores are evaluated, so students should check with the admissions office prior to applying.
My test scores are not the best. What now?
Some students can hit a test-prep wall, and at IvyWise, we advise students not to take a test more than three times, as scores tend to plateau after the third attempt. So what should a student do when he or she has taken the test multiple times, but is still not within his or her goal-score? Today, there are more than 900 test-optional schools -- schools that place less, or no, emphasis on test scores when evaluating college applications.
Those who are worried about bad scores but have good grades can go to FairTest.org for a list of test optional schools, including New York University, Colby College, Franklin and Marshall, University of Texas and Wake Forest University.
Preparing for the ACT or SAT can seem daunting, but with the right plan of action and a firm understanding of how scores will affect a student's application, families can take control of the process and arm their student with the right resources and support.
Popular in the Community