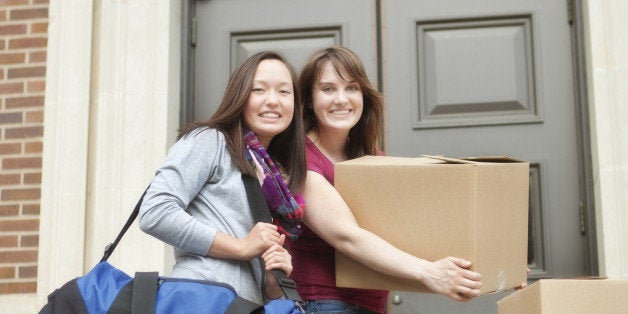 As the fall semester comes to a close, many first-time college students may be having second thoughts about their college of choice. According to the National Association for College Admission Counseling, nearly one third of college students will transfer to another college - some more than once.
For many, the path to avoiding a transfer starts with the initial college search process, by making sure high school seniors apply to a balanced list of best-fit likely, target, and reach colleges - all of which a student would be happy to attend if admitted. This is important because a lot of time and money can be lost in this step if a student does not research colleges well or applies to a school he or she really doesn't like just to have a "backup."
However, other factors can come into play later that can lead a student to consider transferring colleges - and that's okay! The transfer admissions process, while slightly more complicated and sometimes confusing, is still manageable with proper research, planning, and guidance. However, it's a not a task to be taken lightly. Students must really consider all options before investing more time and money into another admissions process.
Why Do You Want to Transfer?
Before filling out any applications, take some time to really consider exactly WHY you want to transfer. Do you want to switch into a major that your current school doesn't offer? Is the campus life different from what you expected? Are you having difficulties with roommates or grades? Are you homesick?
There are a myriad of reasons that students choose to transfer, but it's critical for students to identify the reason or reasons why and first explore options to rectify those problems. Sometimes it just takes some adjusting to college life before you can really feel comfortable. Transferring should only be a last resort after you've exhausted all other solutions.
Identifying why you want to transfer is also important for your new college search. If there's a particular course of study you want to explore, find colleges that offer that major. The same applies for campus life characteristics. If you're struggling at your large campus, search for colleges with a smaller student body. Not only will you be able to find colleges that better match your needs, you'll also be able to effectively articulate your reasons for transferring and how these new institutions meet your goals - an important component of your application essays.
There's a common misconception that if a student doesn't get into his or her top-choice college, he or she can spend a year at a second-choice institution and then transfer after a year. However, for students aiming for a spot in a highly selective college, it's not as easy as it sounds.
For one, many top-tier institutions have such high retention rates that very few spots will open up in a class for a transfer student. Second, at many colleges with already low admission rates, the acceptance rate for transfers can be even lower.
Here are the transfer and overall admit rates for students entering Fall 2013 (the most recent data available):

It's also important to consider that colleges have institutional needs, and many times a college's enrollment model doesn't leave much room for new students to transfer in. Some colleges, like Princeton University, don't offer admission to transfer students at all.
How Transfer Admissions Differs from Regular Admissions
First, deadlines are different. First-year application deadlines are usually January 1, with applicants notified of the school's decision by mid-April. For transfer students, application deadlines are typically in the spring and admission decisions are released over the summer.
Second, your application will be read as a current college student, not a high school senior, so colleges will be looking for different qualities. How did you perform in your college courses? What did your course load look like? Do you know exactly why you want to transfer into this school? Have you demonstrated knowledge of the university and how you plan to contribute to the campus? It's important that even though you plan to transfer, you perform well in your college courses and stay involved with activities that mean a lot to you. Colleges want transfer students who demonstrate maturity and motivation.
In addition, financial aid is often handled differently for incoming transfers than for freshman applicants. Usually this means there is less money available, so if you're dependent on financial aid, find out from each school how the financial aid process works to determine if it makes financial sense to transfer.
Research: Identify three to four colleges that you'd like to attend and thoroughly research each one. Since you've already gone through this process once, you should be able to quickly identify what you're looking for in a college and how that compares to your current experience. Do your due diligence to learn everything you can about these new colleges and what makes them a great fit for you.
Maintain Your GPA and Courses: It's tempting to lose motivation when you've made the decision to leave a college, but don't slack. During your last semester, pick rigorous classes, participate, make good grades, and develop relationships with your professors. You will need a recommendation letter, so the better your professor knows you, the more detailed and compelling his or her recommendation will be. Admissions officers will look at your college transcript, and they will not be inclined to admit a student who spent the last semester taking throw-away classes like Line Dancing 101. Rigor is as important as GPA, so admissions committees want to admit serious students who will excel, and you will not demonstrate that by coasting through your last semester at your current school just to bolster your GPA.
Craft Compelling Essays: Your essays will provide a lot of context to admissions officers, specifically why you think you're a good fit for the college you're applying to and what you hope to accomplish there. Colleges won't admit transfer students without really compelling reasons for the transfer, so be detailed and thoughtful in your essays. This is where your research will really come in handy! While it's easy to point out the negative aspects of your current school, don't write about the things you dislike. Instead, focus on what you like about your current institution, and how that reflects on your decision to apply to the transfer institution.
Calling all HuffPost superfans!
Sign up for membership to become a founding member and help shape HuffPost's next chapter