If you are in sales or you know anyone in sales – the response to this simple question might be….well of course…..it's because I am the best sales person. When they win they assume it's because of their sales prowess or their solution's superior functionality. When they lose, it's all marketing's fault, or they couldn't get a deep enough discount, or the customer just wasn't buying. Whatever the reason, it couldn't possibly be because they failed to actually sell what the customer wanted. The reality is, many salespeople do not take the time to examine or even understand why they won or even lost a deal. They really don't know either way.
I'm a fan of great insights which can help sales people improve performance, so when I found out about a new research project conducted by noted sales researcher Steve W. Martin and sponsored by DiscoverOrg, I wanted to know more. What was great about this study was the participants had to complete an extensive 76-part survey on a variety of subjects to understand their personality tendencies and were asked to provide opinions on real-world sales scenarios. The questions were intended to discover what they like and dislike about different types of salespeople.
I figured the best way to uncover the standout findings was to ask Steve directly. These findings can help salespeople understand how B2B buyers make purchase decisions and how evaluation committees select between vendors
Tell me about this research project - how did you go about analyzing buyer behavior?
The goal of this study was to determine and define the different types of buyer personas. What are buyers' perceptions of the salespeople they meet and how do they ultimately choose between them? To accomplish these goals, over 230 business professionals who evaluate the products and services their companies use participated in this research project. Study participants completed an extensive 76-part survey on a variety of subjects to understand their personality tendencies and were asked to provide opinions on real-world sales scenarios. The questions were intended to discover what they like and dislike about salespeople.
What can we learn from this study for more effective selling?
The most important lesson is to understand how B2B buyers perceive salespeople. Put yourself in the position of the experienced buyer who has met with hundreds of salespeople. What percentage of salespeople would you say are excellent, good, average or poor? The study participants were asked to categorize all of the salespeople they have met into four different categories. Overall, they rated 12% excellent, 23% good, 38% average, and 27% poor.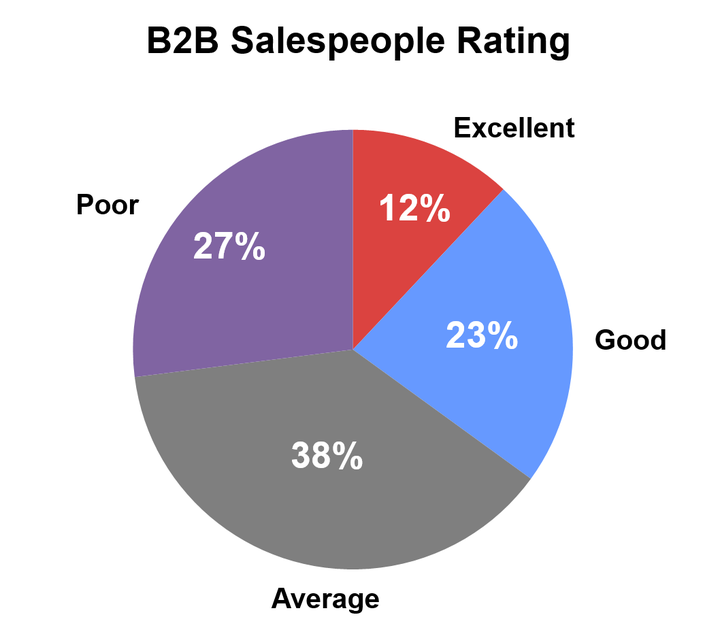 Customers can think of a salesperson as someone who is trying to sell something, a supplier with whom they do business, a strategic partner who is of significant importance to their business, or a trusted advisor whose opinions on business and personal matters are sought out - and listened to. However, just 18% of the salespeople they met over the past year would be classified as trusted advisors whom they respect.
Salespeople frequently meet with lower-level and midlevel employees at companies whose business you're trying to secure, but it's the rare conversations salespeople have with C-level decision makers that directly determine whether they win or lose the deal. Unfortunately, buyers report that fewer than one out of three salespeople can hold an effective conversation with senior executives.
Buyers don't just seek information to aid a strategic decision; they amass information that helps them justify their preconceived ideas of strategic value (gaining a competitive edge, increasing productivity, decreasing costs and risk). Buyers say just over half of salespeople they meet with can clearly explain how their solution impacts the business.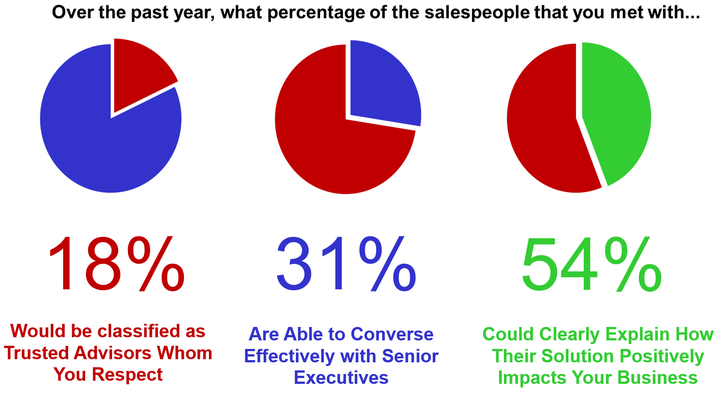 What are the Key Takeaways from the Study?
1. Nearly Every Evaluation Committee has a Single Dominant Decisionmaker
After analyzing hundreds of sales cycles while conducting win-loss analysis for my clients, one finding is that one member of the selection team is able to exert their will and determine the vendor selected. I have coined the term "bully with the juice" for this person. This is not necessarily a negative term, nor does it mean that the person is physically intimidating. It is simply a description of a person who will tenaciously fight for their cause in order to get their way. This person isn't afraid to be politically incorrect or ruffle some feathers to ensure their personal desire is met. Single-handedly, he or she controls the selection process by choosing the vendor and pushing the purchase through the procurement process.
In order to quantify the frequency of when there is a singularly dominant individual, from the buyers' perspective, study participants were asked about their selection committee experiences. Overall, 90% of respondents confirmed that there is always or usually one member of the committee who tries to influence the decision their way.
How often is this individual successful in getting the outcome they want? Eighty-nine percent of participants said most of the time while, 11% selected some of the time. In practice, it can be said that a salesperson doesn't have to win over the entire selection committee - they only have to persuade the dominant person.
2. Salespeople Should Adapt their Approach for Different Types of Buyers
In some sales situations, it is necessary to align with the buyer's thought process in order to win. These buyers are experienced and knowledgeable about their business and technical fields. There are other situations where the buyer's thought process must be transformed and gently shaped over the course of the sales cycle. Finally, just as a doctor must sometimes prescribe a painful treatment to heal a patient, in some sales situations you must control prospective customers to help them.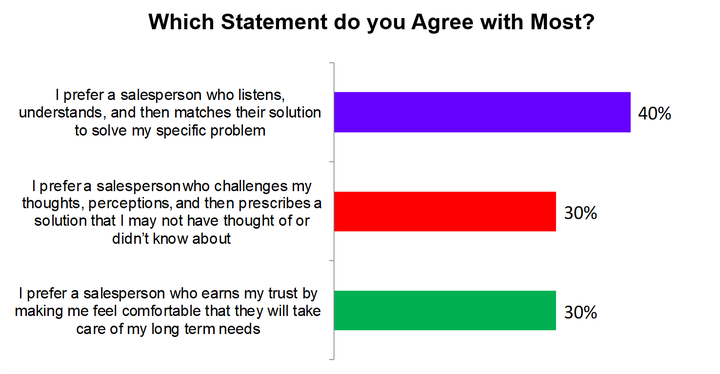 3. The B2B sales cycle is predicated on risk mitigation
B2B buyers are fixated on risk mitigation, because they have been conditioned to be skeptical about salespeople in general. Therefore, they make vendors respond to immense RFPs, complete laborious evaluation spreadsheets, and document each product feature and operation to prove it exists. The goal is risk mitigation and reducing the uncertainty associated with selecting a vendor and making the purchase.
Study results show that the tolerance for risk fluctuates by department. For example, the average risk tolerance rate for IT department buyers was the low at 5%. The average risk tolerance rate for Marketing buyers, on the other hand, was much higher, at 7.1%. It can be inferred from these metrics that these two departments interact with salespeople and analyze vendors in different ways, and with varying levels of due diligence.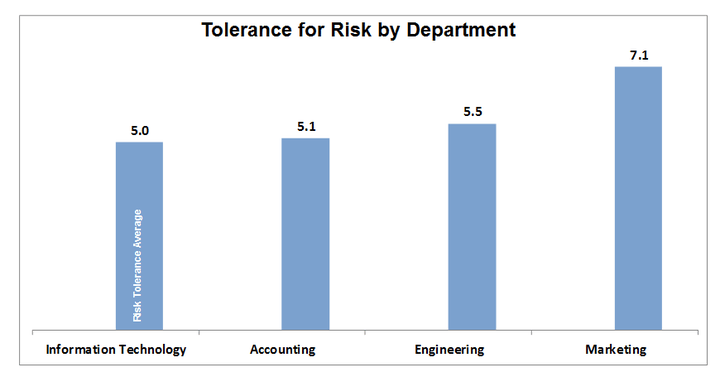 The tolerance for risk also varies greatly by industry. Dynamic, creative, trend-oriented industries such as Fashion, Media, and Real Estate have the highest risk tolerance averages. More conservative, static, process-oriented industries such as Government, Consulting, and Healthcare have the lowest risk tolerance averages. Again, this validates that different industry types interact with salespeople and analyze vendors in different ways with varying levels of due diligence.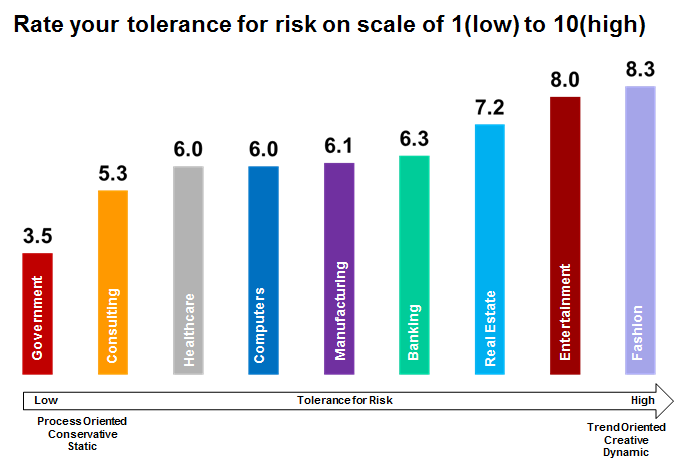 What are your final thoughts on sales success and buyer personas?
When salespeople are asked to describe their own selling style in a single word, frequent answers are "consultative," "strategic," "challenger," and even "lucky." However, it's nearly impossible to categorize a selling style in a single word, since selling styles are usually very dynamic. Your style is greatly influenced by the buyer, the product you sell, how far away you are from your quota, and how much time you have to left to accomplish it. Your selling style at any moment is influenced by your circumstances and a complex combination of instinctive motivation.
Your sales intuition helps you predict the future and instructs you how to react to the present. Most important, your selling style is powered by your heuristic intellect that is constantly learning from all the different buyer personas you meet. My final advice: Always listen to your sales intuition.
If you'd like to see the full study - you can find it here.
Support HuffPost
The Stakes Have Never Been Higher
Related
Popular in the Community