When industrial chemicals that induce workers' deaths and injuries are secretly covered up in the interests of trade secrets then the global model of trade that relies on huge multinational companies and their supply chains is bankrupt.
Samsung is one of the largest and best known companies in the world but no corporate giant can be allowed to operate with disregard for the lives of people.
If you have smart phone, a television, an air-conditioner - then there's a good chance that you have one of Samsung's electronic products. Or you may have one of their life insurance policies, been to one of their theme parks in South Korea or even seen an advert made by their advertising company.
An investigation by the Associated Press has revealed that South Korean officials - at the request of Samsung - withheld information from workers and their families about serious health risks due to chemical exposure.
Campaigners at SHARPS (Supporters for the Health and Rights of People in the Semi-Conductor Industry) have documented that 76 workers have died, and more than 200 cases of "serious illnesses including leukemia, lupus, lymphoma, and multiple sclerosis have been found among former Samsung semiconductor and LCD workers."
Samsung cites its need to protect trade secrets, requesting that the government withhold information about chemical exposure from workers and the public.
If that doesn't shock you enough the fact that South Korean officials are prohibited from withholding corporate information necessary "to protect the lives, physical safety, and health" of individuals, yet say they "fear being sued for sharing data against a company's will," corporate greed is out of control.
And voters don't like it.
In South Korea 77% of people agree that all companies should be make information publicly available to their customers about all contractors and sub-contractors they use.
91% of people in South Korea believe a company is ultimately responsible for and should be held accountable for the actions of their subcontractors, including if they undertake any illegal practices like slavery, forced labour and paying below the minimum wage.
Across Asia the ITUC has accounts of the bullying wrought on workers who are desperate enough to exercise their right to form a union - and as a result they are sacked.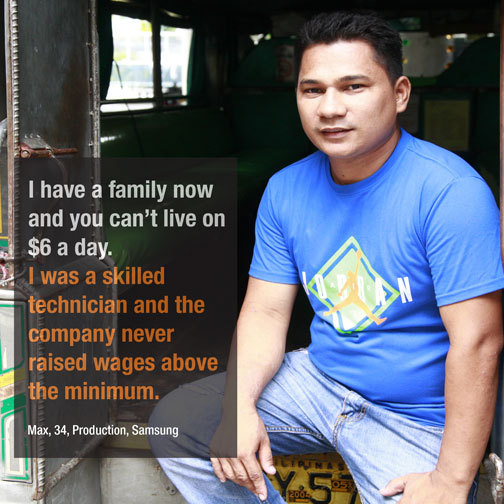 And for contractors in Samsung's supply chains who work with workers in a union there is a contract guillotine - contracts are simply torn up.
Worker testimony reveals accounts of child labour as well as offers of bribes to keep people silent.
Samsung is a huge company accounting for around one fifth of Korea's gross domestic product and its supply chains reach around the world with a predominance in Asia.
ITUC research shows that up to 94% of supply chains workers that multinationals depend on are a hidden workforce: living on poverty wages, and in jobs which are insecure and too often unsafe work for the profits of a company who takes no responsibility.
The model of global supply chains is broken. If the Government of South Korea, a G20 country who sit side by side with world leaders - President Obama, Chancellor Merkel, Prime Minister May - from the 20 largest economies in the world each year, cares less for its workers and denies fundamental right then other governments must act.
Samsung is a business model that has lost its moral compass, based on exploitation and abuse of human rights it its supply chain.
Corporate greed, corporate bullying cannot be tolerated - it's time for a global rule of law to guarantee fair trade, rights, minimum wages on which people can live with dignity and safe a secure work.
Related
Popular in the Community