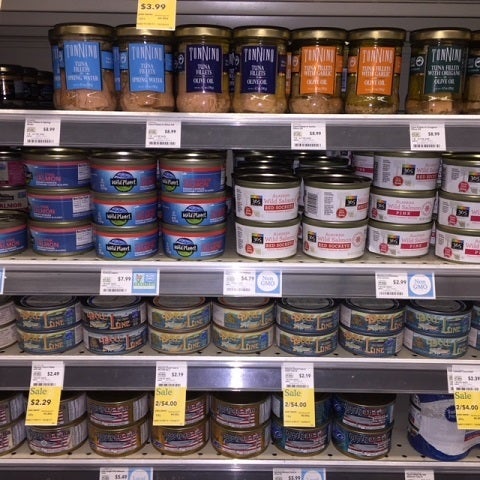 When I was a kid, way back in the rosy-hued halcyon days of post-war middle-class America, canned tuna was a miraculous staple of every kitchen pantry. Tuna-fish sandwiches, as they were called, were a mayonnaise-drenched white-bread-encased mainstay of the lunch-box; tuna noodle casseroles, imbued with canned soup and embellished with crushed potato chips, made regular appearances on dinner tables throughout the land.
If you were going upscale, your brand of choice was Bumblebee; the more frugal choice was Chicken of the Sea – there weren't exactly a whole lot of other options. It never occurred to anyone, really, to question where the tuna came from, or how it was caught, or what was in it. It was a generic foodstuff, an inexpensive protein in a small can, with no conscious correlation to the slippery denizens of the sea found at your local fishmonger.
Fast forward fifty years, and all that has changed, and definitely for the better – better for your palate, your conscience, and your health, and for the health of the planet. Food awareness on many levels has become the norm, with sustainability and environmental awareness as important as affordability and gustatory pleasure. Welcome to the new world of canned and jarred tuna! Here are a few facts and suggestions to help get you up to speed…
Look for the blue MSC label. The Marine Stewardship Council is an international non-profit organization that uses their ecolabel and fishery certification program to recognize and reward sustainable fishing practices, based on scientific methods and measures.
Know your fishing methods. There are some that are acceptable and preferable – that would be pole-and-line harvested and troll-caught – and some that are not, specifically purse-seine and long-line methods. If the tuna container doesn't specify the catch method or display the MSC label, it's most likely that their methods involve the latter, and you should avoid purchasing them. When in doubt, check out the company's website.
Employ Traceability. Believe it or not, the highest-rated products will allow you to track the container of tuna in your hand all the way back to the boat that landed that albacore, skipjack, or yellowfin. This ensures verification of sustainability standards. It might be information coded on the can, or it might be a number on the jar that you can plug in on their website to reveal the exact origins of that specific tuna. Use it – it's fun and informative.
Recommendations. Herewith a few suggestions, from Greenpeace and the Monterey Bay Aquarium Seafood Watch and me: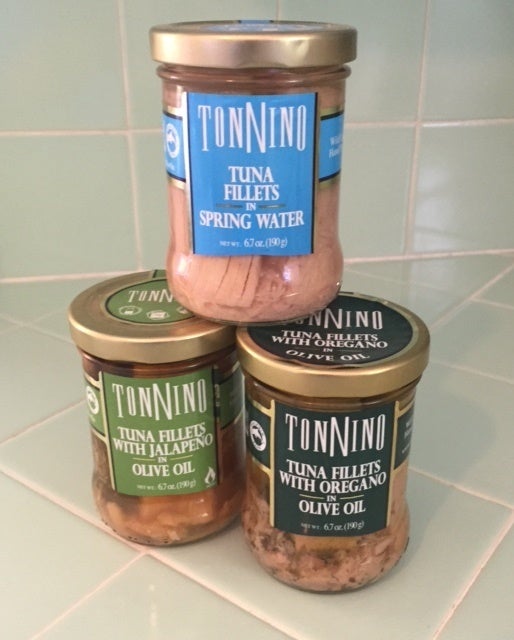 Tonnino. Wild-caught, MSC-certified. Italian style, available in glass jars and cans, 100% yellowfin, hand-packed in pure olive oil or spring water, flavored versions with herbs. Traceability on the website. My personal favorite – delicious stuff.
American Tuna. Completely harvested and processed in America, supporting artisanal fishermen and micro-canneries. MSC-certified, no-waste processing. Hand-filleted and hand-packed premium albacore loins, cooked in the can. Traceability info coded on can. Classic tuna, modern outlook.
Wild Planet. Top-rated by Greenpeace, world-wide harvest. Albacore and skipjack in cans, jars, and pouches. Traceability available to third-party verifiers.
Wild Selections. Bumblebee's sustainable brand, MSC-certified. Portion of sale price donated to World Wildlife Fund marine conservation programs. Albacore and skipjack in olive oil or water. Traceability on the website.
So that's it. Grab yourself a jar or can, find something interesting to do with it, and enjoy, knowing that your choice is helping to protect and sustain our oceans for the next generation and beyond. Toss some onto a salad, stir it into a pasta, or what the heck – go retro and whip up a tuna casserole like Mom used to make. It's all good!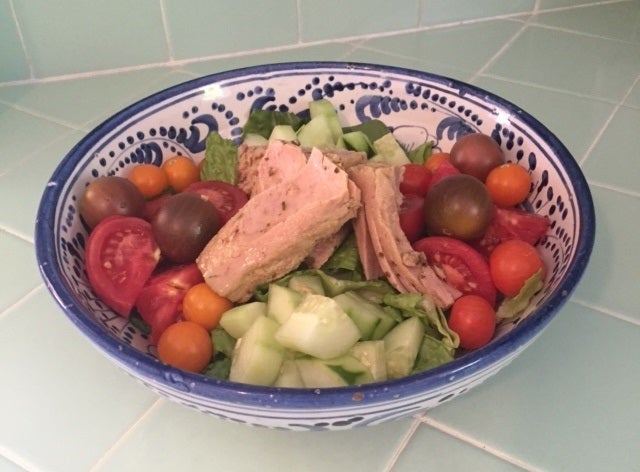 Simple Summer Salad with Herbed Tuna
4 cups shredded hearts of romaine lettuce
Assorted heirloom tomatoes, larger ones in wedges
1 1/2 cups partially-peeled & cubed cucumber
1 jar Tonnino tuna filets with oregano
2 tablespoons fresh Meyer lemon juice
1/3 cup crumbled Valbreso French feta (optional)
Place the romaine in a large serving bowl. Arrange the tomatoes and cucumbers around the sides, top with tuna filets. Drizzle with 2 tablespoons of olive oil from the tuna jar and the lemon juice. Add salt & pepper to taste, garnish with feta if using, and serve.
Serves 2 as a main course, 4 as a side.
1/2 large brown onion, chopped
4 cloves garlic, thinly sliced
1 teaspoon crushed red pepper flakes (or more if you like it spicy!)
1 28-ounce can crushed tomatoes
2 jars Tonnino tuna Ventresca, drained
Grated Locatelli pecorino romano
Heat oil in a large saucepan. Add onions and cook over medium heat until soft and translucent, about 5 minutes. Add garlic, red pepper flakes, and anchovies, stir and cook for a minute or so. Add tomatoes, capers, and salt, bring to a simmer and cook for 20 minutes, stirring often. Add tuna, leaving it in large chunks, and keep warm over low heat.
Cook linguine in a large pot of boiling water until just al dente. Drain and put in large serving bowl, toss with sauce. Pass grated cheese on the side.
Calling all HuffPost superfans!
Sign up for membership to become a founding member and help shape HuffPost's next chapter
This post was published on the now-closed HuffPost Contributor platform. Contributors control their own work and posted freely to our site. If you need to flag this entry as abusive,
send us an email
.