2016 will be known as the year that Over The Top TV moved into mainstream. There's been a clear movement toward cable cutting, and the data says that people dropping their cable subscription will only accelerate in 2016. According "Videoquake 3.0, a new report from pwc, about one fifth of current subscribers are thinking about cord cutting or trimming. That's a big number for the cable industry. But the question for many of us - as we are pondering, "is it time to cut the cord?" - what will we use to replace our cable for content we enjoy? And, in the end, will it save us money?
So, with that in mind, I thought it would be a good time to do my 2016 OTT shopping list and take stock of the networks that are now offering an OTT subscription package or plan to in early 2016. And as a happy TV Hacker, I'll give you my reviews of the services so that you can benefit from my exploration in the wild west of OTT. Here's the good news right up top - there are LOTS of choices and more on the way.
Take a look at this shopping list, and see if you've got enough here to break the cable habit and move to an 'on-demand' subscription world.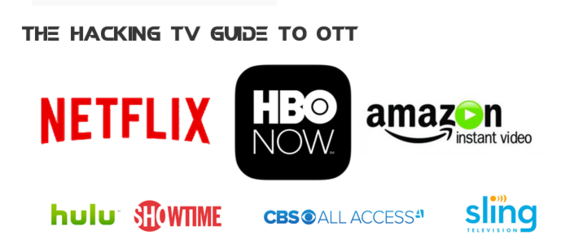 Let's start with the blue-chip incumbents: Netflix, Amazon Prime , and HBO.
Netflix - can take credit for launching the OTT revolution. And with the Netflix free trial, it's confident you'll sign up and stay with. It's just $9.99 a month, and that includes a rich collection of Netflix originals, TV shows, and movies. Original series worth checking out include: Unbreakable Kimmy Schmidt, Narcos, Bloodlines, Orange is the New Black and, of course, House of Cards. Annual cost: $119.88. The TV Hacker's score: Five Thumbs Up.
Amazon Prime - Prime is slowly adding exclusive original content to its free films and tv shows. And some of those shows are winning big creative accolades, shows like Transparent which won two Emmy's this year. Prime Original series worth checking out include Bosch 500530 +%, Hand of God, Mozart In The Jungle. Annual cost: Prime Video is essentially free (it comes free along with your $99/year Prime Amazon account which gets you free shipping). The TV Hacker's score: Four Thumbs Up.
HBO - the newest entry into the OTT race, but it's quickly joined the ranks of the best-in-class providers. HBO has free 30 day trial like Netflix. HBO's originals are the gold standard for high-quality TV, with programs like True Blood, Boardwalk Empire, VEEP, Girls, True Detective, Silicon Valley, The Knick and, of course, Game of Thrones. And now with John Oliver's Last Week Tonight, HBO is moving into the 'must-see' category. Annual cost: $14.99 a month - which is $179.88 a year. The TV Hacker's score: Five Thumbs Up.
Once you get beyond the top three, you find yourself in a sea of new choices. Each of them depends on what your favorite shows and interests are - so it's worth a quick shopping list.
Hulu - Hulu offers a 1-week free trial, and after that the charges kick in, including a low price option with commercials ($7.99/month), and a high-priced option that has no commercials ($11.99/ month). Hulu offers a deep bench of current season TV shows, as well as Hulu originals. It's kind of like a DVR in that you can 'catchup' on shows. Content comes from NBC, ABC and Fox as well as networks including A&E, Big Ten Network, Bravo, E!, Fox Sports 2, FX, G4, Ion Television, NFL Network, Oxygen, RT America, Fox Sports 1, Esquire Network, SundanceTV, Syfy, and USA Network. Annual cost: $11.99 a month - which is $143.88 a year for the commercial free option. The TV Hacker's score: Three and a Half Thumbs Up (For me, it's simply asking too much for shows that I can get free off-air, with limited Hulu originals).
Showtime - Originals include Ray Donovan, Masters of Sex, Homeland, The Affair, Penny Dreadful, House of Lies, Nurse Jackie, and Episodes. Annual cost: Price $10.99/month - $131.88 per year. The TV Hacker's score: Depends on what you like on Showtime.
CBS All Access - 1 week free, then 7,500 episodes on demand, plus your local CBS affiliate. Currently, the network charges $5.99 per month, though a rumored $10 per month ad-free offering is being considered. Annual cost: Price $5.99/month - $71.88 per year. The TV Hacker's score: Three Thumbs Up.
Sling TV - Ok, now this one is a bit confusing. Sling TV is offering a service meant to really be the perfect OTT solution. It's software only (no box) and it is live streaming of lots of cool services. On the $20-per-month plan you get ESPN, ESPN2, TNT, TBS, HGTV, DIY Network, Food Network, Travel Channel, CNN, Cartoon Network, ABC Family, Disney Channel, AMC, IFC,A&E, History, H2, Lifetime, and Bloomberg. So that's like basic cable.
And then for 5$ more on Sling TV, you get a series of add-on packs including Sports Extra, which includes the SEC Network, ESPNEWS, ESPNU, Universal Sports, Univision Deportes, beIN Sports, ESPN Buzzer Beater, ESPN Bases Loaded, ESPN Goal Line, Campus Insiders and Outside Television, Lifestyle extra, with Cooking Channel, DIY, truTV, WE tv, FYI, and LMN, Hollywood Extra, which includes live and video-on-demand content from EPIX, EPIX2, EPIX3, EPIX Drive-In, Sundance TV and Turner Classic Movies (TCM), World News Extra, with HLN, News 18 India, Euronews, NDTV 24×7, France24 and RT, Kids Extra and more. Price: $25.00/month (figure you need at least one 'extra' so that's $300.00 per year. It's not cheap, and you probably need at least one other OTT service to round out the offering.) The TV Hacker's score: Three Thumbs Up. Just not enough value to be a one-stop shop for OTT.
Watch ESPN - doesn't really count here, because you have to be a cable subscriber to log in to the 'free' service.
So, those are the top players, but of course there are plenty more. Among them - YouTube RED, Starz, Lionsgate, WWE, Sony, BBC, Cinedigm, and Fandor.
The bottom line - each of these services has some great content. But it's almost inevitable that you'll want some mix of sVOD (subscription video on demand) and VOD, where you can buy shows and series on an a la Carte basis.
So, for example, one package might include Netflix, Amazon Prime, CBS, and Hulu. Plenty of content there - but an annual total subscription price of $434.64 plus your Amazon Prime comes to $532.64, or $44.38 a month. Still a whole bunch cheaper than your cable bill today.
Over The Top content is here - and 2016 is the year it will grow like crazy. So dive in, the water's just fine.
Calling all HuffPost superfans!
Sign up for membership to become a founding member and help shape HuffPost's next chapter