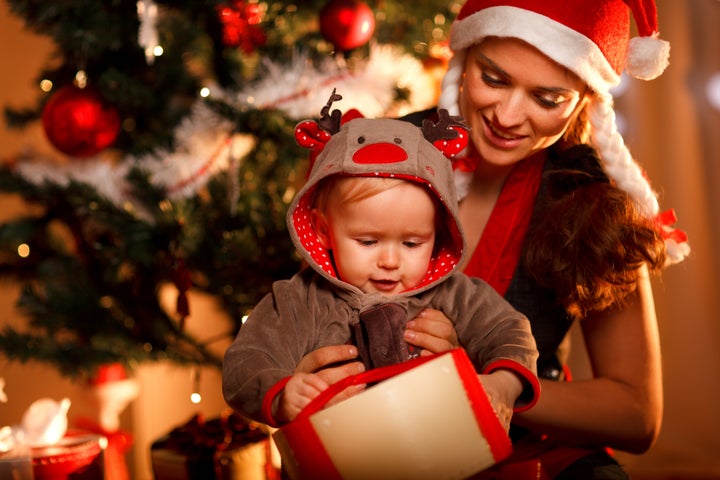 Christmas is one of the most magical times of year, but if you're newly divorced, it can be a difficult holiday as well. Nobody likes to be alone during the holidays, but it doesn't have to be a downer. There are many things that you can do to make it a joyful season as you make positive steps forward after your divorce.
We all know about the "Twelve Days of Christmas," but I want to introduce you to the "Twelve Days of Divorce." These are days filled with holiday activities to help you get over your ex and onto your new life. Who needs a partridge in a pear tree anyway? The Twelve Days of Divorce will provide you with a new twist on an old theme.
Day 1) Stocking Stuffer: You probably still have your ex's stocking; here's a way to put it to good use. First, cut up a piece of paper into small pieces that you can write on. Next, on those pieces of paper write down 12 things that you want from your new life. Take your ex's stocking, hang it and fill it with the pieces of paper. For the next 12 days, pull out one piece of paper each day and read the positive message.
Day 2) The Kiss-Off: You may have hung a piece of mistletoe in your home when you were married to your former spouse. Just because you're divorced doesn't mean you shouldn't still have one. Hang your mistletoe and kiss yourself every time you walk underneath it. Show yourself some love for surviving divorce. Also, kiss your children every time they walk underneath it too!
Day 3) A Season of Giving: You should offer your time this holiday to people in need. Find a homeless shelter or a toy drive that needs your support. Include your children in this important activity as well.
Day 4) An Early Resolution: You've probably started thinking about your New Year's resolutions. And after a divorce, they're more important than ever. I suggest picking one of your resolutions and starting it early, on day four. When New Year's hits you'll be feeling even more proud of yourself for getting a head start.
Day 5) Just for You: Make a day during the holidays that's about you. Do something that you have been wanting to do for a while. It doesn't have to be anything extravagant. It could be a massage or a walk in the park. Just do what you want to do today and enjoy.
Day 6) An Original Ornament: If you are putting up a Christmas tree, make sure to hang a new ornament to mark your new tree. This will signify your new life. Whether it's a star or an angel, look at the ornament and realize that you're a star and angel in your own way.
Day 7) A Good Book: Pick out a book this holiday season and start reading it. There's nothing like relaxing with a hot cup of cocoa and a good book. Pick something that will get you feeling upbeat and inspired as you head into the New Year.
Day 8) Get Yourself Something Special: You should buy yourself something special this holiday season. If you had your eye on something at the mall just go for it. Life is short.
Day 9) Holiday Hairdo: I recommend getting a new holiday hairstyle. This would be a great way to make the holidays feel fresh. If you have plans with your friends on New Year's Eve, you'll be all set with a new special look.
Day 10) New Traditions: Now that your ex is no longer spending the holidays with you, it's time to start new traditions for you and your children. Bake cookies or watch a holiday movie every year. Whatever you choose, you're making new holiday traditions that can go on for years to come.
Day 11) Breaking the Spell: You should pick one thing that you and your ex used to do together during the holidays and do it by yourself. I call this "Breaking the Spell." If you used to go ice skating with your ex, then go do it by yourself. If you used to go to the same restaurant during the holidays, go there any way.
Day 12) Always Be Merry: The twelve days of Christmas are a time for being merry and positive, but remember to be the merry the whole year through!
For tips on how to heal after a divorce, read Lois Tarter's new book "The Divorce Ritual" by clicking here.
Related