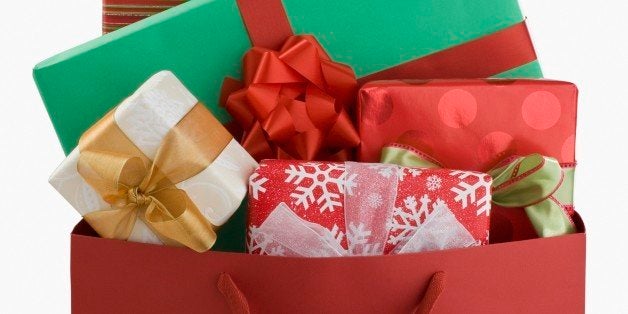 We stand on the brink of the holiday season, a time when we generally eat, drink, and spend to excess. By New Year's Day we are so fed up (literally!) that we fervently resolve to change our ways.
Why wait for the new year? Offered below are 12 easy microresolutions designed to promote holiday joy and reduce New Year's Day remorse. Pick two to practice until New Year's Day and you'll find that big benefits often come in small packages.
Better to give than to receive; keep spending in check by making a microresolution not to buy gifts for yourself while shopping for others.
If you've been too merry too often during past holidays, make your microresolution to drink a glass of water for every glass of alcohol to keep spirits high and hangovers (and weight gain) low.
Holiday partying with the extended family can bring stress along with joy; to keep the celebration frothy with even the most difficult in-law, try a microresolution not to call out the mistakes/petty falsehoods/delusions of others at family gatherings. It can be done!
Yummy sweets and holidays go together; you can enjoy confections at holiday gatherings and keep diet damage in check when your microresolution is to forgo eating office treats during the day.
It's hard to be joyful when you're exhausted; a microresolution to refrain from leisure computing after 10 p.m. will help you turn in earlier and maybe save you from impulsive online splurging late at night.
It's easy to lose hats, gloves, scarves while browsing in stores and schlepping lots of packages in cold weather; to avoid absently leaving such items on counters or letting them slip from your overloaded grasp, make a microresolution to tuck away cold weather gear safely in a coat pocket or handbag (not a shopping bag!) as soon as you enter the store.
To limit the number of canapés you eat at parties, make a microresolution to eat only when seated, thus putting an end to mindless food grazing (and noshing and nogging straight out of the fridge).
Show some kindness to strangers by making a microresolution to give up your seat on the train or bus to someone who needs it more -- a senior, handicapped, or over-burdened person trying to cope with the crush. (You're being kind to yourself, too: Research suggests excessive sitting takes years off your life).
To avoid a marathon night of wrapping when a good night's sleep is most needed, make a microresolution to wrap every present within 24 hours of purchase. Extra benefit: you won't run out of tape at 2 a.m. on Dec. 25 and have to finish sealing your packages with cut-up Band-Aids.
'Tis the season to be gracious: Resolve to write thank you notes within 24 hours of being hosted or receiving a gift.
Stay fitter and get your metabolism humming by resolving to take a brisk 10-minute walk before weekend evening or holiday meals.
There are a lot of lonely people during the holidays; make the season brighter for one and more meaningful for yourself by resolving to extend an invitation to someone on their own during the holidays.
These 12 microresolutions are suggested with the holidays in mind, but each one is sustainable for a lifetime. If you like the benefits of your new behavior, you can give it to yourself as a gift that keeps on giving, and then pick two new micoresolutions of your own invention to practice in January. As soon as your microresolution begins to stick (four to six weeks), you'll be ready to start a new one. Instead of making a grand but improbable pledge on Jan. 1, just train that focus you honed in December on an achievable behavioral target that brings instant benefits and you'll be on your way to real self-improvement. Happy Holidays!
You can read about people who transformed their personal and professional lives by practicing the seven rules of microresolutions in Small Move, Big Change, available now from Viking/Penguin Random House and out in paperback December 30, 2014.