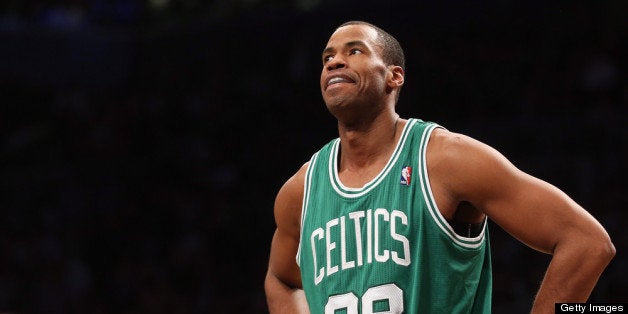 So it was stated. "I'm a 34-year-old NBA center. I'm black and I'm gay." Jason Collins became the first currently active, major pro athlete to announce his homosexuality. Collins's admission is timely and perhaps opportunistic given the prominence of LGBT issues as a major -- albeit polarizing -- part of our political and cultural discourse. With 10 states having successfully adopted same-sex marriage as law, a black president whose views around homosexuality evolved, and various pro athletes and entertainers who openly support gay rights -- the stage had been set for such a declaration.
The 12 year NBA journeyman has played before crowds many times -- never the male lead -- more like a small-role supporting cast member. This debut performance, however, has Collins front and center. And, on the playbill you find authors E. Lynn Harris and Terrance Dean as dedicated stagehands. Harris (now deceased) and Dean -- like Collins -- are gay black men.
When Collins was just 16-years-old shooting hoops at Harvard-Westlake High School in Los Angeles, Harris had scored his first deal book deal with Anchor Books. His debut novel Invisible Life broke ground at the time as one of the first commercial novels with a protagonist who was black, male, relatable, and gay. What followed was an unprecedented messaging campaign -- a brilliant bestowment of impressions -- where Harris's fictional depictions of gay black men were grooming a generation to acknowledge and accept the reality of men like Collins.
Well into his literary career with millions of books in print and scores of adoring fans, in 2009 Harris released Basketball Jones, the New York Times bestselling novel that explores the complicated realities of a closeted NBA player and his partner.
Basketball Jones reached the bookshelves of thousands and was praised widely. It had done for Jason Collins, what Morgan Freeman and other black actors who played a U.S. president in movies and TV shows did for Obama. What was once considered taboo, controversial -- an impossibility even -- could at least be imagined.
Sadly, E. Lynn Harris passed away before witnessing Collins's coming out. Now that Collins is on the other side of the proverbial closet who would be there to creatively impart upon the masses that which concerns gay black men? Who, like Harris, can use the power of language to imagine where our society is headed? One name that comes to mind is Terrance Dean who many tout as the heir-apparent to E. Lynn Harris.
Dean, landed an interview on the Wendy Williams show after the release of his gossipy memoir Hiding in Hip Hop. Using blind items, Dean recounted romantic encounters he'd had with notable figures in the entertainment industry. Dean doesn't dish the names of the celebrities mentioned in the book. He does give readers a glimpse into a hidden culture within hip hop which is veiled under the guise of misogyny and machismo.
Yet, there is a less sensational component to Dean's story where he exposes the struggles of a young man coming to terms with his sexuality. The Detroit native describes intimate encounters he'd had at a young age with men he trusted, keeping secret his sexuality as he navigated college-life and the workforce, and how he ultimately embraced his romantic preference for men. Surely Collins can relate to some of this.
Following Hiding in Hip Hop, Dean released Mogul in 2011, a novel that follows the life of a "down-low" music producer in New York City. Dean, who credits E. Lynn Harris as the reason he became an author channeled his mentor Harris when he wrote Mogul. The main character in Mogul played basketball in high school and has a romantic encounter with the star of the team. Dean also chose to center his novel around an affluent black man and the people around him -- a theme popularized by Harris.
There have been others in the world of sports and entertainment whose recent headlines could have foreseeably been a scene in a Harris or Dean book. Baltimore Ravens linebacker Brendon Ayanbadejo -- who has publicly defended same-sex unions -- comes to mind. Ayanbadejo is also on record proclaiming that four NFL players will soon reveal themselves as gay. And who can forget the beloved R&B star Frank Ocean's coming out letter last year. Collins's announcement becomes but another chapter.
While E. Lynn Harris and Terrance Dean are not the authors this time, they both have used their imaginations to successfully conceive what society finds difficult to confront. Their stories make us realize that what we keep hidden -- and why -- is as defining as what we choose to make known. When Jason Collins decided to reveal the life he'd kept secret for so long, Harris, Dean, James Baldwin before them, and many other literary figures had already been on set, prepping the scene, readying our minds for what's to come.
Calling all HuffPost superfans!
Sign up for membership to become a founding member and help shape HuffPost's next chapter