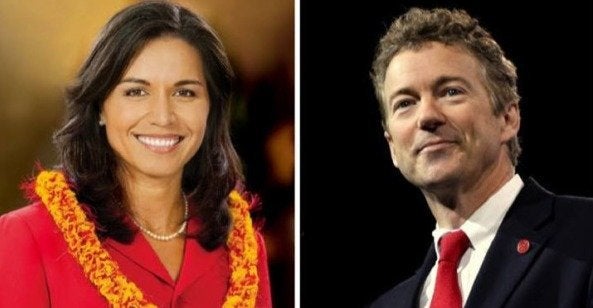 It's good to know that we have two leading non-interventionists in Congress right now who are making the tireless effort, along with several others, of ending the wars, shutting down the empire and bringing the troops home. Senator Rand Paul (R-KY) and Representative Tulsi Gabbard (D-HI) are currently the two leading cheerleaders of their parties to lead them into the direction of a non-interventionist foreign policy.
People like Paul and Gabbard often scare prominent neoconservatives like former U.N. Ambassador John Bolton. Bolton is a prime example and definition of chicken hawk which is someone who never served in combat but is always trying to start new wars, and send our brave men and women overseas to die in the battlefield. As you look at that definition, you can see a clear image of John Bolton's trademark mustache. Whether it's in countries like Iraq, Afghanistan, Pakistan, Libya, Syria, Iran, Somalia, Yemen, or any other country you can think of, Bolton is willing to start another war based out of fear and wants our troops to fight his fears for him.
Rand Paul and Tulsi Gabbard don't believe in any of that. They are both willing to learn from our foreign policy mistakes so that history doesn't repeat itself. They aren't afraid to hold their parties accountable when they support starting a new war, especially so-called humanitarian wars. They are willing to get into trouble with their parties when they propose legislation that would move us into the direction of non-interventionism. They are even willing to stand alone and fight for what is right, and whether you support them or not you should applaud them for that.
Over five months ago Gabbard introduced a straight-forward, common-sense bill called the Stop Arming Terrorists Act on the House floor; Paul then joined her in introducing it on the Senate floor. The title of the bill speaks for itself and those who want to end the so-called war on terror should get behind it because if we want to defeat the terrorists, we need to stop arming them and we need to stop sending foreign aid to countries that support them; that is exactly what the bill would do.
So far the bill has fourteen co-sponsors including non-interventionist Representatives Thomas Massie (R-KY), Walter B. Jones (R-NC) and Ro Khanna (D-CA). So far no Senator has signed on as a co-sponsor and hopefully Paul can get a few senators or more to get on board, and if he can it could further the bill's chance of getting passed. Let's hope it happens since this bill would be a huge win for anybody who supports a non-interventionist foreign policy.
While Republicans should look to former Congressman Ron Paul (R-TX) and his son Rand Paul as an example, Democrats should look to former Congressman Dennis Kucinich (D-OH) and Tulsi Gabbard as an example as well. Let's help them build the coalition of non-interventionists that they need, Democrat or Republican, in order to reach the goal of ending the wars, shutting down the empire and bringing the troops home.
Calling all HuffPost superfans!
Sign up for membership to become a founding member and help shape HuffPost's next chapter