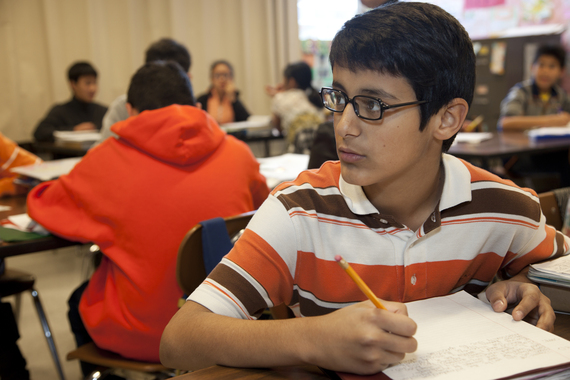 There are two inescapable realities facing American education: the growing diversity of the nation's students and the unrelenting demand for jobs that require employees to solve problems, innovate and adapt.
These dual trends will increasingly shape our future. Let me offer points that highlight each of them.
The U.S. Census Bureau reports that Hispanic students made up 24 percent of the nation's public school enrollment as recently as 2011. That figure was up from 17 percent in 2000 and is projected to keep increasing significantly.
Diversification is an even bigger story in mega-states like California and Texas. For example, Hispanic students make up more than half of the K-12 enrollment in each of our two largest states. When you add in African-American and Asian-American students, the diversification story becomes even greater in California and Texas.
Economists are clear that strong cognitive skills will be in great demand over the next two decades. For one thing, computers will keep replacing jobs that follow precise routines and procedures and require only a high school degree.
The degree to which we get students from all backgrounds ready for high-skilled jobs will determine their economic and social mobility. Similarly, what happens in our classrooms will impact the growth of our economy.
Here, though, is my big worry: We really haven't made up our collective mind that students from disadvantaged and minority families can be -- and should be -- educated to the highest levels. Of course, many say they want that. But recent policies suggest we aren't serious enough about education being central to the forward march of civil rights.
Let's go back to Texas, my own state. Last year, the Texas Legislature lessened some of the requirements for a high school diploma. Several civil rights groups protested the rollback, saying they feared it would hurt minority students.
Unfortunately, lawmakers ignored their pleas. As we think about the future, we need to heed their voices and keep academic standards high.
This will require the collective will to ensure all our students are achieving. Here's a recent example of what I am talking about:
For minority students, the story is even worse. According to the report, nearly 75 percent or more of fourth and eighth grade black and Hispanic public school students could not read or compute at grade level in 2013.
This is troubling on several fronts. For example, if students are not proficient in reading by fourth grade, they are going to have a very difficult time grasping other subjects. Reading is the gateway to mastering other academic challenges.
We all would be crying foul if a large number of a school's lunches were tainted. But we don't necessarily hear that kind of cry when data like these reveal academic problems. Instead, we often hear a rallying cry against testing, which produces the data schools need to assess the performance of their students.
I don't get that. More than ever, we will need to know whether students are on their way to rewarding jobs.
We can't know that without measuring them yearly and independently. That means testing students, and making results from annual, objective exams clear for parents and educators alike.
The outcomes also need to be broken down by categories like race, income and gender. That way, we can know where all students are headed. In the not-so-distant past, we let poor, minority children move from grade to grade without the skills to succeed in life. As a presidential candidate in 2000, George W. Bush rightly termed this reality "the soft bigotry of low expectations." We cannot let that happen again. In short, we need objective exams for the good of our students. Annual tests provide the data that show educators where struggling students need help so they can learn at grade level.
This is what school accountability is about. It opens up opportunities to help students learn - and learn in a way that prepares them for more rigorous jobs.
Undoubtedly, we will need young Americans to fill jobs that require less academic training. Nurse aides, for example, will be in demand as more of us in the Baby Boom generation retire.
Yet the best jobs of tomorrow will require human creativity. I can't think of anything more important than making sure all students have a chance at those jobs.
Related
Popular in the Community