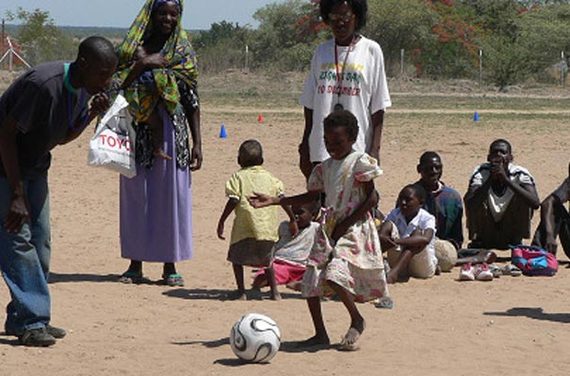 Reaching the intellectually disabled is to make human, emotional connections in a hectic world that too seldom pauses to touch humanity. @SpecialOlympics
Consider this story of a mother and her son with an intellectual disability -- in Africa.
Before heading to the fields every morning to cultivate her crop, she would lead her young son to a wooden post just beside the pig pen. She would tie him by his wrist to the post, as he watched the goats roam around him -- free.
From dawn to dusk, his restraint became his existence. He would await his mother's return. Repetition loomed. No early stimulation, scarce nutrition, frightening isolation and at risk of all forms of danger.
From a sterile, analytical viewpoint, this can be seen as child abuse, plain and simple. But the reality is far more complicated. For countless children and adults with intellectual disabilities and their families in Africa and beyond, this scenario represents the most basic form of social protection and survival. Ironic as it may seem, for seven years, this boy in sub-Saharan Africa was restrained by his mother, not as a form of punishment, but as a form of protection.
The development finding: a complete lack of options.
Despite the fact that there are an estimated 200,000,000 people in the world with an intellectual disability, the profound challenges they face in the Global South is a key development issue that is just now coming to light. Reports, such as the WHO/World Bank's World Report on Disability and the 2013 UNICEF State of the World's Children report, have helped bring increased global attention to the entrenched stigma surrounding people with disabilities across the developing world. The United Nations convened one of the first global gatherings in September 2013, linking disability and development into a resolution signed by a myriad of countries. The Clinton Global Initiative convened a high-level panel to discuss the need for more action to support this population subset, often globally ignored.
All positive momentum. But the story of this African boy and his mother helps the development community gain a valuable window into the lives of some of the world's most invisible in ways that reports and resolutions fail to do. Most of us will shudder when we think about his mother, tying the knot around her son's wrist in the morning chill, walking away into the fields, perhaps listening to mumbled calls from a scared son. It illustrates the dearth of options that leave children with intellectual and developmental disabilities -- and their mothers and families -- on the outskirts of economic empowerment. In the developing world especially, to mention intellectual disability and economic empowerment together is a cruel oxymoron -- one negates the other.
It is estimated that some 90 percent of children with intellectual disabilities in the developing world are not in school. Their exclusion of schooling limits not only their own potential, but also the family's opportunity to provide for itself. Families are faced with the unthinkable: Caring for their children with intellectual disabilities, or caring for the entire family's future. Sadly, mothers and families are told, and shown, that they cannot have both. So much for options.
But the power to provide these options exists. Access to early childhood development services, basic health services, and primary education for children with intellectual disabilities creates a human development potential that ensures progress, not just for the child with a disability, but for his or her entire family.
Ultimately, having options means having choices. And thankfully, some key actors in the development community have chosen to take small steps in this big fight.
In February of 2014, in the Malawian capital of Lilongwe, Special Olympics, together with the Republic of Malawi and a diverse host of development stakeholders, will convene the African Leaders Forum on Disability. The purpose of the Forum is to underscore the need for more action and attention to a population in many ways, unintentionally, left behind by the Millenium Development Goals (MDGs). Under the leadership of Her Excellency, President Dr. Joyce Banda, a myriad of partners and supporters will come together to commit to more action in support of this population, and look to identify key models that can be brought to scale.
The Forum holds great promise in serving as an example of what civil society and development agencies can do, together with national governments, to engage the national population around these challenges, just as the community has done for key development issues like global health, access to education, gender equality and more.
Special Olympics, together with key actors like the International Federation of the Red Cross and Red Crescent Societies (IFRC), Lions Clubs International, Catholic Relief Services, UNICEF and private foundations like that of the B. Thomas Golisano Foundation in Rochester, New York, are taking a stand on the creation of not only new strategies, new programming and new commitments -- but new options.
This past November 2013, at their General Assembly in Sydney, Australia, the IFRC passed a global resolution mandating that all Red Cross and Red Crescent National Societies must begin to address the needs of people with disabilities as part of Society work in-country. This is far more than a resolution passed at an assembly -- this paves the way for the 189 Societies to begin tangible action in communities around the world. IFRC's Secretary General, Mr. Bekele Geleta says, "These are one of the most vulnerable people in the world and deserve our attention and care".
We know as a global community that correcting the mistakes of history will take bold action, and even bolder commitment from policy and political leaders. We know as a global community that people with intellectual disabilities, indeed all disabilities, represent one of the most important untapped human resources the world has ever seen. We know as a global community that not only do some of the most marginalized children deserve better, but so do their mothers and fathers and caregivers. By way of this, so too do their nations deserve better.
But perhaps most importantly, we know that all of this can be yesterday's news, should the development community bond together and create the global coalition needed to keep this issue on the development agenda until resolution.
Support HuffPost
The Stakes Have Never Been Higher
Related
Popular in the Community