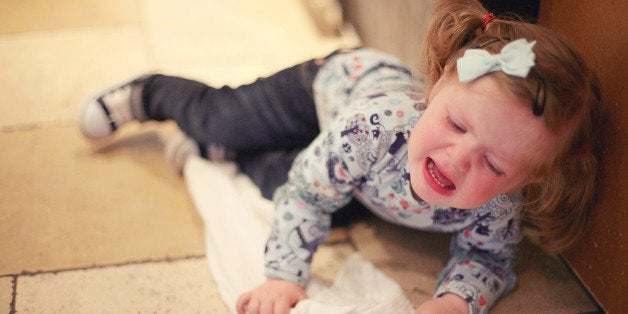 Tonight, my 2-year old had the most epic meltdown. Over lentils. And no, it wasn't because she didn't like them, it was because she wanted an unhealthy amount of them. After eating almost the entire plateful of rice, sweet potato, and lentils, with a side of a few carrots and a few bites of crab cake, my husband and I decided it was time to remove the plate so she wouldn't get a stomachache.

Tears streaming down her face, she bolted after the plate, throwing herself on the kitchen floor screaming, "I want my food!" We tried all the parenting tricks in the book. We got down to her level, hugging her and saying things like "we know you're upset, but we don't want you to get a stomach ache." We offered her fruit. We told her she could eat more if she was still hungry after her bath. We showed her new toys to play with. More hysterics.

Finally, I got her to calm down by giving her two penguin Band-Aids to put on the imaginary boo boos on her knees. But a moment later, she remembered those damn lentils. Crying again, she tried to pull herself up onto the counter to reach the plate.
We got her to come into the other room to paint with watercolors, which distracted her and calmed her down for a good 20 minutes. My husband and I talked about what had just happened, resorting to spelling l-e-n-t-i-l-s in case the mere mention of the word set her off again.

When it was time for a bath, she refused to come into the bathroom, throwing another fit. Once we finally lured her in, she cried about taking her shorts off. At this point, all attempts at rational parenting went out the door. I dangled my recently fixed iPhone over the bathtub, playing the one video she insisted on watching as my husband bathed her. As we dried her off, we ceded to her demands to watch the same video on my husband's phone this time.

Walking past the kitchen on her way to her room, she spotted the plate of lentils, screaming that she needed her food. We finally gave in, spoon-fed her the last of the lentils and turned on Mulan.
After she went to bed, my husband told me I should be flattered since no one's ever liked my cooking so much.