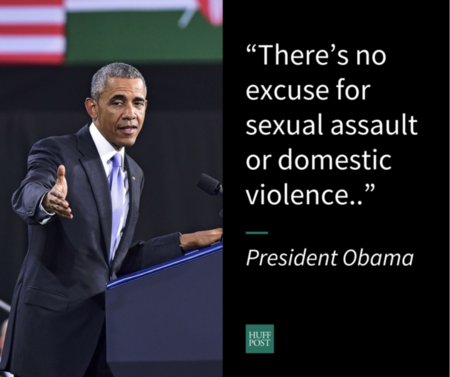 "There's no excuse for sexual assault or domestic violence, there's no reason that young girls should suffer genital mutilation, there's no place in a civilized society for the early or forced marriage of children. These traditions may go back centuries; they have no place in the 21st century."-- President Obama. Kenya 2015. @Getty Images.
This article has been co-authored with Mr Joseph Kinyua, Chief of Staff and Head of Public Service, Executive office of the President of Kenya.
According to the 2014 Kenya Demographic and Health Survey of Kenya, 4 out of every 10 Kenyan women undergo some form of violence, whether physical or sexual. This figure is staggering and should compel us to pause and reflect.
This year's 16 Days of Activism Against Gender Violence once again gives us a chance to contemplate a phenomenon that may be as insidious as a woman getting thrown down the stairs by her husband within the home to the horrors that take place in conflict zones when soldiers/militias run amok and go on a savage raping spree.
The Pope said that violence against women needs to be dealt with. He said at a Mass at the University of Nairobi on Thursday, 26 Nov 2015 that, "In obedience to God's word, we are called to resist practices which hurt or demean women and threaten the life of the unborn."
This year's theme - 'From Peace in the Home to Peace in the World' - focuses on a factor that has not been spoken about loudly enough: that violence is often a learned behavior and therefore we need to change attitudes in the home.
Boys who grow up in homes with abuse and domestic violence are nearly four times more likely to perpetrate domestic violence than those who grow up in homes without it.
Gender Based Violence, including domestic and sexual violence, human trafficking and harmful practices, such as forced child marriage and Female Genital Mutilation (FGM) is still endemic in Kenya, despite the existence of legislation, administrative directives, judicial sanctions, and awareness-raising efforts by a variety of agencies and the government.
Social and cultural norms continue to undermine ongoing legal and administrative efforts, helping to sustain gender inequalities, which hinder women and girls from fully exercising their rights and make them vulnerable to preventable death and disability.
The patriarchal system in Kenya and many parts of the world combined with absence of rights at the household level, have made women and girls vulnerable to sexual, physical, emotional, spiritual, and intellectual violence. We have to confront the cultural influences that reinforce the feeling that women are mere chattels, that they must be submissive, even in the face of abuse.
It is time for every man to start doing something to end the scourge of violence against women and girls in their homes and communities. A call to action was made by the President of Kenya, HE Mr Uhuru Kenyatta when he urged every citizen to join the government's efforts to end violence against women and girls during the #HeForShe (a solidarity movement for gender equality) launch in November 2014.
In the same vein, the narrative we teach our girls and women must change. Violence against women has been woven into the fabric of society to such an extent that victims often made to feel that they were are at fault.
The United Nations Development Program's Administrator, Ms Helen Clark says that "the statistics are disheartening: 1 in 3 women worldwide have experienced physical or sexual violence, mostly by an intimate partner."
Violence against women is one of the most important underlying factors which prevents their full participation in the economy. The World Bank says that that by eliminating discrimination against female staff, managers could increase productivity per worker by 25 to 40 percent.
The knock on effects would be felt across households; it would be money spent to improve the health, nutrition and education of families, as well as fighting poverty.
The challenge faced by many governments is how to effectively enforce legislation. Implementation needs to be supported by strong national and county mechanisms for the protection of girls and women. These include an effective governmental coordinating body, independent human rights institutions, an impartial and gender sensitised judiciary and police force.
In the year that marks the 20-year anniversary of the Beijing Declaration and Platform for Action, none of us can continue to be neutral; we are either condoning or abetting violence or we are actively combating the epidemic of violence against women and girls.
The United Nations Population Fund's (UNFPA) Executive Director Dr. Babatunde Osotimehin said that "as long as the dignity and well-being of half of humanity is at risk, peace, security and sustainable development will remain out of reach".
Let's come together to ensure that every home is safe and free of every form of violence as this is key to ensuring safe communities. Until all women and girls are safe at home, no one will be safe outside the home.
Popular in the Community