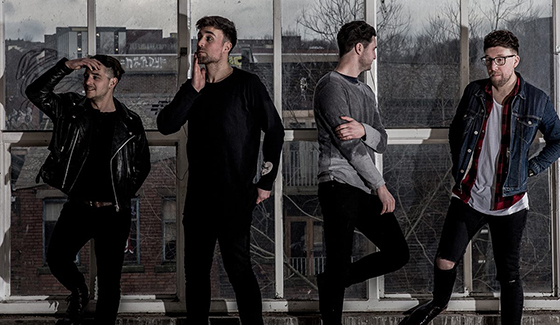 (Photo Credit: Duncan Stafford)
In the five years Alvarez Kings have been a band, the UK-based four-piece hailing from South Yorkshire have made impressive ground from their humble beginnings. Recently, they signed their first major label record deal with Warner Bros./Sire and the progressive indie pop band have started on their own journey with their debut EP, Fear to Feel.
Currently, Alvarez Kings are impressing crowds everywhere opening up for Melanie Martinez on her Cry Baby Tour. I was able to chat with front man Simon Thompson about the band's major label signing and how the band first came together.
You guys just signed a major record deal last year. What was the mood of the band going into making the Fear to Feel EP and having this new home with Warner Bros/Sire?
Its funny, we had wrote that EP prior to getting signed, so we were always aware that we wanted to put out the songs we had at the time, whether we did a self release, which we have done previously. We wanted to do it anyway because we felt like we had a good collection of songs that we wanted our fans at the time to hear. Our mood was lets just do this thing and see what happens. We were excited about the songs and then our manager sort of let us know that there was some record labels that were interested. Once we finished the EP, our management passed it to the labels and they loved it. Then, they liked it enough it I guess and they wanted to sign us. Obviously, we were over the moon. We were happy with the songs in the first place, but to sort of get the recognition from a major label to say that these are really good, it felt unreal. We were so happy that somebody had listened and took a chance on us and want to sign us up and push us further.
How has it felt working with the record label?
Immediately when we got signed, we did the Van's Warped Tour actually. It was nice that we had this sort of stability of having a label behind us, pushing us. We did it in 2013, the Van's Warped Tour, we came away 2013 absolutely broke because we did all off our own backs with help from our manager. To go into this one and we had the stability in place, it just was a great feeling again. Its been like that ever since. The record label has been behind us 100%. They've been so helpful. Even down to organizing things and setting things up. Also, with getting a label, you get influxes of endorsements. We've been endorsed by Gibson Guitars, Blackstar Amps, Ernie Ball Strings, everything fell into place as soon as we signed with a label. Its just a great feeling to know that you've got somebody that's got your back.
Since signing the deal, what's a major lesson you've learned in regards to this part of your career?
I guess its become a lot more real. It's no longer just four guys in a band that are just doing a few gigs here and there and just doing a few shows and getting drunk and that kind of thing. It's more of a real thing. I suppose you could see it in a sense, I don't want to say, but you could almost say in a sense of a business. There's a lot of things to do and there's a lot of things that are asked of us. We have deadlines. It's almost like being at college or something. You get a set things to do, work that needs doing, you get deadlines, and obviously, they need fulfilling or otherwise, you're in trouble. We've actually grown up a lot and stepped up to the game as well. It's a serious thing now. We're signed to a major label. We're not just fooling around. We want to make it in the music business. We want to survive. We want to be here for a long time because we worked really hard to get to this point, and were well aware that we needed to step up to the game and take it more serious.
Looking back at the beginnings of this band five years ago, what sort of place were you guys in? Why did this band start?
We'd been in bands previous to Alvarez Kings. Me and Paul [Thompson] are brothers so we were always in bands together from growing up. We were always playing covers. We were always writing songs growing up. Richard [Walker] came along, we had a previous band, and he came along because our old drummer broke his collarbone playing football. We had a show in own hometown and we phoned the promoter to cancel and he said don't cancel, I can find you a drummer. We were obviously like, okay, a little bit reluctant. Let's go through it. We didn't want to cancel the show in the first place. He came along, Richard, and ended up being with us ever since. Sean [Parkin] came along a couple years into the band. Our ex-guitarist, he had a baby and couldn't fully commit anymore so he decided to leave. Sean was in another band but wasn't in the band at the time, but we knew of him. We knew about him. We were sort of friends from doing shows together over the years and approached him, and he's been with us ever since.
Alvarez Kings play the Royal Oak Music Theatre in Royal Oak, Michigan on Sunday, March 20th opening for Melanie Martinez. For more information, visit alvarezkings.com.
Popular in the Community