Say goodbye to the days when you tossed a measly ball of ground beef on the grill, threw it on a bun and called it a burger. This summer, all you need is a beer can burger.
If you haven't already heard of the concept, these bad boys are going to blow your mind.
This burger makes use of a beer can to form a hole that can be filled with all kinds of awesomeness. We used some of our favorite veggies, but don't be afraid to get creative. From chili meat sauce to a fried egg, anything goes.
And I shouldn't even have to tell you the best part. While your burger is grilling, pop open the brew you used to mold the beef and enjoy (although you might want to wash the raw meat off of the can first).
Cheers to the best recipe for a perfect beer can burger.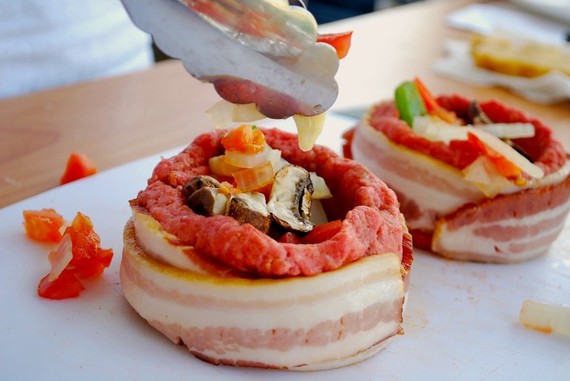 Prep Time: 10 minutes
Cook Time: 35 minutes
Total Time: 45 minutes
Ingredients:
1 lb ground beef
1 can beer
4 strips bacon
1 block smoked cheddar cheese, cubed