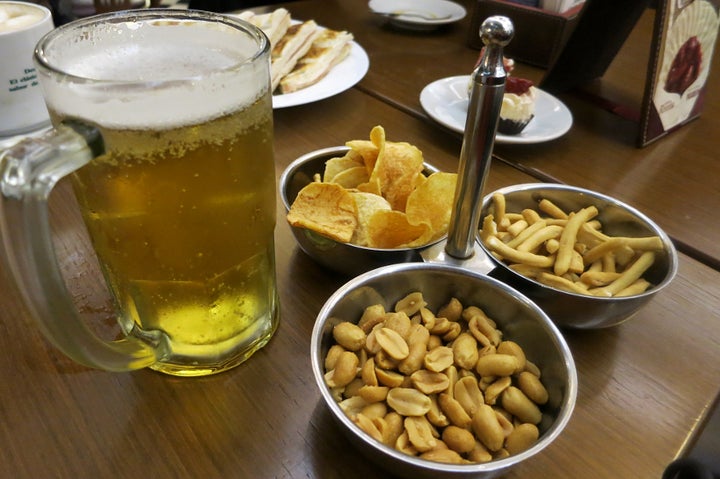 You might think that Argentina is all about Malbec wine. Let's get real, the craft beer craze is taking over the country. While Quilmes, the emblematic Argentina beer is popular, you will also find several micro-brews and craft beers burgeoning across the country.
On our quest for authentic food in Argentina, we could not help but notice the popularity of Argentina beers. If your travels take you to Argentina, be sure to sample the many beers, national, regional and artisanal, the country has to offer.
Let's take a tour of the Argentine beer landscape!
Quilmes - The National Beer of Argentina
Quilmes beer is akin to a national symbol and is the most popular beer brand in Argentina. It was founded in 1888 by a German immigrant, Otto Bemberg. The beer takes its name from Quilmes, a small city in the province of Buenos Aires known for having high quality water. Light and bland, you will find this beer everywhere.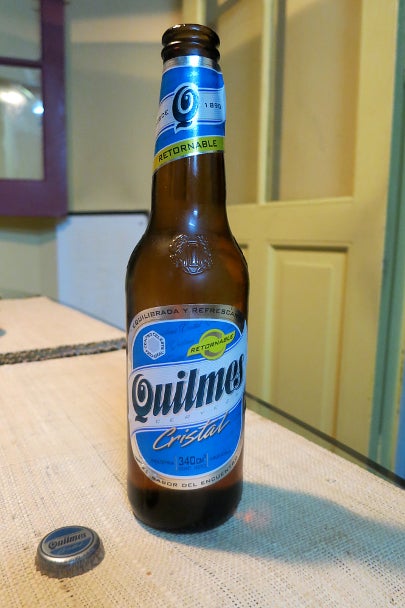 Quilmes Regional Varieties
As you leave Buenos Aires and travel through across the country, you will find many other beers that are also made by Quilmes. These brands do not use the Quilmes label but instead use their regional label.
In Mendoza, you will find the Andes beer, made by Quilmes. Like the Quilmes it is a light lager.
In the provinces of Salta and Jujuy in the north of Argentina, you will find Norte beer. Produced by Quilmes, it tastes almost identical.
In Patagonia, in the South of Argentina, you will find Patagonia beer, named after the famous wild region. This is Quilmes craft beer. It is a premium beer and one that is made right. You will find Patagonia beer offered in three different styles: Wheat, Amber and Stout.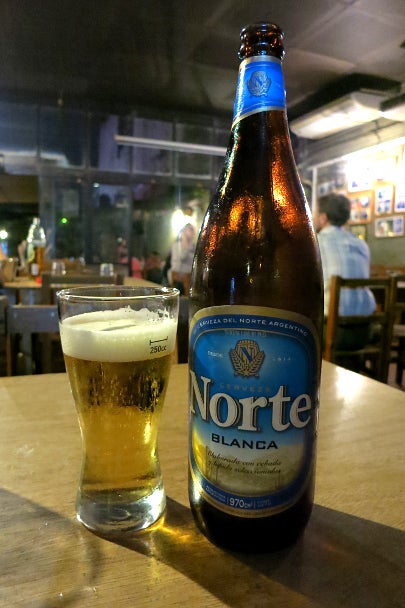 The Number 2 Beer Player in Argentina
CCU Argentina, is the second beer producer in Argentina after Quilmes. They make Imperial beer which is a premium lager and popular in Buenos Aires.
Easy to drink with light flavors, Imperial beers are definitively a step above Quilmes. They are also available as: Weissbier, Red Lager, Strong Ale and Stout.
The most popular beer from CCU Argentina is Schneider. This Pale Lager was born in 1912 in Santa Fe in the Northeast of Argentina. The beer is named after the brewmaster Otto Schneider, a German immigrant who created the brewery with locals. The beer comes in three styles: Pale Ale, Red Ale, and Stout.
In Salta province of Argentina, you will find Salta beer. The brewery was founded in 1958 in Salta, and is today owned by CCU Argentina. Salta beer comes in two primary styles: Lager and Stout. This is a great beer to drink and enjoy with empanadas Salteñas.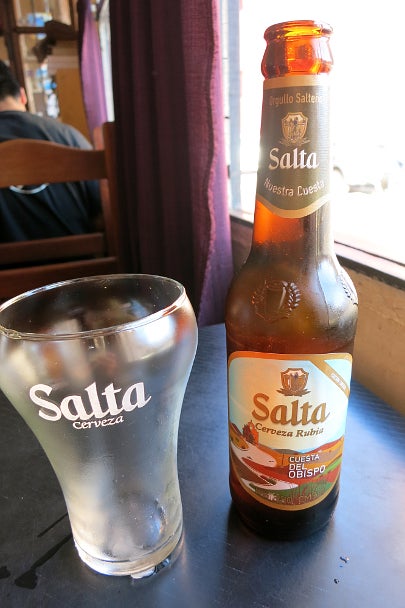 3 Craft Beers Making It Big in Argentina
#1: Antares is the leader of craft beers in Argentina. They started the first Argentinian microbrewery in 1994 in Mar del Plata, a city on the Atlantic coast.
The first Antares brewpub opened with three beer varieties. Today, there are more than 30 Antares pubs across Argentina. More than 15 varieties of beer are offered with distribution to bars and restaurants across the country.
#2: Cape Horn and Beagle are two craft beers leading the market in Ushuaia. Ushuaia is a port town located on the shores of the Beagle Channel and a popular gateway city to the Antarctic Continent (South Pole).
Originally, two separate breweries, they are today brewed by Cerveceria Beagle in Ushuaia. Using traditional German beer making process, the brewery uses water from the glacier, malt, hops and yeast without the use of preservatives or chemicals.
#3: Berlina Brewery in Bariloche is one of the most successful craft beers in the region.
The town was founded by Swiss and German immigrants with a long tradition of craft beer brewing. Today, there are about 15 micro-breweries, producing and selling beer at local pubs called cervecerias.
If you find yourself in Bariloche, Berlina Brewery is a must-visit. Brewing over 20 types of beer and cider, they are making a name for themselves in Argentina and internationally. Open for brewery visits and beer sampling, be sure to stop by and taste the local flavors.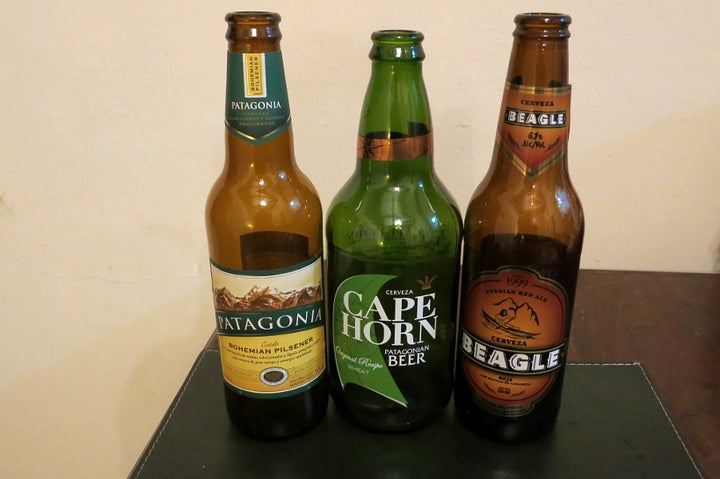 Local Micro-Brews Flourishing As Well
With the craft beer market burgeoning, micro-breweries around the country are also making an impact. El Bolson located 120 kilometers south of Bariloche has a growing beer scene with eight major micro-breweries.
Rupestre is one of the main micro-brews with three different beer varieties: Golden Ale, Red Ale, and Stout beers.
Córdoba the second largest city after Buenos Aires has a growing micro-brewery scene. It is home to Oktoberfest Argentina. If you are a beer lover, Córdoba should definitely be taken into consideration when planning a beer trip to Argentina.
The craft beer craze has definitively taken over Buenos Aires. Today, you can find several micro-breweries and Brewpubs in the city. All around the city, you will find beer tours and beer tasting. Check Buenos Aires Craft Beer Walk to get yourself oriented.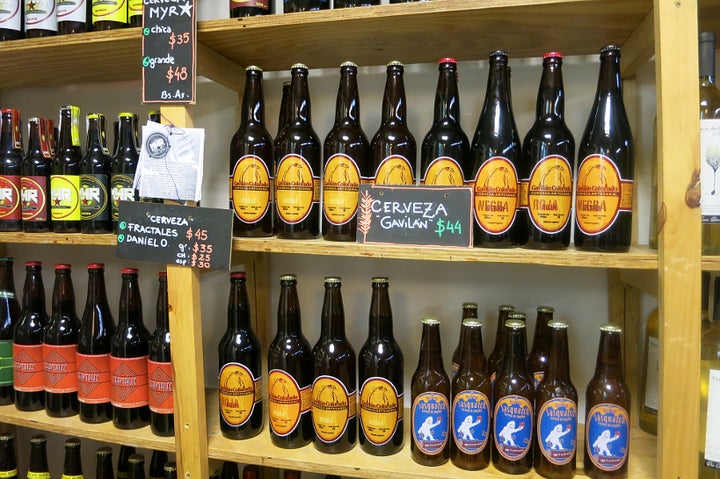 In Summary
Argentina, while most famous for its wine, also has an interesting and growing Argentina beer scene. Quilmes is an Argentine cultural symbol and a beer you should try once on your travels through the country. Beyond the national and regional beers, you will find many craft breweries that are leading the beer revolution in Argentina.
Wherever your travels take you in Argentina, take the time to sip the local craft beers and go for the authentic Argentine beer experience.
In the comments below, tell us if you have had any of these Argentina beers before.
Popular in the Community