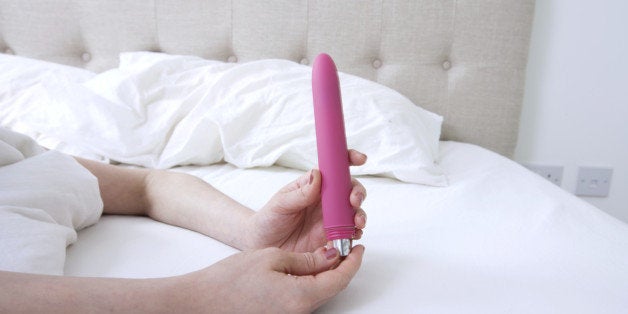 TV shows like Girls and Broad City have made vibrators mainstream, but the sex toys still aren't exactly easy to choose, especially if you're a first-time vibe-buyer.
Pamela Doan of the New York establishment Babeland, gave us the lowdown on the store's most popular vibrators and toys, depending on what the buyer is looking for. Her main advice? "Go to the top of your budget," says Doan. You don't want to skimp on something you're putting near your genitals, apparently.
Buying your first vibrator? Doan says this is a good time to experiment and keep a modest budget so you can later move up to something more sophisticated. "When you get up higher, you're going to get more settings," she says."If you're trying vibration for the first time, you're going to discover if you like it and what other options you can try."
She suggests the small Jimmyjane Iconic Bullet ($16). "It's kind of buzzy and hard plastic, so it's easy to clean," she says. "This is an external toy, so you would use this for clitoral stimulation, primarily." The small vibe has two speeds.
For an internal vibrator, Doan suggests the battery-powered Babeland Orchid G ($22). The internal vibrator is made of hard plastic and the bulbous head stimulates the g-spot. It also features a dial that controls the intensity of the vibrations.
If you're ready to spend a little more, Doan likes the Lovelife Cuddle G-spot Vibe ($69). "This toy has a lot more customizations," she says. "It has a motor, it's rechargeable and it has a lot more functions. It has seven different speeds." Doan says go for rechargeable vibrators instead of battery-operated vibes if you're looking for more power. The Cuddle's medical-grade silicon material makes it softer -- Doan calls it "velvety" -- but it's still just as easy to clean as the hard plastic material. An added bonus: Silicon vibes tend to be quieter than the hard plastic ones.
Lelo's Gigi 2 ($119) is sleek and comes in a variety of colors. "It's beautiful," says Doan. "They're really discreet -- the Gigi is your aspirational sex life." The Gigi also has several settings, patterns and styles.
The Crave Duet ($149 to $219) will fit easily into your palm and looks more like a stylish USB drive than anything else. In fact, premium versions of the vibrator do include an 8 GB or 16 GB flash drive. The two-prong steel vibrator has silicone-coated ears and charges in a USB port. "They always joke that this is the Bond girl vibrator," says Doan.
Want to keep your vibe close? Try the Crave Vesper ($69 to $149). The sleek toy functions as a necklace and looks like a bullet or nail on a chain.
It wouldn't be a vibrator guide without the Rabbit. "It was so wildly popular when it had its Sex and the City moment," says Doan, explaining that the Rabbit became infamous when Charlotte York locks herself in her room to use the Rabbit for a whole weekend on the show. "That was an explosive moment for women understanding that vibration is really amazing."
Years later, it's still a hot item. The Rabbit's "ears" stimulate the clitoris ($39 to $90), while the main shaft of the vibe hits the g-spot and provides fullness. You can operate the main shaft and the bunny ears independently on some Rabbits.
Other old-fashioned vibe enthusiasts will be glad to know that the Magic Wand ($54.95) is still around. The vibrator and massager might be cumbersome and heavy, but Doan says customers still come back for it. "It's the tried and true masturbation tool," she says. "It's a lot of power in a focused area."
Couples love the WeVibe 4 Plus ($179). The toy fits inside the vagina on one end and provides clitoral stimulation on the other. The best part? The g-spot side is slim, so the woman's partner can still fit inside with the toy. "Men like it, too," says Doan. "It's one of those things where you need to use lube. On its own, it's a great toy to use."
A remote for the 10-mode WeVibe means there's no fumbling around with the vibe's settings during sex, and an app allows you to control the vibrator from a smart mode. "It can make for an interesting date night," laughs Doan.
Women who love external stimulation on the clitoris will love toys like the Je Joue Mimi Soft ($95). "This is a really premium external vibrator," says Doan. "It's got more surface area than the little bullet vibrators, so it's going to stimulate more of the vulva around the clitoris. It's just a nicer experience."
The JimmyJane Form 2 ($145) has rabbit-like ears. "It's flexible so you can move these around and it kind of nestles right into the vulva," says Doan. "This is going to cradle the clitoris. It's waterproof and rechargeable -- it's very powerful."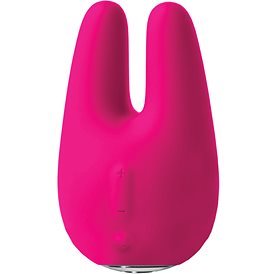 Popular in the Community