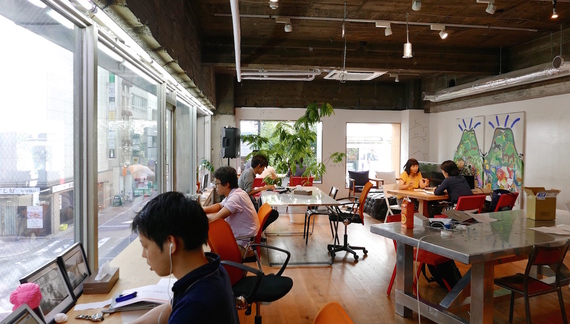 With the increase of professionals working independently as freelancers, contractors and solopreneurs over the past few years, this has seen co-working significantly rise around the world.
The Bureau of Labor Statistics estimates that by 2020, 65 million Americans will be freelancers, temps, independent contractors and solopreneurs, making up about 40% of the workforce.
It's rapidly growing, but co-working spaces come with drawbacks.
Recently, I interviewed suppliers and co-working companies within the industry who have explain the do's and don'ts of co-working spaces and how they manage their spaces and don't end up fighting.
Here are some of their responses:
1. Don't hijack co-working tech:
Frank Vitetta from Modoola, a brand specialised in building smart furniture for co-working spaces said:
"A good internet signal still seems to be an issue in a lot of workspaces in London.
Wi-Fi is flaky more often than it should be and can cause video calls to be challenging". When streaming, think about fellow co-workers.
If the work space is extremely busy that day, try to limit your downloads as you might be impacting someone else's work.
Something as simple as a light switch can be a powerful weapon to disrupt and aggravate other co-workers.
Elena Fabbian of Lampcommerce UK, a well-known lighting supplier for co-working spaces states: "Intelligent lighting is becoming more and more used in commercial buildings like shared work spaces to define boundaries, spaces and mood.
Manual central light switches seem to be a trend of the past; everyone is installing intelligent lighting system that detects luminosity and movement via sensors and automatically turns itself on, avoiding conflict within the office."
2. Keep your voice down when on the phone:
When working in a shared environment, talking loudly on the phone causes distraction and means that everyone around can unwantedly hear you and your conversation.
Alessa McNally, Community Manager of The Office Group (TOG) states: "Generally phone calls are OK, it's the 'traveling' phone calls that you need to look out for.
Every space has that person who needs to march around whilst taking a call, which is fine if you're comfortable enough with them to hand-motion them into a phone booth."
3. Keep it tidy:
Scientists have found that physical clutter negatively affects your ability to focus and process information.
Gandhi was famous for having said that "cleanliness is next to godliness" and perhaps there's some sort of deep-seated moral truth in this statement could also be true in co-working environments.
"I know some absolute prodigies whose work spaces are appalling and they're incredibly productive" says Alessa McNally.
"Our spaces are very open and I like to make sure that they are tidy, clear of clutter and nicely organised for when people arrive in the morning".
"Tidiness is really important to us" reveals Pier Paolo Mucelli from eOffice. "We regularly monitor that excess equipment and papers are stored in the provided storage drawers and have our cleaners maintaining the facilities to a high standard".
4. Don't bug people with headphones on:
The great thing about co-working is the open plan nature of it. If you see a co-worker with headphones in, it's often a signal that they do not want to be disturbed.
"We try to make sure that each building has different options of ambience to choose from covering big, buzzy areas to more focused shared spaces, such as libraries for total silence, and meeting rooms for a private, more professional setting", says Alessa McNally.
5. Smelly food:
"We think food is a pretty important topic, many co-workers are freelancers, start-ups and this translates into very long working hours, which then results in people giving up certain "luxuries" in life -- such as a home-cooked meal -- in order to give them more time to work.
This sparked the decision to provide cafés in some of our locations, where the food is made fresh onsite and everyone has the option of a home cooked meal right in their building", states Alessa from The Office Group.
"We try not to be too rule-based at The Brew", claims Justina Cruickshank commercial director of the Shoreditch based Brew co-working.
"We provide casual spaces, relaxed and a nice environment to work from. We think rules can hamper creativity and collaboration, we just ask that members respect one another."
"Quite surprisingly" discloses Frank from modoola, "we have been asked to fit odour detectors in our office space as part of a refitting work.
I believe co-working spaces need new gadgets to handle new demands, for instance a smart desk could switch on extractor fans when smell thresholds are met."
6. Staying too long in conference rooms:
One of the perks of a co-working space is (sometimes) free conference rooms.
They're great for meetings and for inviting clients and guests. Unfortunately members tend to book the rooms for "just in case" purposes.
Sometimes bookings are made but the rooms are unoccupied and no longer needed, meaning that a fellow co-worker has missed out on the opportunity of using the room.
Pier Paolo Mucelli from eOffice claims:
"At eOffice we provide a number of break out areas and one2one meeting spaces, so that there are more meeting spaces available other than conference rooms.
We monitor use of conference rooms with a booking system".
It's no secret that co-working has its pros and cons, and it definitely isn't for everyone. If you feel you are able to balance out the good with the bad and abide by co-working etiquette, it could be for you.
Related
Popular in the Community