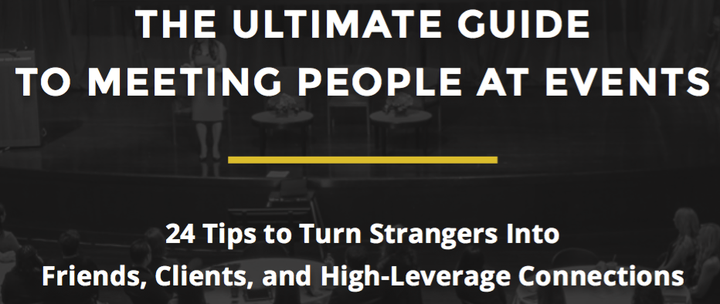 If you don't know Selena Soo, let me tell you a little bit about her. Soo is a publicity and business coach. In one year, her revenues went from $0 to $157,000. Do you want to know the secret to her success? She simply gave. Her success can be attributed to what I have called the "reciprocity rule."
This formerly shy, introverted girl from Hong Kong is now a multi-6-figure business owner.
In a case study Soo sent me, she mentioned how at first she started consuming content from others, like Ramit Sethi and Marie Forleo and Danielle LaPorte, because she wasn't fulfilled in her job and wanted to have the same type of financial freedom she was reading about.
Then there came the day when her life took a new direction. She stopped simply consuming and started creating by connecting with influencers and mentors. This led her to meet and eventually work with New York Times best-selling author Ramit Sethi. She was able to do this when Sethi asked for Soo's feedback on his new website.
She provided him with a detailed report, giving more than he'd asked for. Her example was that she stood out from the crowd, because she provided massive value to him. From her own life, sprung one of the courses she created, called INFLUENCE.
Soo discovered how to build deep, meaningful and genuine relationships with influencers. She developed a one-of-a-kind heart-centered approach to relationship-building, one that highlights genuine connection by adding massive value.
Because she provided massive value to Sethi, he invited her to write a guest post that was sent to 215,000 high-quality readers, at which time her influence began to build even more. Influence teaches you how to connect with top influencers in a genuine, caring way that skyrockets you and your business exponentially.
Question, have you ever been guilty of the following at live events:
Standing in a corner on your iPhone, pretending to be doing something important because you feel too shy to approach people...
Have big hopes of connecting with the speakers or other influencers – but then have no idea what to say when they're finally within arm's reach...
Collect a stack of business cards but never follow up with anyone.
That's why I'm so excited to let you know that my friend Selena Soo has created a brand-new, 26-page report…
Selena has generously agreed to let me share this incredible resource with you -- for free!
In the guide, Selena shares...
10 ways to get perfectly prepared for an event, so you walk in, ready to connect with the right people (and have a system in place to make the most of those connectionsafter the event).
Tips for connecting with influencers like the event organizers and speakers, as well as how to join conversations without feeling awkward (even if you're an introvert).
Follow-up email scripts to nurture your new relationships.
Plus, 5 Quick Bonus Tips to Stand Out
This guide is a must-read before you go to any event.
Even if you don't currently have any events on your radar, I highly recommend you grab this free guide now. (Selena even gives you great tips on how to find the perfect events for you!)