Full disclosure: Shell, Garmin, Motel 6, EagleRider, Sena, RevZilla and Parrot sponsored this trip, so assume everything I mention herein was either comped and/or given to me to for free (to keep). Safe travels!
It was still dark out when we left.
I turned the key of my 2016 Indian Scout, provided courtesy of Club EagleRider, and my buddy Tim started up his Honda Rebel 250. We hopped in our saddles, exchanged glances and rolled on the throttle. Our 14-day coast-to-coast journey had finally started. America, here we come.
Over the next 2 weeks we would be stranded on a highway in Ohio, help save a life in Chicago, get stopped by a motorcycle gang in Pennsylvania, wander into an auditorium of 700 college women in Illinois, talk shop with BBQ pitmasters in St Louis, hike to the tip of the Grand Canyon in Arizona and much more.
But first, let's backpeddle to the beginning..
The Ride Across America
New Jersey to Pennsylvania
It all started in New Jersey. Our starting point was Sayreville, a small borough in central NJ located just 30 minutes outside of New York City. Our destination: San Diego, California. Taking a motorcycle through the Garden State was like being stuck in a pinball machine. It was congested with a mess of lights, bumpers, potholes, off ramps and traffic. It was also hot, humid and rainy. There was no end of tolls on all the roadways.
Central New Jersey isn't ripe with scenic roads, so we had no choice but to suffer crowded highways, but, by the time we hit Pennsylvania, Mother Nature had taken her decongestant.
The roads had opened up and the skies had cleared. But with wider roads and more country came less gas stations, so we stopped at a Shell and filled up a small red can with Shell V-Power Nitro+ fuel before speeding off to tear up the tarmac again.
Our plan was to stay off as many toll roads and highways as possible. Pennsylvania didn't disappoint us. It was chock full of winding roads, hills and small towns untouched by time. About 280 miles later, we hit our first stop of the trip: Motel 6 at 1500 Sterling St, Altoona, PA 16602. The staff were courteous, the rooms were clean, sheets fresh, bathrooms spotless and it was devoid of funky smells or unsightly creatures.
Although the trip there was packed with magnificent views (be sure to stop at Blue Mountain), Altoona itself was devoid of that small, hometown feel. We were surrounded by your typical fast food fare and big box store shopping options. So we didn't stay long.
We opted for a local Mexican restaurant before heading out, but the food was underwhelming (my tacos resembled a microwavable TV dinner or, better still, a military issue MRE). The service was wonderful though! Alas, my toilet bowl and I bonded quite a bit that night. I'll leave it at that.
We hit the road early the next day. Our next stop was the Motel 6 at 7219 Engle Rd, Cleveland, OH 44130. We plugged in the address into Google Maps, making sure to avoid toll roads, and arrived in a few hours. After dropping off our bags, we headed out.
We watched the sunset over Lake Erie at Edgewater Park and then grabbed dinner at Great Lakes Brewing. While staring out at Lake Erie, I couldn't get the song Dust in the Wind by Kansas out of my head.
These two stops alone made the 500 mile trip from New Jersey worth every mile. Downtown Cleveland is full of friendly people, great bars, restaurants and picturesque cityscapes. It's a friendlier, cleaner, less populated New York City. Do yourself a favor and go visit it.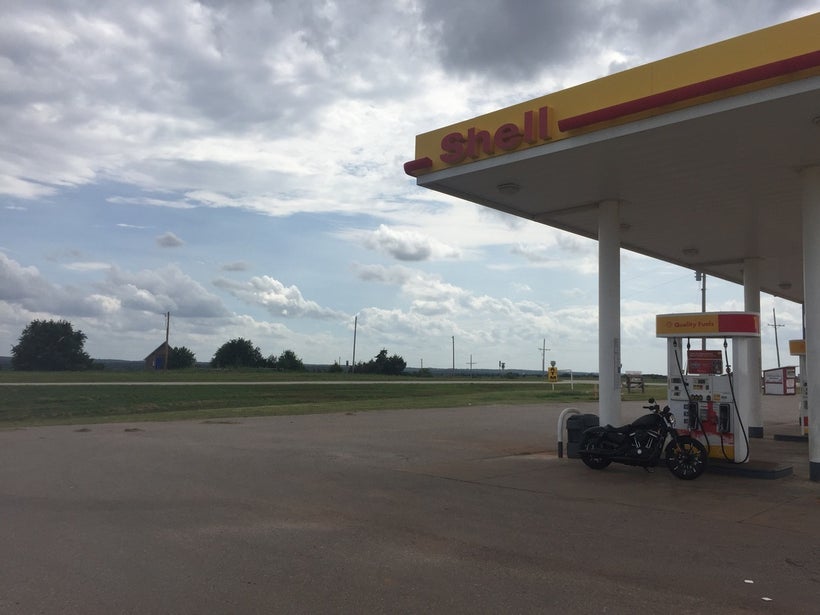 There was no avoiding I-90 West, the major highway that took us through Ohio and Indiana to Chicago. It felt like an endless stretch of nothingness so if Tim and I didn't have our intercoms to talk on, we might've crashed into the dividers. We had to be at the EagleRider before 5 o'clock and still had several dozen miles to go.
We were on a deadline and the Rebel was having a tough time keeping up with the Scout, so we decided I should speed ahead in an effort to reach Chicago before closing time. I took off and maintained a 75 mph pace through Indiana. This was an effortless feat on the Scout but a real struggle on the Rebel. But with faster speeds come faster fuel depletion. By the time I ran out of fuel on i-80, the closest gas station was 5 miles away - an hour's walk at least.
Thankfully, Tim's Rebel wasn't too far behind, and after a short while, he arrived with a red gas can in tow. We refueled and hit the road again. What's the lesson to be learned here? Go slower and sit lower. By reducing your speed and air resistance, you'll be able to go much further. It's all aerodynamics, folks!
When we finally pulled into EagleRider at 9747 Foster Ave #101, Schiller Park, IL 60176, we were met by Olice and the rest of the wonderful folks at the Chicago office. After chatting, we swapped bikes. Tim hopped on his Sportster 883 and I took hold of my 2016 Street glide. With only 400 or so miles on it, I was excited. We hit the road smiling.
We rode through Chicago and on to historic Route 66. After riding on it for miles, we found the reality of Route 66 to be far different than we thought. Perhaps 20 years ago, Route 66 was like a time machine, but nowadays, many of the relics from years long passed are shrouded in fast food chains and other corporate flare. The motels lacked that vintage charm we were looking for. Instead, they looked sleazy and run-down. We hoped it would improve.
What's more, we got lost on Route 66 in Illinois at least a dozen times because of poor signage while other signs directed us down dead-end roads with no warning whatsoever. Some signs just sent us in a big circle back to whatever main road we were already on. If you want the best experience, I'd recommend an EagleRider Tour versus going at it on your own. We crossed paths with several tour-guided groups and the riders we met didn't have any such problems.
Dean Kiler, a master patrol officer with the Forest Preserve District of Will County, and K9 officer Jullo, a German Shepherd with the department, pulled me over for blowing through a stop sign. I tried to tell them I "slowly sort of rolled through it" but neither one of us could keep from laughing at that. Even Jullo barked at my bold fib. For the rest of the stop, we chatted about motorcycles, (he was a huge fan of the Streetglide), and other things that were happening in the area.
For the first time in my life, I was happy to have been pulled over.
Tim and I continued down Route 66, despite the dead ends and poor signage. Before long, we ended up on a rural stretch of Route 66 that passed through several small towns. When we passed by Illinois State University, something caught our eye: busloads of twenty-something year old women in dresses and heels making their way into the university. There was not a man in sight. Was it a hallucination brought on by prolonged sun exposure? Maybe.
Although I opted to keep riding, my co-rider did what any self-respecting, 25-year-old single male would do: he parked his bike and followed them inside. Once inside, we were greeted by the gracious Shantira Norris, a specialist at the Dean of Students Office at the university. Had she not stopped us, we might've wandered into the auditorium where another 600 or so women were gathered. Turns out the ladies were gathered for a sorority bidding event, and Shantira helped us to understand the depth of sorority recruitment during our stop over. It's very serious and very intense.
We hit a Shell along the way to fill our tanks with sweet, sweet Shell V Power Nitro+ fuel before we finally made it to St. Louis. We took as many back roads as we could and it paid off. It took us an extra two hours but it didn't feel like it to us. Toll roads, albeit faster, feel a lot slower. Back roads really stimulate your mind, making the ride feel quicker.
I loved St. Louis. The bars were open late, and the patrons were friendly and talkative, unlike New York City where it seems everyone is in a rush and incapable of extended conversation. However, in all fairness, St. Louis is ¼ the size and has 1/26th the population of the Big Apple. The restaurants were diverse, so you're not limited to any one type of cuisine.
But the tipping point for me was the grass. No, not that type. I'm talking green grass and foliage. It's so nice to see it mixed in with the city and it gives the city a slight New England feel. Oh, and did I mention the food? I'll tell you more about my favorite food in St. Louis in a little bit.
Missouri through Oklahoma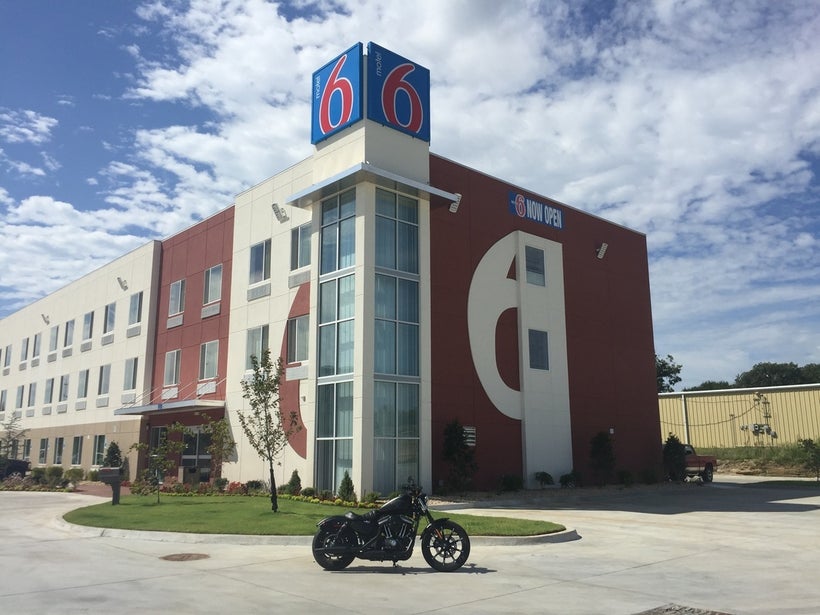 A late start in St Louis led to a late arrival in Catoosa, Oklahoma and we didn't check into our Motel 6 until past midnight. We'd been hanging out by the Gateway Arch together with stops along Route 66 at Meramec Caverns, chatting with local bikers at gas stations and lots of other shenanigans.
By the time we pulled into Motel 6 at 18715 E Admiral Pl, Catoosa, OK 74015-2819, we were exhausted. The only thing Catoosa and neighboring Tulsa had going on was the Hard Rock Hotel and Casino. Tim and I aren't gamblers, but decided to check it out anyway. We took a free shuttle from the Motel 6 to the casino, did a quick lap and left. Nothing noteworthy to report.
We left Catoosa towards Oklahoma City en route to Texas and New Mexico. Due to a time crunch, we couldn't stick around as long as we wanted in Oklahoma City, but our first impression was overwhelmingly positive. Another cleaner, less crowded, kinder New York City? Sold! Not to mention the random encounter we had at a Bass Pro Shop in OKC which changed the entire course of our trip.
While at the checkout counter purchasing two BPS XPS 1.5L hydration packs, an older man whispered to me "check out Eagle's Nest and Red River in New Mexico… it's nice up there". That was the understatement of the year and you'll discover why in a moment.
If we had not hopped off our saddles and embraced everyone who tried to speak with us, we never would've known about those two stops I just mentioned. Those two stops were, arguably, our top five in all of America. This is why you need to talk to everybody. Locals know best. Talk to as many people as you can.
While cutting through northern Texas, we rode past cows. Lots of cows. Cows that were packed together in filthy pens. Pens so filthy you could smell their shit twenty miles away. Stranger still, for the 170 or so miles we sped through Texas, we saw virtually no people. Not much else to report, but we'll be sure to spend much more time cruising through Texas during our next ride across America. Readers, any standout stops in the Lone Star state?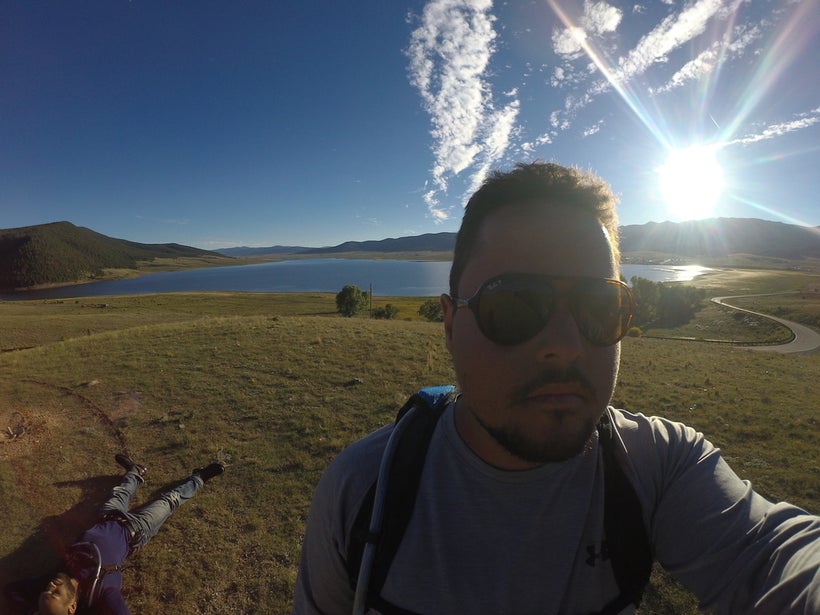 Following the advice of the stranger we met in OKC, we cut through Texas straight to Red River and Eagle's Nest. I'm glad we did because the northern part of New Mexico had everything you'd want out of a motorcycle road trip. Winding roads, crystal clear lakes, forest hills, scenic views, spellbinding cliffs and plenty of wildlife. These two stops alone made New Mexico our favorite state.
Even the straightaways were surrounded by hills, plateaus and grass fields for miles in every direction. It shouldn't come as any surprise that we had our longest riding day in New Mexico, spending a solid eight hours in the saddle. We were so far off course that we couldn't even stay at the Motel 6 listed on our itinerary.
The closest one to us had no vacancy and the second closest was over two and a half hours out; not exactly a safe ride to do after already clocking eight hours in the saddle. So we stayed at Sage Brush and had the best breakfast in the world.
Arizona to SoCal (Southern California)
We headed from Sagebrush Inn in Taos, New Mexico towards Williams, Arizona - another eight-hour drive. However, because we'd left Arizona so late (the delicious breakfast at Sagebrush held us back until 12 in the afternoon) we ended up only doing a six-hour ride and stopping at the Motel 6 along Navajo Boulevard in Holbrook, Arizona. Note: skip the Denny's next door, your gut lining will thank you.
Despite the late start leaving New Mexico, it didn't feel like a long day at all, because even along I-40 W, the views coming from Taos to Holbrook were incredible. Much like New Mexico, hills, winding roads and vast plains surrounded us, sans the grass. The next morning, we woke up early and headed west from Holbrook towards Williams, a quick two-hour ride.
Williams, Arizona, much like northern New Mexico, was everything we wanted out of the trip. It had that classic, Route 66 style we'd envisioned. We loved Williams so much that we stayed an extra night and left at 5 o'clock the next day, way past our usual early departure times.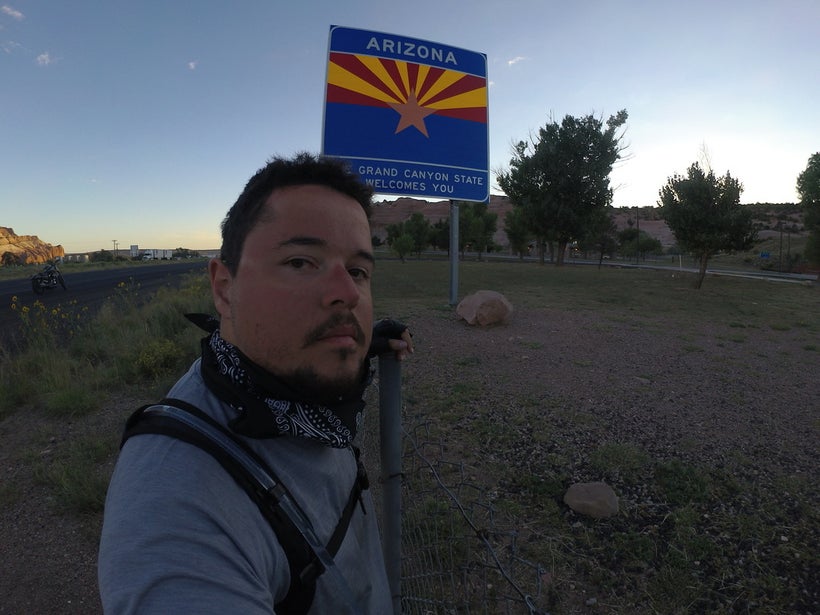 Between the Grand Canyon and Bearizona to restaurants like Pine Country Inn and shops like DeBerge Saddlery & Western Wear (I'm still mad I didn't buy one of their cowboy hats. Don't make the same mistake as me) and the surrounding views, Arizona was extraordinary. Take your time in AZ!
By the time we got back on Route 66 in SoCal, it was well past sunset. Despite being under the cover of darkness, the Mojave Desert was sweltering hot. The roads were deserted and, aside from our high beams, it was pitch black. At one point, we pulled over and turned off our lights just to look up at the sky. Coming from the north east, you don't see stars like you do in SoCal.
It was breathtaking and, despite being barely visible, the roads were a ton of fun. It was here in SoCal that we caught our second wind and continued riding well into the night. I don't know what fantasy world we were tripped in, but we figured we could make it all the way to San Diego that night. Yeah, right. That didn't happen.
Just a few hours from sunrise, we arrived at a random truck stop somewhere in Indio, California. I went inside to use the restroom only to find Tim passed out on a bench next to his bike. I locked up his bike and mine, alerted the attendants inside that my buddy was asleep and pulled up a chair.
Unfortunately for me, I'm a light sleeper, so while my buddy Tim slept, I lay awake, watching over our gear and motorcycles, lost in thought. Here I was at some random truck stop over 3,000 miles from home. "Did we really just cross the United States?" I thought.
My mind raced over the next few hours until finally, the sun began to peek up over the horizon. As Tim started to come out of his nap, I stumbled back into the truck stop store, purchased two five-hour energy drinks and a small bag of almonds. "Almost there" I told myself. "Just two more hours".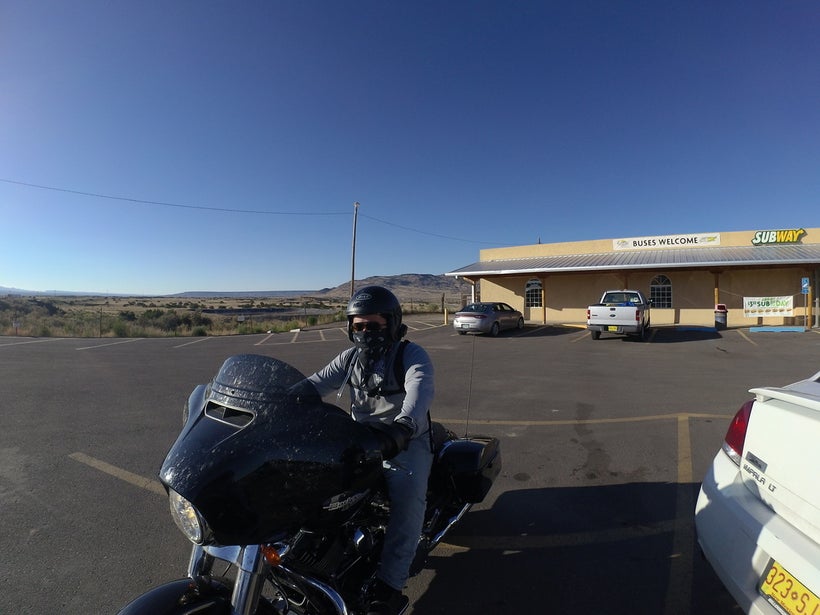 Little did I know that this would be some of the most challenging roads of the trip.
Hardly the type of roads you want to take when you're half-asleep. The scenic roads, sweeping curves and tight, low-visibility twists of State Road 79 and County Road S6 are fierce and not for the faint of heart. We might've touched Smuggler's Run, but the thought escapes me. All I could think of was how I wish I swapped out my Streetglide for the BMW GS that EagleRider had waiting for me in Los Angeles. Boy, that would've come in handy during those mountain passes!
The sun was beaming down so hard I could feel my nose turning into Rudolph's. Both my bandanna and face shield had gone MIA, so I had no choice but to wrap a tee shirt around my face. Before long my circadian rhythm had reset and suddenly, I was wide awake again. What a time to be alive.
We arrived at the Motel 6 in San Diego only to discover there was no vacancy. That's what I get for not reserving online or calling ahead. At that point, my energy took a nose dive and I almost fell asleep in the parking lot. Thankfully, the nearest Motel 6 was just a ten-minute drive south to 1125 E Plaza Blvd, National City, CA 91950. We parked, swiped the key card into the room and I hit the bed. I was shot.
That was at 7 o'clock or so. After being up for more than 24 hours -and in the saddle for ten of those- I didn't wake up until 8 o'clock the next day. We did it.
The Ride Across America was finally complete.
The Packing List
Prior to leaving Sayreville, Tim and I established two key rules: set destinations, not expectations and if we didn't need it, leave it. These rules meant that we veered off the planned route whenever possible while limiting technology and other non-essentials.
So when it came time to pack, we excluded items we could just grab on the road (tee shirts, socks), perishables (food) or situational items (like hydration packs for hot days). We packed the minimum and subtracted an additional 20% the night before. Here's what made the cut, what we got along the way and what I'd leave behind.
Essentials (don't leave home without these):
What I picked up along the way:
What I bought with me but would leave home next time:
Asus Chromebook w/ charger
Canon T3i w/ 50mm lens and spare batteries
Miscellaneous wires, extra cords, battery jump packs
Yes, the 7 companies mentioned here sponsored my ride. But I wouldn't have partnered with them if they weren't absolutely amazing (and if they weren't absolutely amazing for whatever reason, I would tell you).
Thankfully, they all exceeded my wildest expectations and I'm confident they will for you, too. Whether it's a place to order gear, a place to rent a bike or just a spot to fuel up at, these are the people to see.
The Food
Here are 4 of my favorite bites from across America. I have dozens more, but that's for the next story.
Broom Orchard, 12803 Broom Rd, Carlinville, IL 62626
By the time we rolled into Carlinville, I was dehydrated. My tongue was hanging out of my mouth à la Ren and Stimpy style. Then I saw it. Tucked into a small orchard of apple trees along Route 66 was a sign that read "Fresh Made Apple Cider". You can imagine my excitement. We took a left toward Broom Orchard.
We walked inside and were greeted by Debbie, who was friendly and polite. She chatted with us about Gala apples, a refreshingly sweet, finely textured, crispy little snack second only in popularity to the Red Delicious. She handed me two cups of homemade apple cider. "Here, have more" she said. "We're closing soon and I have extra". I reached for it so fast I almost took her hand with me.
It's stops like Broom Orchard that make the road trips so fun. You learn stories behind small communities over fresh food sourced from that very same community. Plus, you get a little education out of if it too (I have a newfound appreciation for apples). After having several cups of cider and managing to stuff a sack of apples into our saddlebags, we headed towards Missouri.
Sugarfire Smokehouse, 605 Washington Ave Saint Louis, MO 63101
Sugarfire in St. Louis doesn't have set closing times. Rather, they close up shop once they run out of food. It was still early but just to make sure we wouldn't show up to locked doors, I gave them a call anyway. When I called, the gracious Casey Jovick, who dubs himself "pitmaster of the universe" on his business card, couldn't guarantee any ribs would be left by the time we pulled up. We made the trip anyway.
I could feel my heart breaking as we got closer. The bad news? He was right. No ribs were left. The good news?
Sugarfire isn't a one trick pony when it comes to BBQ.
My grass-fed double burger, made up of a proprietary blend of chuck, brisket, and boneless short rib, was smothered in Pimento cheese, topped with crispy, house-made bacon and sandwiched between two fresh, buttered buns. On the side was a savory plate of Mac and Cheese, hearty potato salad, a generous portion of spicy cajun fries (dip them in the Mac and Cheese) and a vanilla milkshake to top it off.
After seven hours in the saddle, stopping at Sugarfire was one of the best decisions of the trip (maybe one of the best decisions of my life).
Hell, I'm tempted to ride from New Jersey to Missouri just to have it again.
Wong's Restaurant, 712 Opal Ave Clinton, OK 73601
The best Chinese food I've ever eaten. Now, I hear your objections. The best Chinese food... in Oklahoma?
You bet your wontons it was.
The light, airy, crispy Chinese noodles were the perfect complement to their slightly fruity, full flavored duck sauce. Then there was the wonton soup. When I've cut open wontons in the past, they've been darker colored. Here the wonton was the star of the show. It was bright and richly textured with a subtle fried wrapping. The Szechuan beef was peppery and spicy yet balanced and full flavored.
The meat itself was soft and tender. Most Chinese restaurants make this dish on the chewier side and overload on the spices to mask the sinewy meat. Not Wong's. 10/10.
The decor was on the vintage side but very clean and well maintained. This gave the restaurant a warm, cozy feel. As a bonus, classics like Billie Holiday played as I dug into my plate. 10/10.
Pine Country Inn, 107 N Grand Canyon Blvd, Williams, AZ 86046
When all the locals in Williams -a former frontier town just an hour out from the Grand Canyon- recommend the same restaurant, you have check it out. I'm so glad we did because the buffalo chicken sandwich we had was so good we had it for lunch, dinner and breakfast the next day. Seriously.
Gently fried chicken breast topped with melted Swiss and savory bacon all smothered in a tangy, hot buffalo sauce that had just the right combination of flavor and heat. Sound good? Well hold onto your tongues, because I haven't even got to the apple pie yet.
Flaky, sugar-encrusted pie packed to the brim with warm, flavorful apples topped with a scoop of cold, refreshing vanilla ice cream. If they served pies in heaven, these would be them. By the time we finished, my face was covered in a mix of buffalo sauce and vanilla ice cream.
You'd think I'd smeared penne vodka sauce on my face judging by the mix of colors. I was a sloppy, smiling baby. Speaking of smiling like a baby, don't even get me started on the motorcycles.
The Motorcycles
Throughout the trip, EagleRider offered us a variety of motorcycles to ride.
2016 Indian Scout
2016 Indian Vintage
2016 Harley Sportster 883
2016 Harley Street Glide
My co-rider and I were also supposed to pick up a BMW GS and a Polaris Slingshot at the Los Angeles EagleRider for the trip down to San Diego, but we had to skip it due to an early flight home. That BMW would've been a blast to pilot through the canyons of SoCal and was, in hindsight, worth missing the flight over. I know, don't remind me.
Whatever your preference, EagleRider has an incredibly diverse fleet of bikes to choose from - and I'm not just saying that because they sponsored this trip. It's what makes their Club EagleRider program a no-brainer. Just be sure to call your local EagleRider to confirm if they participate in the Club before signing up as the location closest to me didn't.
Now, so-called "hardcore" bikers may give me lip about this, but the Indian Scout was my absolute favorite. The engine braking was soft. It gets up to speed quick. It's very fast and gives you that roller coaster feeling that's not too common in mid-size cruisers. The Streetglide was a blast to ride on high mileage days, but I found them too front loaded.
The entertainment center on the Street Glide came in handy during long rides too, but, if I wanted an entertainment center, I'd just hop in my car. I ride a motorcycle to get away from technology and focus on the ride. Not the other way around. Also, due to their weight, bikes like the Streetglide can be a hassle to navigate out of cramped parking lots and typical city traffic.
The Scout had agility, handling and versatility. Like the bigger bikes, you could take the Indian Scout on highway rides for long stretches (as long as you have a windscreen). Or, you could just as easily navigate through canyon twists and tight cityscapes. Factor in the better horsepower and fuel economy, and it's a no-brainer.
My only gripe with the Scout? It doesn't have a bigger tank. I found myself making frequent stops to refill.
The Sportster 883 was sleek, matte black down the rim and finely contoured. Dais Nago did a hell of a job designing it. Despite its approachable size, the Sportster is an aggressive, masculine looking bike that any twenty-something would love. It's lightweight and felt a lot less than its out-of-the-crate, up and running weight of 562 pounds.
The Scout, on the other hand, felt a lot heavier than its 558 pound wet weight - but that's not a negative by any means. However, because of the difference in engine size between the 883 and the Scout, I won't compare the two.
I'll save that comparison for when EagleRider tosses me the keys to a 1200 Sportster.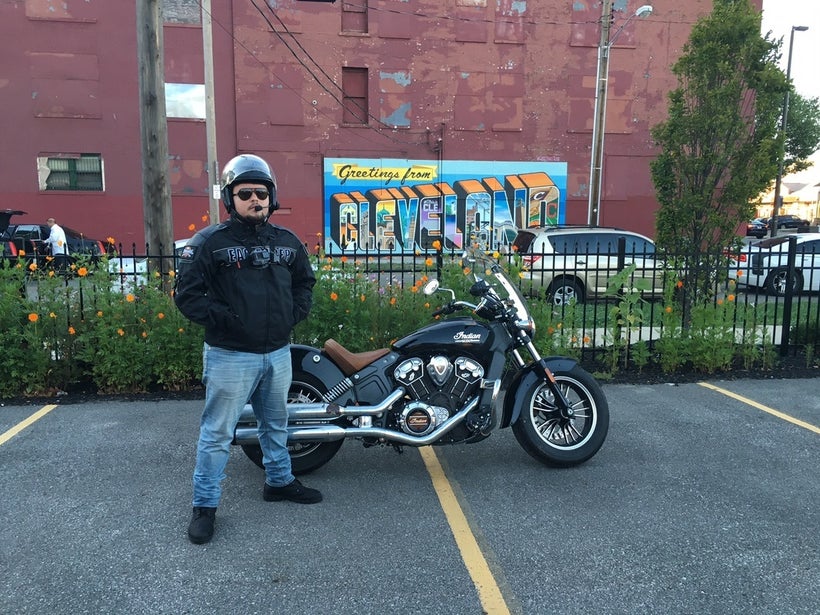 The Lessons Learned
Trips like this are transformative on a number of levels. In closing, I leave you with 24 lessons Tim and I learned after spending 14 days on the road, traveling from sea to shining. God speed.
Ride by sunrise, park by sunset.
Set destinations, not expectations.
Get a windscreen or get your ass kicked.
Check reviews before you sleep or eat somewhere.
Pace yourself: pick a speed and stick with it the day.
Be a sponge: immerse yourself in the culture of wherever you stop.
Plan your route, determine the number of days and add two extra days.
Eat a light, nutrient rich breakfast. Gorge only after you park the bike.
Keep in constant contact with loved ones, as they'll be worried about you.
Unsure what to eat or where to visit next? Talk to locals. They know best.
Don't stuff your dresser into your saddlebags. If you don't need it, leave it at home.
Create a budget, draw up a route and hit the road. Don't overcomplicate it.
Don't be the person who talks about a trip like this, but never does it. You're only hurting yourself.
Invest in a good, simple, two-layered touring jacket. Avoid bells and whistles.
Get a national park pass for $80 bucks. It's worth it. Every single national park is beautiful.
If you bring a drone, don't fly it in the national parks. It's disruptive to the wildlife. Would you like me to fly a loud, buzzing camera around while you try to eat or take a shit? Didn't think so.
Before you leave, take your motorcycle in for maintenance. Replace tires if need be.
Buy a Garmin Virb Ultra 30 then film/photograph everything. Your future self will thank you.
A five mile drop in speed can save you a five mile walk. Be mindful of your fuel economy.
Ride in silence. Music creates a narrative. You want the ride to create the narrative for you.
Thomas from Revzilla told me: "Being told what you 'should' be doing will be a recurring theme. Guys who'd never been out of their own county had a lot to tell me about riding cross-country!
Go sober: you'll want to be 100% present with every road you ride and every person you meet.
Veer off your planned route: if it catches your eye, explore. You only have one chance to do so.
Veer off whatever route you're on in life: if it catches your eye, explore. You only have one chance to do so.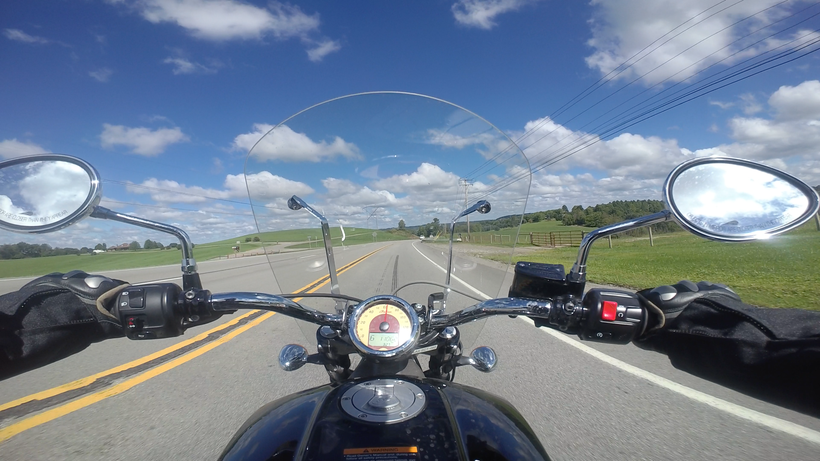 Calling all HuffPost superfans!
Sign up for membership to become a founding member and help shape HuffPost's next chapter
This post was published on the now-closed HuffPost Contributor platform. Contributors control their own work and posted freely to our site. If you need to flag this entry as abusive,
send us an email
.