For most people it's the most significant holiday of their life, a much-needed chance to relax and unwind after the stress of a wedding - but deciding on a honeymoon destination can be a challenging business. A quick Google search throws up the usual recommendations - the Maldives, the Seychelles, Hawaii, and a variety of Caribbean islands - but what if you are looking for an extra element to your honeymoon beyond staggering beachside beauty?
It's a given that couples want romance on their honeymoon, but what about adventure? Culture? Wildlife? For couples who want to do more on their honeymoon than just kick back on the beach, swim in the sea and enjoy romantic evenings in spectacular settings, have a look at three suggestions for honeymoon destinations which offer all that and more.
For couples who love exploring the deep, Belize offers all the marine enchantments of the Caribbean islands but in a less expensive and touristy manner. Dense tropical forests cover much of the land, while offshore, clear azure shallows and cobalt depths blanket the immense Mesoamerican Barrier Reef, which meanders nearly 200 miles along the coast. With countless inhabited mangrove-swathed islands for couples to utilize along the way, the swimming, snorkeling and scuba diving opportunities that Belize presents are unsurpassed.
The chance to dive within the Great Blue Hole, the largest blue hole in the world, will be a huge draw for couples serious about diving. Sinking down into this haunting submerged abyss, gazing at bizarre, mesmerizing limestone formations and encountering all manner of marine life is something that you won't forget. There's plenty for couples to do on dry land too: adrenaline junkies can tube through ancient caves and zip line along the rainforest canopy, while those after a bit more culture can immerse themselves in the mystical Maya temples and multiple monuments at Xunanatunich.
Reese Witherspoon and her Hollywood agent husband Jim Toth chose Belize for their honeymoon last year, spending time in the Blancaneaux Lodge and Turtle Inn in western Belize, which is owned by Francis Ford Coppola. This region is considered ideal for couples keen to experience the rainforests, mountains and captivating culture of Belize while not compromising on luxury.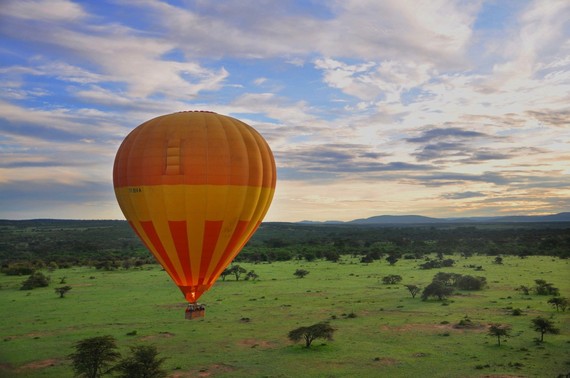 For couples with a passion for nature, wildlife and adventure that they don't want to forsake on their break, Kenya can offer a honeymoon with a serious difference. While still providing the same unrivaled luxury as more traditional post-nuptial destinations, Kenya gives you the opportunity to channel your inner explorer, don a pith helmet, seize a machete and hack your way through the scrub, all while keeping solemn watch for big cats.
Only in a handful of countries in the world can you spot lions, zebras and elephants roaming across the hazy plains before snorkeling among unspoiled coral reefs in the clear Indian Ocean. With such an incredibly diverse landscape you can enjoy marveling at the snow-capped peaks of imposing Mount Kenya (the more adventurous can make the trek up to the top) before admiring jaw-dropping views of the Maasai Mara landscape in a thrilling hot-air balloon flight.
Kenya offers newlyweds an inimitable blend of untamed nature, enthralling wildlife and unforgettably unique experiences. If you are looking for the chance to spend the night in some of the most remote, unspoiled wilderness locations on the continent during your honeymoon, then a safari is for you.
Juxtaposing old-world European heritage with a chic urban scene and just a hint of glamour, the Mediterranean has always been ideal for loved-up couples searching for some romantic-yet-lively intimacy. With thousands of islands and miles of beautiful coastline, one of the best ways to explore the vibrant cities and resorts of the Mediterranean is by chartering a boat, enabling you to explore at your leisure and enjoy a sense of privacy that is often hard to find on the mainland.
During their recent honeymoon, Brad Pitt and Angelina Jolie caused a stir by chartering the world's largest sailing boat available for hire around this spectacular region. A week aboard the stunning Athena will set you back a cool $450,000 a week, but for those who aren't millionaires, a more modest boat will allow you to navigate the many secluded beaches and traditional fishing villages of the Mediterranean coast with just as much ease.
Southern Spain, the French Riviera, Italy and the Greek islands are among the most popular sailing destinations and each country offers something a little different to honeymooners. Italy grants gastronomic delights like no other country; the South of France provides unadulterated glamour; Spain supplies exciting Latin culture; and the siren-like call of the 6,000 or so Greek islands is unparalleled. Combining absorbing history with splendid scenery, the variety on offer in the Mediterranean is something else.
Related