We're days away from Hollywood's biggest night out, but there's still time to make your Oscar night IN a huge winner! With some quick DIY décor, savory and sweet bites and creative film tie-ins to keep things lively amidst the awards, you and your guests are bound to feel like a star.
RED CARPET ROLLOUT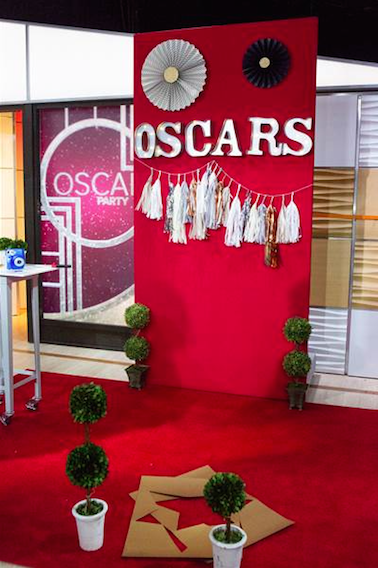 Ask guests to dress Hollywood glam and make an entryway worthy of their arrival. Roll out a red carpet, which you can purchase at any party store, and anchor with boxwood topiaries just like at the Hollywood & Highland Center in L.A.--these from Pier 1--or use potted plants you already own.
Red Carpet, 15-feet long, $6.99, partycity.com
Boxwood Topiaries from $14.99, Pier1.com
PHOTO OPP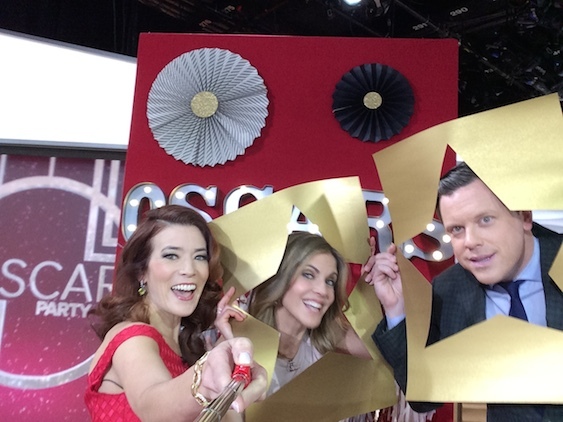 Create your very own photo opp wall with light-up marquee letters spelling out "O-S-C-A-R-S" as the center of attraction, accented with fringed metallic tassels and fanned poms. A star cutout is easy and affordable to make out of metallic poster board, so guests can perfectly frame their faces to truly "be a star!" Capture the moment via Polaroid or Smartphone snapshots and share via social media.
Marquee Letters, $14.99 each, Michaels
PaperFoxLA Moon Shadow Tassel Garland, $29, Etsy.com
Assorted Fanned Poms, $21.99, Michaels
GAME: RATE THE RED CARPET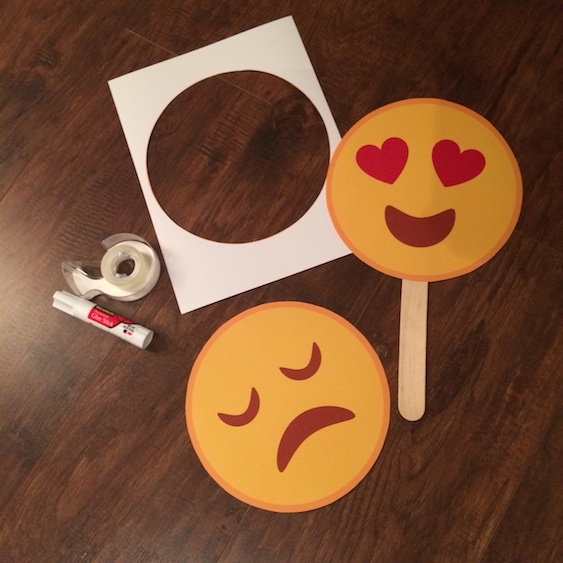 Everyone has an opinion on red-carpet looks, so let them play fashion police! Have guests arrive in time to watch the preshow. Hand out a paddle per guest: one side happy face, one side sad face (you can do others: silly, neutral, crying, etc.). Make paddles with templates found here or have Sharpies handy for guests to decorate on the spot to add their own flair. During the preshow, decide upon a given celeb for evaluation and let the paddle swinging begin!

OSCAR TABLE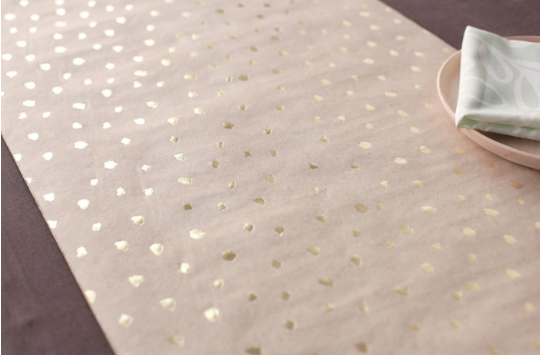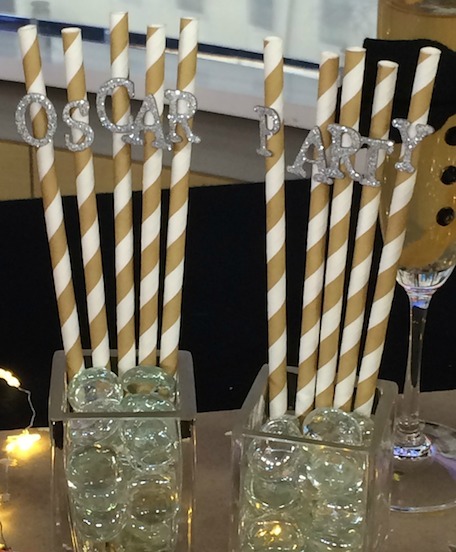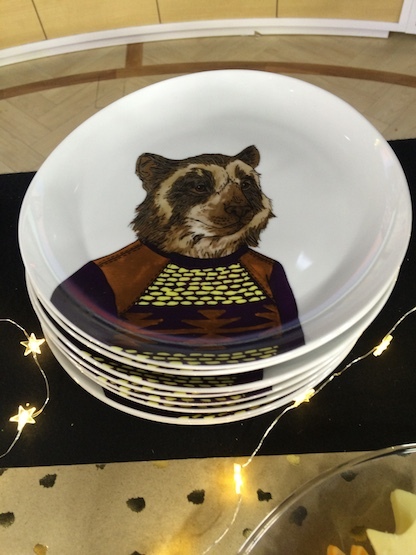 Using black and gold with accents of red for your main color scheme, top a black tablecloth with a chic, gold-dotted runner by designer Kelli Hall for Minted.com. Spell out "Oscar Party" with glittery letter stickers attached to gold-striped straws. Glass trays, sleek pedestals and gilded serving pieces create an overall ritz. A bear appetizer plate serves as a nod to The Revenant. Star lights add a sexy twinkle.
Snow Dot Gold and Kraft Foil Table Runner, from $18, Minted.com
Glass Trays from $89, WestElm.com
Straws and Stickers, craft stores
Dapper Animal Plates in Bear, $10 each, WestElm.com
White Star Glimmer Strings, $24.95, Pier1.com
GREEN FLORALS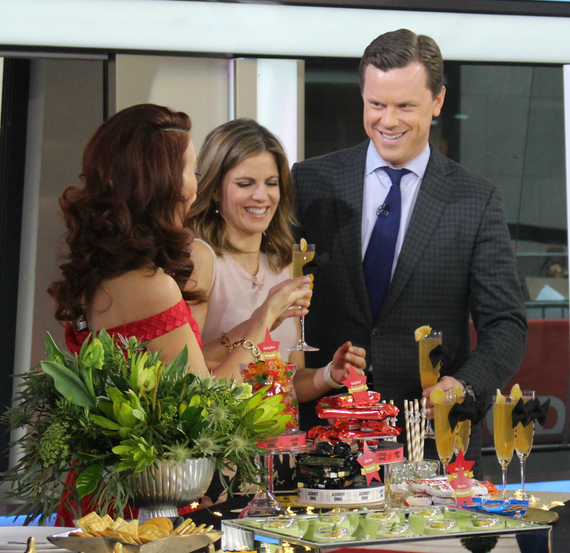 With only a few days to go, consider enlisting a local florist to create an all-green floral centerpiece of fresh, seasonal blooms to represent the movie Brooklyn, whose main character hails from Ireland, here by NYC's Gardenia Organic.
Prescriptive Bouquet, gardeniaorganic.com
THE DRINK: SPARKLING GINGER KOMBUCHA
How could I not include a little of my Japanese culture, which also happens to be the "it" drink of the moment? Here a sparkling ginger Kombucha mocktail refreshingly doubles as a Hollywood "cleanse" to prep guests' palates before they chow down!
THE CLASSY GLASS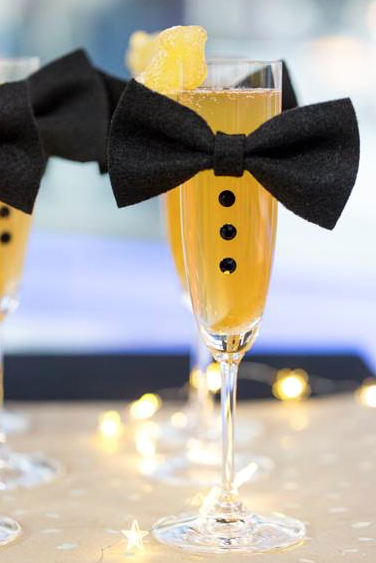 These tuxedo DIY champagne flutes are easy to make with a rectangle of black felt (2.5" x 4.5"), wrapped and gathered in the center with a narrow strip of felt (.5"x 3") and secured with hot glue. Then simply glue-dot onto the glass alongside three black "button" rhinestones: use mini glue dots for the latter. (If drinking a darker-hued cocktail like a kir royal, use white buttons.) It takes only about eight minutes to make one. Dapper right? Tip: a medium-weight felt will hold form best and not leak glue; too thin, and your bow tie might be slightly floppy.
Package of Rhinestones, mixed sizes, $4.49, Joann Fabric and Craft Stores

AWARD-WINNING EATS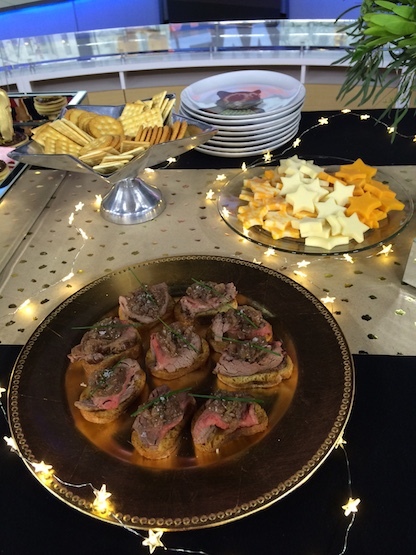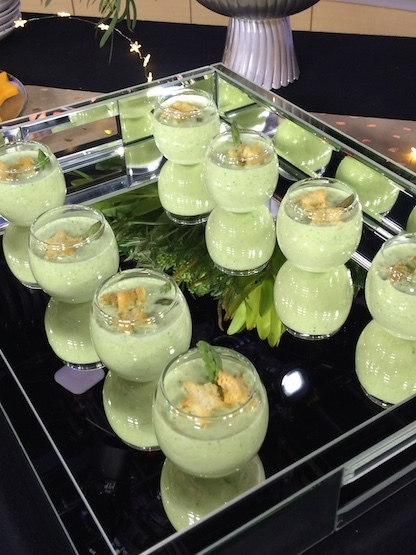 Since this awards show is lengthy, it's nice to offer filling, savory appetizers that will sustain your guests in-between the long speeches like beef tenderloin crostinis and creamy asparagus soup shooters served with star croutons. Serving something as simple as cheese and crackers? Jazz up the presentation: star cutouts paired with a star-shaped serving bowl.
PARTY HAT POPCORN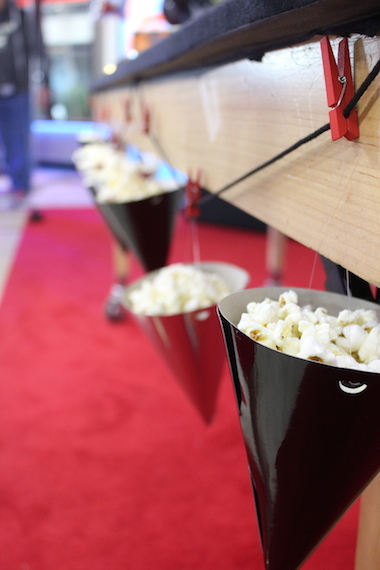 Rather than offer popcorn in self-serve bowls with scoops, which as we mommies know namely ends up on the floor, hang a sturdy string and fill black and silver party hats with individual serving-sized popcorn portions clipped with clothespins to said string at intervals. Just do yourself a favor and make sure you hang it in a space like a less trafficked wall where no one bumps into it (spoken from experience at kids' parties!).
BEST PICTURE CANDY BAR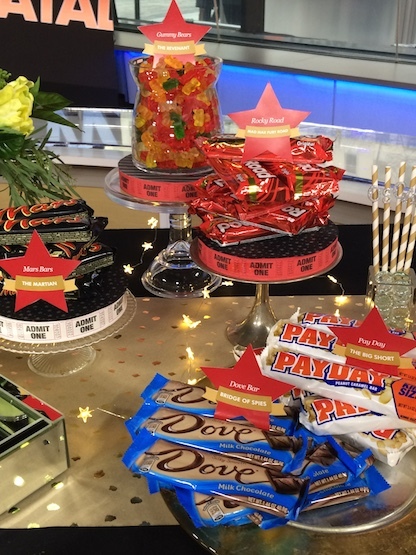 What's a night celebrating the best in film without a Movie Candy Bar--as in a bar with lots of your favorite candy! Can you guess which sweet goes with which Best Picture Nominee?
THE REVENANT - Gummy Bears
THE MARTIAN - Mars Bars
THE BIG SHORT - Pay Day
MAD MAX: FURY ROAD - Rocky Road
BRIDGE OF SPIES - Dove Bars
For an easy-to-use Candy Bar Star template click here.
AND THE BEST OSCAR COOKIE GOES TO...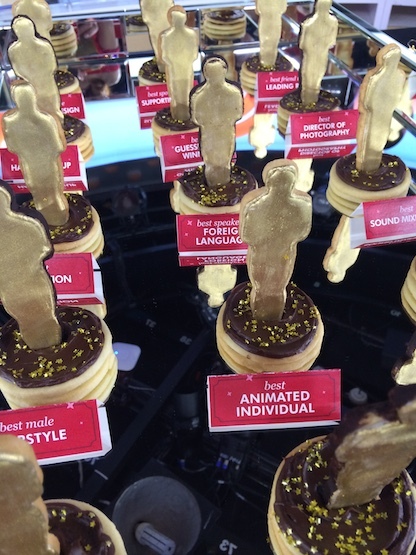 Hand out a dessert treat to take home...sugar cookies made to look like Oscar statues in the following customized categories that are twists on the actual Academy Awards. Inspired by this
, our version is tweaked to include chocolate cookies, vanilla cookies and vanilla cookies baked a little more tan and brown--cookies of every color for my diverse party crowd! Decorate with edible star sprinkles for extra sparkle! Cookie Award Card template available
.
Best Female Costume Design
Best Male Costume Design
Best Female Hair & Makeup
Best Male Hairstyle
Best Friend in a Leading Role
Best Spouse in a Supporting Role
Best Partner in a Supporting Role
Best Speaker of Foreign Languages
Best Animated, Individual
Best Sound Mixing/DJ
Best Food Editing
Best Musical Abilities
Best Director of Photography
Best Guesser of Winners
Best Live Action
GAME: STAR BALLOTING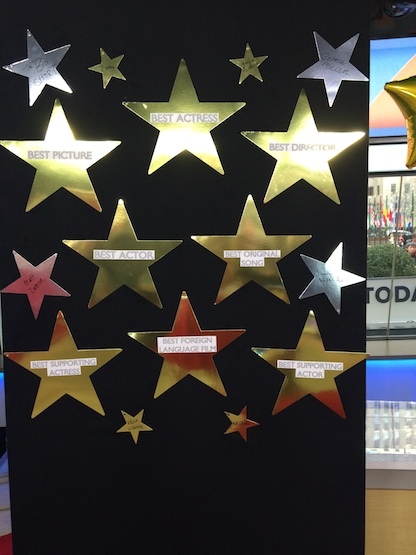 On a wall, dot your favorite categories on big gold stars like "Best Director" and "Best Supporting Actress" up to about eight. I did the categories in a pretty marquee font and simply cut and paste: that simple! Each guest gets eight smaller stars, where they write their choices for each category. (Have a cheat sheet of nominees nearby for reference.) This is how they hedge their bets. No full-scale Oscar ballots--who keeps track after an evening of imbibing? This is more visual and fun as you check the wall to see who is right as the winners are announced.
Assorted metallic paper stars from $1.99, partycity.com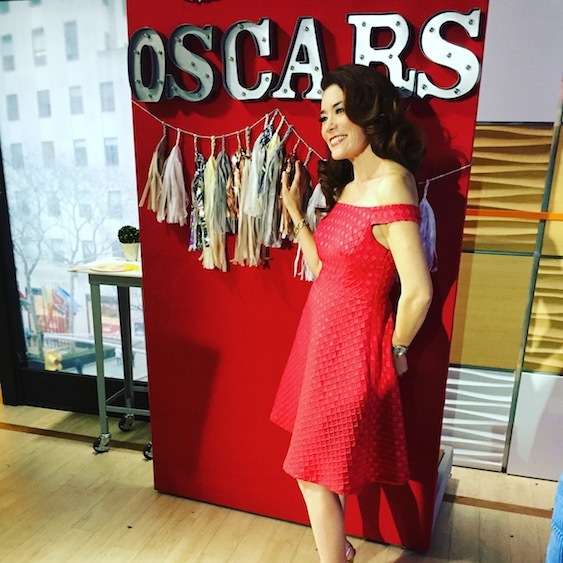 To watch these party tips in action, watch the Today show video.
*Sale prices reflect time of publication and may be subject to change.
Popular in the Community