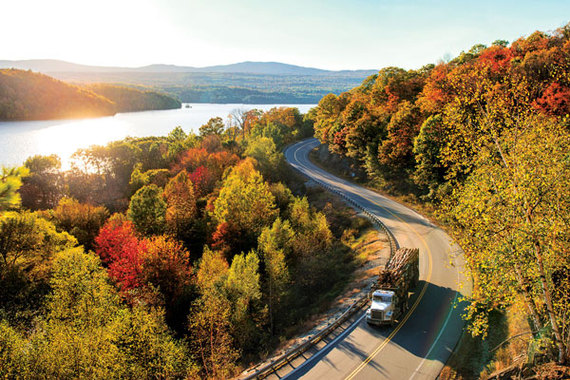 Day 1 -- Orchards, Hills, and Hidden Ponds
By Virginia M. Wright
Photographed by Mark Fleming
The cars race east and west on Routes 25 and 302 in western Maine, their drivers hell-bent on getting to the coast or New Hampshire's Presidential Range. Not you. You're taking the Pequawket Trail Scenic Byway into the foothills of the White Mountains. You slip through the tiny towns of Baldwin, Hiram, and Brownfield and skirt placid ponds that are every bit as beautiful (some might argue more so) as that big, famous lake just down the road. The lazy Saco River twists itself into so many knots you lose track of the number of times you cross it. In Fryeburg, Route 113 drops the state Scenic Byway designation, but there is nothing ordinary about the next 40 miles. You dip into the fertile Saco River intervale, a vast, flat lowland dotted with antique barns and recently harvested fields and offering unparalleled views of the White Mountains. Weaving back and forth over the Maine-New Hampshire border four times, you are soon climbing Evans Notch, a mountain pass in the White Mountain National Forest. The road here is so narrow that it is canopied by the branches of maples, birches, and beeches -- it's a glorious tunnel of red, orange, and gold.
This is the forgotten Maine. Lakes and woods. Mountains round, humble, and lush. There's a ton of great culture and good, hardworking people -- we say there's a carpenter for every tree. -- Carol Noonan, musician and owner of Stone Mountain Arts Center, Brownfield.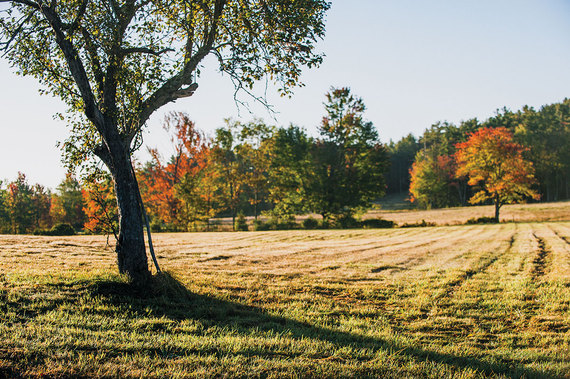 Detours
◆ Shop for antiques in Cornish. Ten (at least) antiques shops are within walking distance of each other in this colonial village on the Ossipee River. Before resuming your journey, zip up High Road for spectacular views of the White Mountains.
◆ Pick apples at Five Fields Farm on the slope of Ministers Hill. Third-generation orchardist Tom Gyger grows McIntoshes, Cortlands, Macouns, Paula Reds, Honey Crisps, and more. Rte. 107, South Bridgton. 207-647-2425. fivefieldsski.com
◆ Take a beer break. It doesn't look like much from the outside, but Standard Gastropub, a working gas station, has 11 regional taps, a couple hundred varieties of bottled beers, and a small but well-executed menu of savory pub snacks. 233 Main St., Bridgton. 207-647-4100. Or shoot over to Lovell to visit the place BeerAdvocate proclaims "the best beer bar on the planet." Ebenezer's Pub has 35 Belgian beers on tap and more than 1,000 bottled beers. 44 Allen Rd., Lovell. 207-925-3200. ebenezerspub.net
◆ Grab some sandwiches from the Stow Corner Store on Route 113 (they make everything from a traditional roast turkey to tequila-lime shrimp with onions and banana peppers), then follow Route 113 to Evans Notch. Work up an appetite on The Roost, a 2-mile loop hike with outstanding views of the Wild River Valley. Picnic at the Wild River footbridge.
The Route
North on Route 117, from Cornish to West Baldwin (2 miles)
North on the Pequawket Trail Scenic Byway (Route 113), from West Baldwin to Fryeburg (18 miles)
North on Route 113, from Fryeburg to Gilead (30 miles)
East on Route 2 from Gilead to Bethel (13 miles)
Where to Sleep
With an abundance of B&Bs and motels, Bridgton and Bethel are your best options for lodging. Get suggestions from the Greater Bridgton Lakes Region Chamber of Commerce (207-647-3472. mainelakes chamber.com) and the Bethel Area Chamber of Commerce (207-824-2282. bethelmaine.com). There are several campgrounds in the area, including four White Mountain National Forest campgrounds on Route 113 in Evans Notch. 877-444-6777. forestcamping.com