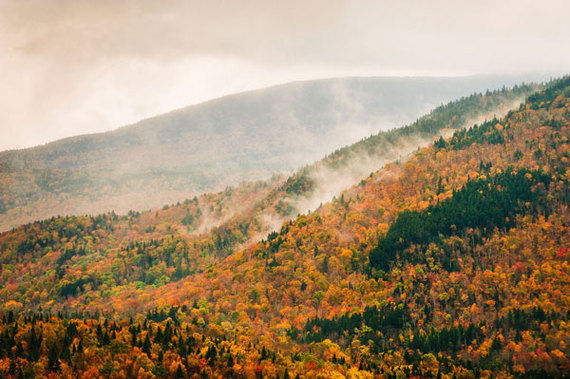 Day 2 -- Mountains and Waterfalls
By Virginia M. Wright
Photographed by Mark Fleming
Route 2 follows the Androscoggin River northeast from Bethel, a mix of woods and farm fields. You see farm stands selling pumpkins and other falls crops, plus lawn displays, which, with their jumble of peeling shutters, wooden chairs, wheelbarrows, and birdbaths, fall somewhere between an antiques shop and a junkyard. After you pass through the mill towns of Rumford and Mexico, you venture into a dramatically different landscape. The woods, dense with spruce, close in, and the terrain is rugged. Even the rivers have a harder edge: In Byron, the Swift River has carved Coos Canyon, a long, deep gorge with pools that make for great swimming if the temperature allows. A few miles north, one of the Swift's tributaries plunges over 90-foot-high Angel Falls. The Rangeley Lakes National Scenic Byway begins near here, climbing to Height of Land, a spectacular overlook with views of Mooselookmeguntic and Upper Richardson lakes and the surrounding mountains. Looping around Rangeley Lake, the route is dotted with ponds, lakes, and viewpoints all the way to Smalls Falls, a series of cascades on the Sandy River in Township E.
We have moose. We have bear. We have these bright-blue lakes surrounded by big mountains. I call this place 'my little Alaska.' -- Keith Deschambeault, pilot and owner of Acadian Seaplanes, Rangeley
Detours
◆ Stroll around the maple-edged Bethel Hill Common, a classic New England town green with a gazebo, then pop into the Bethel Historical Society's 1821 O'Neil Robinson House and learn about "the Athens of Oxford County." Broad Street on the Common. 207-824-2908.
bethelhistorical.org
◆ Ride the Sunday River Chondola and see the Mahoosuc Mountains in all their golden glory. Sunday River Rd., Newry. 800-543-2754.
sundayriver.com
◆ Go higher: Acadian Seaplanes offers both seaplane and helicopter tours of the Rangeley Lakes Region. 2640 Main St., Rangeley. 207-864-5307. acadianseaplanes.com
◆ Brush up on Maine's sporting camp history at the Rangeley Outdoor Sporting Heritage Museum. Exhibits include a display of vintage, handcrafted equipment like fishing rods, paddles, creels, and canoes, as well as memorabilia from President Dwight Eisenhower's 1955 Rangeley vacation. Rtes. 4 and 17, Oquossoc. 207-864-3091.
rangeleyoutdoormuseum.org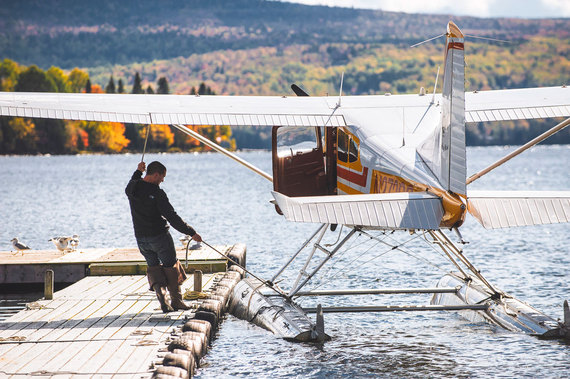 The Route
Northeast on Route 2, from Bethel to Mexico (24 miles)
North on Route 17, from Mexico to Oquossoc (36 miles)
Southeast to Smalls Falls along the Rangeley Lakes Scenic Byway (Route 4), returning via South Shore Road (39 miles)
Where to Sleep
A wide range of lodging, from B&Bs and hotels to sporting camps, cabins, and campgrounds can be found in the Rangeley area. The Rangeley Lakes Chamber of Commerce maintains a comprehensive list. 207-864-5571.