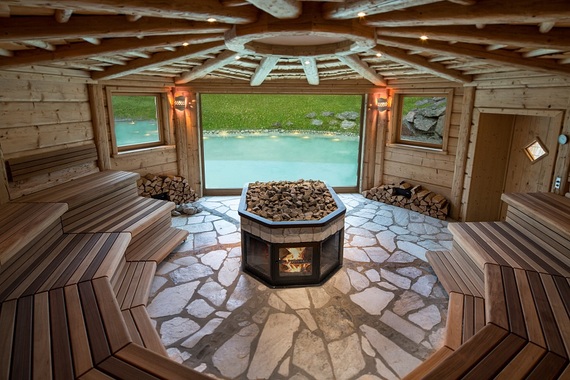 It's getting cold in New York, and the low temperatures make me wish I had a decent sauna to escape into.
Along with the delicious heat, saunas provide real health benefits. According to a study of 2,300 middle-aged Finnish people published recently in JAMA, the subjects who sauna bathed most frequently (four to seven time per week) and for the longest duration (nineteen minutes per session) had a significantly reduced risk of sudden cardiac death, fatal coronary heart disease, fatal cardiovascular disease and all-cause mortality.
At my Brooklyn gym's sauna, a big sign on the wall says, "Do not spend more than five minutes in the sauna!" Honestly, I wouldn't want to spend more time in the dark, crowded sweat box anyway.
In Austria, they practice a tradition called Sauna Aufgass, a luxurious, relaxed ritual of chills and delights, that makes you want to stay in the sauna for long periods of time. I participated in one last month at Stanglwirt, an alpine wellness resort in Tyrol, Austria.
The ritual took place in the "textile free" adults-only area of the spa, and began in the white marble steam room. Twenty male and female Austrians of all shapes, sizes, from their early twenties to late sixties, and I sat on slippery benches in the mist, completely naked. Europeans aren't self-conscious; they let it all hang out. I felt exposed and didn't know where to look, but I got used to public nudity quickly. It wasn't as if I would ever see (all of) these people again. (FYI: Arnold Schwarzenegger visits Stanglwirt every year. If he walked into the steam room in the buff, I might have had a cardiac event.)
The saunameister, a tall man named Klaus, gave each of us a good handful of salt infused with camphor and herbs, and instructed us to scrub our skin with it. He rubbed it on my back for me. The salt mix lowered my body temperature dramatically. Even in the hot steam room, I felt chills.
Next, Klaus instructed us to take a hot shower and rinse off the salt. Going hot to cold to hot was a recurring theme of the experience. The temperature change forces your circulation system into overdrive, sending blood racing to your extremities from your core and back again, giving the heart a workout, sweeping away stagnant toxins and oxygenating the whole body.
After the steam room and showers, we were brought into the sauna. The space was bright, big (an estimated 300 sq. ft.), and beautiful with benches made of pine harvested from the Alps. From my seat, I looked out the glass walls onto a placid blue pool of natural spring water in the foreground, and a breathtaking panoramic view of the snow-capped Wilder Kaiser mountains in the background.
Klaus's Aufgass kicked off with more body rubbing, this time with scented oil. The oil glided along my exfoliated arms and legs, instantly warming and soothing the surface of my skin. Klaus used a large white towel like a sail to whip heat from Swiss stone pile at the center of the room, and send waves of it across our bodies. Just as I was relaxing into the heat and transfixed by Klaus's towel dance, he instructed us to leave the ninety-five degree sauna, and jump into the natural cold spring pool outside. A two-second shock of fifty-degree water was enough for me, but those Europeans are made a tougher stuff. I ran back into the sauna, but some hardcore Austrian lingered in the freezing pool.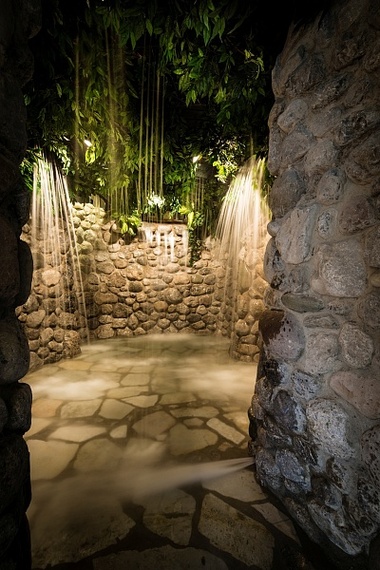 Klaus continued the ritual by pouring salts and potions into the hot rocks, filling the room with exotic scents and smoke. After another five or ten minutes of heat, we were sent into the waterfall grotto next door, a room of stone walls and floor that looked like it'd been carved out of a mountain. Upon entered the space, motion detectors activated hidden cold water streams that cascaded like a natural waterfall right onto our heads. A scream, a shiver, and then, back into the sauna for one last round of oils, heat and scents.
In more extravagant Aufgass rituals, the saunameister might lead the group in singing and chanting. Klaus kept us entertained with his towel whipping, and telling funny stories in German that made the Austrians laugh. I had no idea what he was saying. It could have been a lengthy evisceration of Donald Trump and the stupidity of Americans. It didn't matter. I was exhilarated by the experience and laughing along seemed like the right thing to do.
From start to finish, the Stanglwirt sauna experience lasted about an hour. I thought it would exhaust me, but later that night, I was full of energy, and couldn't get over the softness of my skin. I've been looking but can't find an Austrian-style sauna in New York. I'll have to settle for Russian, Roman and Asian--or plan a trip back to the Alps.