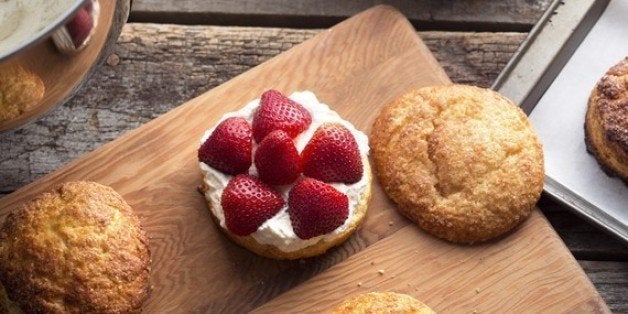 This American classic never fails to delight a crowd. We've perfected the recipe to produce a tender, flaky shortcake with a golden crust studded with sugar crystals. Once you taste the cakes with fresh vanilla whipped cream and lightly sweetened berries, we think you'll agree--there's no better use for springtime strawberries.
Paleo friends, fear not! We've also created a sophisticated spin on this dessert, swapping out the wheat flour for almond flour and adding a dash of Earl Grey tea.
Yield: 6 to 8 shortcakes
Active Time: 15 minutes
Total Time: 1 hour 20 minutes
2 cups flour
1 tablespoon baking powder
1/2 teaspoon sea salt
5 tablespoons sugar
12 tablespoons very cold European-style butter, cut into cubes
1/2 cup heavy cream
1/2 cup Greek yogurt
1 teaspoon vanilla
Egg wash
1 large egg
1 tablespoon water
1 teaspoon sugar
Pinch salt
Raw sugar, for sprinkling
Berries
1 pint strawberries
1 tablespoon sugar
Zest of 1/2 an orange
Cream
2 cups heavy cream, very cold
2 tablespoons sugar
2 teaspoons vanilla powder
In the bowl of a food processor, combine the flour, baking powder, salt, and sugar, and pulse to blend. Add the butter and pulse 5 to 10 times until the mixture resembles coarse grains of sand.
In a small bowl, whisk together the cream, yogurt, and vanilla. Add this mixture to the flour mixture in the food processor and pulse again, just until the mixture starts to come together, taking care not to overmix.
Lightly flour the countertop and flatten the dough into a 1-inch thickness. Using a 2 1/2- to 3-inch circular cutter, cut the shortcakes into circles and place on a parchment-lined baking sheet. Place dough in the refrigerator and chill, 1 hour.
Preheat the oven to 400 degrees. In a small bowl, whisk together the egg, water, sugar, and salt, then lightly brush the tops of the shortcakes with the egg wash. Sprinkle the tops generously with raw sugar. Bake for 15 to 20 minutes, until golden brown.
While the cakes are baking, clean and slice the strawberries and place in a bowl with sugar and zest. Stir and let sit.
In the clean, chilled bowl of a mixer fitted with the whisk attachment, add the cream, sugar, and vanilla powder. Start on low speed, gradually bringing it up to high, and beat the cream just until stiff peaks have formed.
To assemble, slice the shortcakes in half with a serrated knife. Place a large dollop of whipped cream on the bottom half and arrange strawberries on top. Place a small dollop of cream on the underside of the top half and place on top of the strawberries.
You Might Also Like: