Let's start off this article and 2016 on a real note: this is not a detox-diet-juice-cleanse smoothie recipe.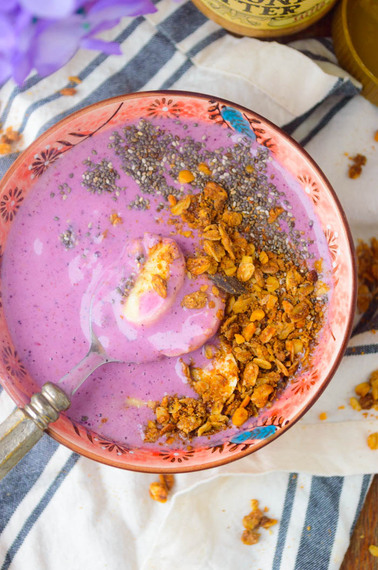 This is the thick and creamy ice cream style smoothie you can only eat with a spoon.
The kind that gets topped with all the crunchy granola clusters you want, slices of banana, good for you chia seeds and drizzles of honey.
The breakfast you crave because it makes you feel like a million bucks on an early Monday morning.
The post-workout meal full of replenishing love that you're body gets ecstatic over.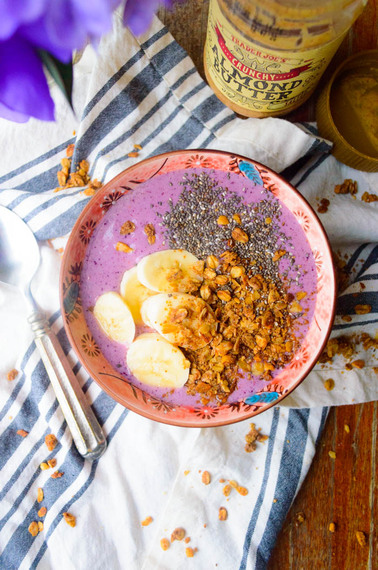 However you want to spin it, this smoothie is basically magic in a bowl. Or instead of a bowl, an on-the-go mason jar if you're rushing out the door because you woke up late for your 7:40 a.m. metabolism lecture. (True story via yours truly)
The best part about this recipe is the ingredient list is spot on. Aka no expensive powders you've never heard of or green leaves you can't pronounce. I didn't want to make the start of your 2016 any more complicated than it should be or try to convince you that drinking a green liquid everyday will "cleanse" your system.
You deserve to have the ultimate thick and creamy smoothie this year that's full of berries, bananas, Greek yogurt and almond butter. It's simple yet effective in the most delish way possible.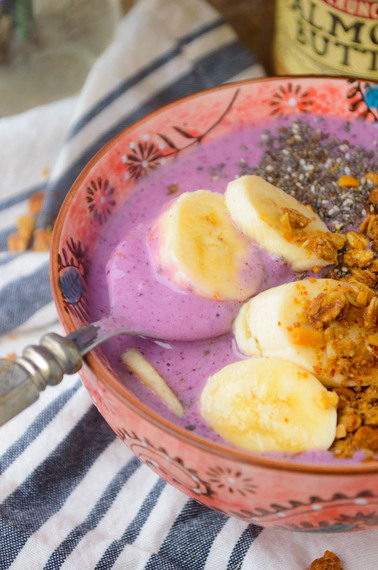 Ingredients
1 large frozen banana, sliced
1 cup frozen berries
1/2 cup vanilla almond milk
6 oz. vanilla yogurt (I used Siggi's brand)
1 Tbsp. almond butter
Honey to taste
Optional: handful of spinach
Toppings: granola, chia seeds, sliced bananas
Directions
Place all ingredients (besides toppings) in a high powered blender and blend until smooth. If the smoothie is too thick and not blending fully, add more almond milk. Pour into a bowl, top with toppings and eat with a spoon.
For more information on this recipe click HERE
Related