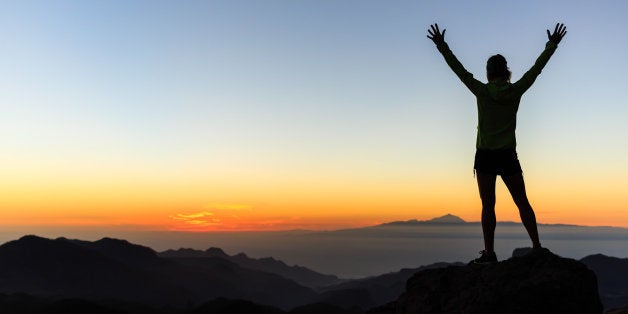 The Dalai Lama warns that the biggest mistake we make is assuming we have time... to do more, be better, and act better. And the truth is even if we live to 112, it goes by in the blink of an eye and then we die. This undeniable buzz kill has inspired many a bucket list...the ultimate to do of "to do's", before you can't.
Considering my own inevitable demise, I became curious about bucket lists in general. Who writes them? What motivates their choices? And what in God's name is on them? So, like all inquiring field researchers I hit the Internet, only to deduce that as a culture our priorities are upside down.
I started on Amazon and was shocked to discover that there is an entire industry for aspiring bucket listers seeking suggestions. I found over one thousand books targeting all sorts of niches from bar lovers to film buffs, baby boomers to ballers. And on Google, the search produced a staggering 73 million plus references. Daunted, I just jumped right in filtering through the most frequently searched, and found that very discrete themes and groups emerged. Here is a mile high overview of some of the most popular.
The Average Joe:
This is by far the most popular grouping of lists and include super fun, but predictable goals like learning to cook, riding a mechanical bull, reading Moby Dick, visiting the Eiffel Tower and of course, the penultimate... tandem skydiving.
The Extreme Adventurer:
For thrill seeking junkies chasing heart- attack- inducing adrenaline levels suggestions include base jumping off Kjerag in Norway, hiking Angels Landing in Zion National Park, swimming with Great Whites in South Africa, and hand gliding over Rio de Janeiro.
The Quirky:
For those who prefer other out-of -the box actives, there are plenty of choices ranging from ghost hunting, oxygen bar hopping, and solving a Rubik's Cube while baking a rainbow cake.
The Christian:
If you're the religious sort, don't dismay, there are ideas just for you no matter what faith to which you subscribe. Christians, for example, are advised to visit the Holy Land, win someone to Jesus, stand up to the church bully, and wash someone's feet before you pass through those Pearly Gates.
The Kinky:
And predictably, there are a plethora of ideas for the more randy among us who choose to explore their more sensual side, such as having sex on a beach with Kim Kardashian, joining the mile high club, engaging in a quickie at the office, or giving the old manage- a- trios a go.
After reading thousands of lists comprising hundreds of ideas...from creative to creepy, inspiring to insipid... I recognized a gaping void. The black hole of bucket lists is the active pursuit of character development. Yes, character, that burley concept meaning the aggregate of features and traits that comprise someone's individual nature. And I am not talking about being a character, but rather cultivating character, which is perhaps the single most important goal to which we can aspire. Because, the fact is, your life's value will not be measured by what you do, but rather who you are. And, never will that become clearer to you than on your deathbed.
No matter what you achieve in your life, how many friends you've had, successes you've scored, selfies you've taken, toys you've accumulated, you will die alone. And even if you're being spooned by your wife of fifty years at the very end, you can't take her, or anyone, or anything along, except for one person...and that's you.
I am not saying you should Debbie Downer dwell on it, but rather reflect on it and use it as an exercise to help shape and define not what you want to achieve, but rather who you want to be and how you'd like to conduct your life. Steve Jobs said, "Remembering I will be dead soon is the most important tool I have ever encountered to help me make the big choices in my life...Things just fall away in the face of death leaving only what is truly important."
So, what is truly important to you? Who are you now? Who would you like to become? A way to help you prioritize is to think about it like this. Say you were given the opportunity to go through the door of death with someone...who would it be? Or more specifically, what characteristics would they have?
For me, I'd choose someone who is exceptionally courageous, adventurous, wise, calm, cool under fire, fierce in battle, graceful, and they'd have to have a damn good sense of humor. In other words, I am seeking nothing less than a Superhero...which brings me to the punch line.
The single most important priority that everyone should have at the tippy-top of their bucket comprises four words...Become my own hero!
Ours lives must be about cultivating our greatest selves... not through achievements, but by developing our strength of character so that at the end of our runs we would chose ourselves, as our heroes, to get the important work of dying done...with dignity, with courage.
The beauty of embracing the priority that our life's work must be about developing the hero within lies in it's power as a decision making tool. When that blow- hard at work gets under your skin, just ask yourself, "What would my hero do?" When you want to quit the marathon, "What would my hero do?" When your two boys are wrestling in aisle six? Just ask once again, "What would my hero do?"
I am not saying that the question will make the answer light up in neon. But, it will help you step back and consider what characteristic you'd like to exercise to get through a sticky situation. And, like muscles, positive aspects of your character will grow stronger as you use them. Added benefit? The stronger you become, the greater positive effect you can have on others and the world around you.
So go ahead and make bucket lists galore...kinky, adventurous, quirky...that which we choose in life, relationships, goals, jobs, travels, and challenges all serve as exciting boot camps for the soul. But it is how we conduct ourselves and navigate our way through them, both the successes and failures, which shape our character and unleash our intrepid and fearless hero's within.