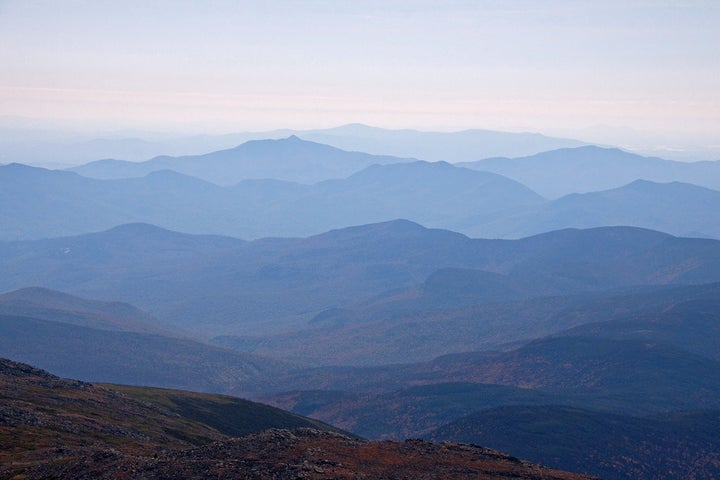 Winds yell at you. Snow talks softly. But winter's always saying the same thing: Escape. Find some sun. Run as far from me as you can.
I listen, just like anyone, but keep suspecting this might be a trick. A January lie. Is there some frozen secret that the season doesn't want me to see? I've hunted for it in trips to Antarctica, to Greenland, to Norway's northernmost tip -- but no luck at all. Until now.
I've found the ultimate winter adventure. It isn't exotic, it's convenient: at the top of New Hampshire's Mount Washington, only a few hours' drive from my home. The 6,288-foot summit claims the "world's worst weather." Worse than Everest. Worse than the North and South Poles.
There's an observatory up here that's attacked by ice and by temperatures of 30 and 40 below. In April, 1934, it clocked a 231-mile-per-hour wind, the strongest ever recorded on earth. Sign up for one of its winter excursions, and you can get up here to stagger around in gusts, spend a night in the bunkhouse and watch the weather instruments go wild.
The first overnight I could get a space on was a few years back, in mid-January. The Mount Washington car road and cog train are closed from October until May, so we were set to be hauled to the top in the back of a snow cat.
"Since we cannot count on 100% reliable transportation," said the flyer mailed to me in advance, "You must be in good physical condition so that you can hike to safety...in rugged weather conditions with energy-sapping cold, chilling and buffeting winds, and through deep drifted snow." I was ready.
But then there was the list of gear that fell out of the same envelope. What's an ice axe? Was I going to be chopping up there? Sports Authority was out of anti-fog solution to apply to my ski goggles as required. I ended up packing my flannel-lined jeans instead of the suggested wind pants and picked up a pair of gloves at CVS since I didn't have time to shop for "windproof mitten shells."
It was 7 degrees at the bottom of the mountain on the morning of our ascent. The tips of my fingers were, even there, beginning to scream. Shaking people's windproof mittens, I found out I'd been booked on "A Special EduTrip for New Hampshire Science Teachers." I am not a teacher and I live in Rhode Island. But it looked like a veteran group. Maybe I could learn.
During the lurching climb inside the snow cat, we tipped and heeled around tricky curves with names like "Gravel Pit," "Tank Farm" and "Air Force." No wildlife so far. But, we were told, the summit sometimes has ravens, foxes, weasels. One time, somebody thought they saw a moose.
At about 4,000 feet, one of the teachers brought out a bag of Original Lays. Due to the altitude it was puffed up to basketball size.
Jim Nacchia, a teacher in a high-security juvenile detention facility, looked like he wanted to pop it. He had an evil gleam. I asked him why he was on the trip. Would his students want to come?
"My kids don't leave the building," said Nacchia. "My job is to bring the outside to them."
At that exact moment the snow cat smacked something in its path. We were thrown violently forward, then back. The cabin's rear window was smashed. Doors flew open. Duffle bags ejected into the snow.
"Everyone okay?" checked trip leader Steve Roberts. Everyone was. In fact the science teachers seemed excited over the forces of physics we'd just felt. Someone held up the dirigible bag of chips: Still intact.
At the summit, we got a tour of the observatory building. There was its lighthouse-like tower. And there was its U.S. Post Office with a sign stuck to its window: "Closed til June." The highest peak east of the Mississippi, Mt. Washington has its own private zip code: 03589.
The observatory's weather room, a mass of quivering instruments and screens, looked like sick bay on Star Trek. The patients monitored here are storms, violent winds, pathological snow.
The bunkhouse where we would sleep looked like part of a fire station. There were cast-off couches and chairs, a volunteer cook stirring chili in a pot and a panel alarm on the wall. The observatory's mascot cat, Marty, slept on top of a pair of duck boots.
It was time to get on our insulating, air-proof gear. Roberts pushed open the observatory door. No blizzard. But a slap of wind. And sun mirrored on everything, making you frown or grin.
"What an amazing day," said Nacchia. I disagreed. Winds at maybe 40 mph; you can get that anywhere. But single digits, and this despite the sun.
The top of Mt. Washington was a kitchen freezer that needed defrosting. All of its antennas and outbuildings wore a furry coat. A wrap that seemed to be woolier than wool. It was horizontal ice. I started chipping at it, snapping chunks and pinpricks and points.
"Rime ice," said Ashley Moore, a teacher from Andover, N.H. "It's basically frozen clouds."
I'd like to collect this stuff, I thought. I wanted to bring some home. But it was time to go back in. The wind was starting to toss snow around. And Roberts was pointing to something. Gray clouds just beginning to shadow the clean White Mountain view.
Before bunking down we watched some weather films and got a talk on why Mt. Washington is world-class windy and cold. It's got to do with its strategic spot at the intersection of three big storm tracks. I wanted to know more but the inside warmth was making me drowsy and I began to doze.
It was morning. Marty made sure I was up by launching himself into my middle bunk. I went straight for the bunkhouse window. There was nothing to see, nothing but a coating of salt-like granules and the sound of something peppering the glass.
I gave a whoop. The instrument screen on the wall said we were up to wind gusts of 82 mph. Blowing, drifting snow.
Some of the science teachers were drinking cocoa and talking about what life might be like if you lived in New Mexico or Arizona. "The heck with that," someone said. "Let's go."
A group of us yanked on our boots and coats and goggles. We clanged up metal stairs and wrestled with the door that leads outside to the deck and tower. A wind gage was whistling and spinning.
The storm struck like a punch. I felt it square on the nose. My scarf was whipped away: It coiled on the balcony and was gone, snaking into whiteness. Now I was open to whatever the wind could throw and it picked ice chips. Tiny, diamond pieces.
My flannel lined jeans were drenched. The CVS gloves were busy collecting frozen water inside. I tried to move and turn from the wind, but lost my footing and banged into the observatory wall.
I wished I had some anti-fog solution. An ice axe.
Finally, someone planted a foot and wrenched back the door. We grabbed the frame, we ducked, we slid. We were home.
It was when I was on the staircase, looking down, that I saw it. Something spiky and white. More furry than Marty.
It was a summit badge: Rime ice.
There was only a patch on my jacket, and it was starting to melt. But when I broke the tip of it off and held it up it looked delicate, valuable, fine.
Winter did have some secrets, I thought. I couldn't take them home. But I could remember.
And while it lasted, this one was mine.
Peter Mandel is a travel journalist and the author of 10 books for kids including his newest about a guy who runs a jackhammer and uses his belly on the job: Jackhammer Sam (Macmillan/Roaring Brook).