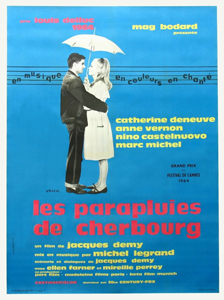 A beautiful little film, telling a love story, in which all the dialogue is sung (in French with subtitles). Restored in 1992, and available on video, this pic is quite satisfying—on many levels.
The time is 1957, and 17-year-old shop clerk Geneviève Emery (Catherine Deneuve) is madly in love with 20-year-old garage mechanic Guy Foucher (Nino Castelnuovo). For a few brief moments, as she meets him after work to go to a performance of Carmen, all seems idyllic.
By the next morning, though, reality sets in. Her widowed mother and employer (Anne Vernon), owner of Les Parapluies de Cherbourg—the film's namesake—is completely opposed to Geneviève marrying Guy. What's more, the shop is in serious financial trouble. Madame Emery reluctantly decides to sell her jewels the very next day.
Mother and daughter visit Dubourg the jeweler (Harald Wolff), but he can do nothing for them. As luck would have it, wealthy diamond merchant Roland Cassard (Marc Michel) is in Dubourg's store at that same time, and saves the day by purchasing some of Madame's items. He is immediately captivated by the gorgeous Geneviève, but keeps this to himself.
The following day, Geneviève meets Guy to tell him the bad news about her mother not approving their proposed marriage. Guy gives her the worse news that he has been drafted for two years to fight in the Algerian War, and must leave tomorrow. The couple spends the rest of the day together, and part of the night, as well. It is on this occasion that they make love for the first time.
After bidding au revoir to his frail aunt and guardian Elise (Mireille Perrey) and her helper Madeleine (Ellen Farner), Guy meets up with Geneviève, and they part at the train station.
Before long, Geneviève reveals that she is pregnant, by Guy. The letters from Guy are few and infrequent, so the bewildered teen talks herself into marrying Cassard—with plenty of urging from her mother, to be sure. Roland, for his part, is truly in love with Geneviève, agreeing to raise the child as his own, in an era when unwed mothers were not exactly looked upon as ideal marriage material.
Guy's term of service ends, and he returns to Cherbourg, heading right away for the umbrella shop. Alas, it has been sold, and will now be an outlet for washing machines. Returning to the home he shared with Elise and Madeleine, he is told about Geneviève—the girl who promised to wait for him.
That evening, he has a few drinks, and spends the night with a hooker (Jane Carat). Although she calls herself Jenny, her real name is Geneviève! The not too subtle point being made, Guy returns home, only to find that Elise has died.
Madeleine, secretly in love with Guy, is preparing to leave, but he asks her to stay. Soon, they sort out the details of his inheritance, and with her help, he puts his life back together, and buys his own gas station. They marry.
In the final scene, it is now December, 1963. Under a light snow, Madeleine and their young son François leave the station to visit Santa Claus. A sleek Mercedes pulls in, and Guy walks over to help the driver, who is Geneviève, the girl he left behind, accompanied by her daughter Françoise, their love child.
Their time together is brief. They exchange pleasantries, but there is little doubt that Guy is a whole lot happier now than Geneviève. As she drives off, Madeleine and François return.
Let's look beneath the chick flick veneer.
Asynchrony is a constant theme. As Guy rushes to meet Geneviève that first night, the last minute customer whom he never sees is Roland Cassard. Geneviève gets pregnant the very first time they have sex. Guy's beloved aunt dies the very night he hits bottom. Madeleine and Geneviève miss each other at the end, by only seconds.
Family values can have quite different effects. Geneviève is forced into an unhappy marriage, while Guy is essentially forced into a happy one. The double meaning of selling the family jewels is not lost on the young beauty.
Indeed, as she sees her future developing into something far different from what she anticipated, the once radiant girl gradually turns colder, emerging as an eerie ice queen, in the snow no less, at the movie's end.
Calling all HuffPost superfans!
Sign up for membership to become a founding member and help shape HuffPost's next chapter