West Virginia sits atop a treasure chest of coal resources.
Coal began to define the state's culture, history, and the economy as early as 1742, when John Peter Salling unearthed the coal in present-day Boone County, West Virginia. Today, all but 4.5% of the state's electricity comes from coal, and arguably there is no greater consequential and polarizing topic today for West Virginians than the debate over what should be done with the state's coal resources.
But there are two things about coal that are undeniable: coal has an impact of human suffering, and coal contributes to climate change.
For me, it took a ground tour of mountaintop removal sites to fully realize the impact of coal in West Virginia, and how its primary extraction method, mountaintop removal, has far-reaching effects. Guided by Dustin White and Vivian Stockman, West Virginia locals and activists with the Ohio Valley Environmental Coalition, we trekked for hours looking at the impacts of mountaintop removal at sites such as Hobet 21 and Samples, which are both owned by Patriot Coal and subsidiaries.
To view these sites, we inched up and through Boone County's wild and beautiful forests until we arrived at numerous communities such as Mud and Kayford once thrived. Now, empty parcels are what remain. One by one, like a puzzle piece, these mining companies surrounded private property, therein decreasing property values. Residents abstained as long as they could from the corporate buyout, until they were compelled to leave due to the neighboring mountain blasting and environmental degradation.
We passed driveways that once led to homesteads, mailboxes that once connected some of the most rural places in America to the rest of the country, and powerlines that once supplied energy to vibrant churches, stores, and gathering spaces. These families used to move to Akron and Pittsburgh, but now to other population centers. Only now, everything was empty, barren, and only remnant artifacts of a not-so-distant past which were - in a way - preparing me for what I would see next.
Coming over one of the ridges was like leaving West Virginia and entering a moonscape. The maples and hemlocks stood to my back and cast shadows into what is considered "reclaimed" mining land. Ahead of me was non-native, invasive West Virginia flora such as Chinese lespedeza and Japanese silverberry (also known as autumn olive). This was the mining companies' elected strategy to "restore" the mined land to its natural state, which is satisfactory according to current regulation.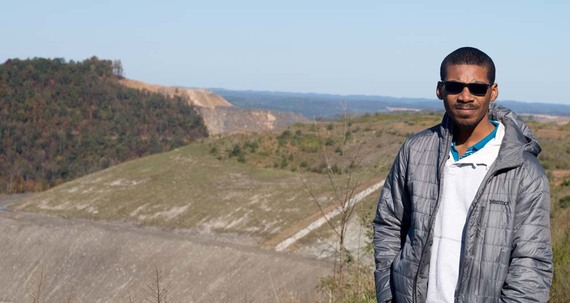 Mining processes release heavy metals, such as selenium, that were once locked deep into the earth. Now, they are closer to the surface, so, when water slides across these reclaimed lands, it carries with it a toxic soup of the metals. I took the conductivity meter and stuck it into a stream without a connection to mining and compared it to that of the stream coming immediately off a reclaimed site. The greatest number the meter read was about 1500 microsiemens, far above the normal reading of 300 for West Virginia streams.
This tells us that something is in the water, and numerous studies have been able to directly link coal energy production, extraction, and waste management to human health disparities. For example, Indiana University's School of Public Health researchers found that regions that use mountaintop removal experience "an excess of approximately 1200 adjusted deaths per year." Humans are not the only animals experiencing physical health changes because of coal mining. Selenium has caused grotesque deformities in larval fish ranging from s-curved spines and double-headed larvae to fish with both eyes on the same side of their heads.
According to the groundbreaking, peer-reviewed "Carbon Majors" study, tracing all historic greenhouse gas emissions back to specific companies and entities, the coal industries of the world are responsible for 51% of global greenhouse gas emissions from 1854-2010. It's the coal that's extracted, refined, burned or exported that's fueling our planet's climate crisis. It's what's happening in West Virginia and then the coal we consume in our homes and businesses all across the United States that has a direct impact on the melting ice sheets in the Arctic, the disappearance of glaciers in our national parks, and the rising sea tides across coastal cities.
With so much evidence demonstrating the disastrous effects of coal, it's no wonder that Donald Trump told Playboy magazine in 1990:

"If I had been the son of a coal miner, I would have left the damn mines," and he continued, "But most people don't have the imagination, or whatever, to leave their mine. They don't have it."
Donald Trump's views have since changed, and now he is promising to open up more mines: "The miners . . . all over are going to start to work again, believe me. They are going to be proud again to be miners."
To the comfort of environmentalists, these were empty promises. Despite historic growth in U.S. coal production over the past three decades, the number of coal-mining jobs in the country has steadily declined, and will likely continue due to some of the ever-increasing mechanization that can replace human workers, as well as steep competition from natural gas.
The current administration is trying to make waves on climate change with the new Clean Power Plan, which is currently stalled in federal courts. We regulate other greenhouse gasses, so why should carbon fall short on our list, President Obama once remarked. Shortly after the Obama's Clean Power Plan's release, I made an appearance on MSNBC's PoliticsNation, where Reverend Al Sharpton remarked, "The American people are ready to take action against climate change."
While the American people are generally in support of environmental regulations, many West Virginians do not see eye-to-eye with the Obama administration's strategies. Many West Virginians see coal as the only economic opportunity. With a high school degree, a career in the coal companies could comfortably put a family into the middle class. West Virginians need real-world examples of a post-coal economy. West Virginians deserve renewable energy projects developed in the most coal-dependent regions of the state.
Popular in the Community