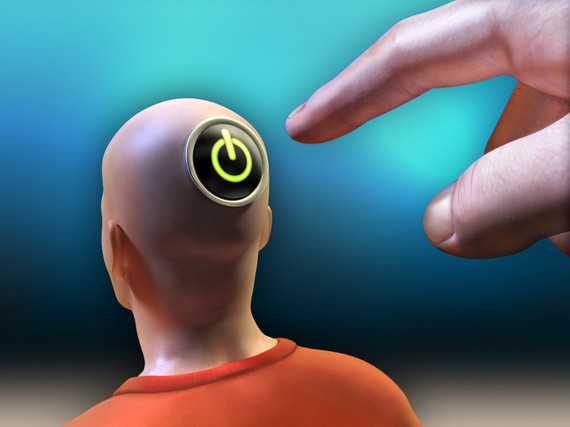 The American philosopher William James often argued that human beings were blind "to the feelings of creatures and people different from ourselves." It is this blindness that, if left unchecked, can progress from a simple preference for similar-looking/same-thinking people to ideological fanaticism.
Everyone is prejudiced to some degree. We may suppress those feelings from being outwardly expressed, or we may deny them even to ourselves. The key to keeping biases to a minimum is to turn off the personal filters that cloud judgment and focus instead on accepting other people's realities. Acknowledge the differences and then accept, embrace and appreciate them.

The importance of personal reflection and self-knowledge to creating a blinders-free perspective cannot be overstated. People who truly know themselves and feel comfortable in their own skin tend to be the most open-minded -- i.e., the most impartial and the least judgmental. They are confident about their own values and beliefs and, as a direct result, do not feel compelled to force those values and beliefs on others. On the other hand, people who have never delved deep inside to test and question their beliefs and values are far more likely to fear and denigrate the mass of others who do not look, sound, or act exactly like they do. These less reflective individuals are driven to persuade and/or punish the "others" to accept and validate their particular worldview. It's "my way or the highway" for those whose self-knowledge is constrained by ideology and indoctrination -- as well as a lack of general curiosity about and appreciation for the larger world around them. Their life's journey consists of a single track in the shape of a circle. They go round and round seeing the same things over and over again. And the more they see those same things, the more partial they become towards them.

This circular journey drives the why in every terror attack and hate crime, and it's the why that becomes the focus of law enforcement and the media in the immediate aftermath. Why would this or that seemingly normal person turn into a senseless killer? Why attack so randomly knowing that many innocent people (including children) will be among the dead and injured? The focus is on the search for a specific cause -- a specific rationale -- ranging from Islamic jihad to ethno-centric separatism to religious fundamentalism, homophobia, and pure racism.
Whatever the "specific" cause, the root cause is unequivocally indoctrination followed by blind faith to a person, organization or orthodoxy. Blind faith refers to beliefs that are held without true understanding, reasoned discrimination, or experiential proof. While an argument can be made that all "faith" is "blind" by definition, let's focus on the articles of faith that serve to dehumanize and engender hate.

Take a moment to consider your most deeply held beliefs, and then focus on those that originated from an external source. The beliefs you hold because you were taught to hold them. Examples might include the belief that women are subservient (and belong in the kitchen and out of the boardroom), homosexuality is an abomination (and gay marriage will destroy traditional marriage), Muslims are terrorists (and shouldn't be allowed to build mosques in "our" neighborhood), Jews are stingy and greedy (and plotting to take over the world), and Mexicans are lazy (and so we have to build an electrified fence on our southern border to keep them out and stop them from taking our jobs). No one -- and I truly mean no one -- ever derived these beliefs on his or her own. They are the result of indoctrination by one or more of the groups we belong to (family, school, church, friends, etc.), and the lack of a questioning mindset of our own.

Our educational, corporate and community institutions have trained us to repeat and regurgitate. Introspection and personal reflection are unvalued, ignored, discouraged or -- in extreme cases -- punished. We've become a world of blind followers with little insight into our personal character, and our society suffers as a result.

Most people believe what they've been taught to believe. They do what other people tell them to do, and say what others expect them to say. That's why the "lives of quiet desperation" that Thoreau described are so prevalent today and why civil discourse has been replaced with the coarse language of divisiveness and disdain.

Few people take this blind faith to the extreme of the Orlando and Charleston shooters, the Istanbul bombers, or the maniacal truck driver in Nice; but we all suffer from it. The only way to truly overcome and eliminate blind faith -- and the indoctrination that nurtures it -- is to focus on personal reflection and self-knowledge. If you can't explain what you believe, then you don't truly "believe" it. You've simply been taught to believe it.
Adapted from content in 20/20 Mind Sight by Phil Fragasso and Jillian Vorce.
Calling all HuffPost superfans!
Sign up for membership to become a founding member and help shape HuffPost's next chapter