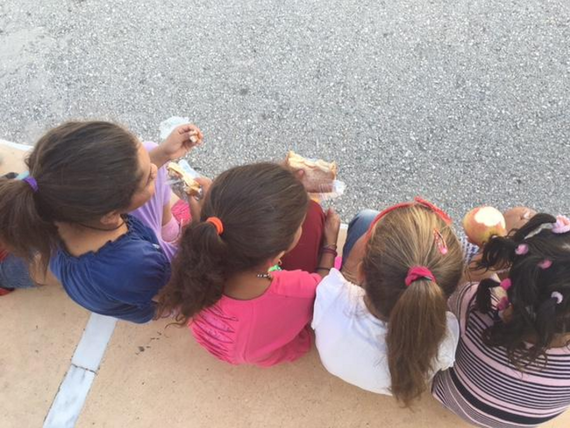 The air was acrid from the smoke of burned garbage. The neighborhood, 30 minutes outside of Athens, was industrial with large factories. The elementary school was surrounded by small, make-shift houses with garbage piled up around them. Small classrooms with bars on its windows surrounded the schoolyard.
I was visiting Greece for a conference, but also to tour Athens and visit the beach.
A friend heard that I was going to Athens and invited me to see a nonprofit program that provides food to hungry kids.
This is the year that I vowed to say "yes" to new experiences, so I said "yes."
It is shortly after 9am, and older students got the boxes of food at the gates of the school and began distributing it each classroom.
The lunch today was sandwiches with whole wheat bread, tomatoes and cheese, and apples.
If you have kids, you know that most kids take a few bites of their lunch, get distracted by play and throw out their lunch.
I watched as these little girls eat all of their sandwiches.
And this was only 9:40am in the morning. The food is served so early because the kids are often hungry - from not having breakfast, or sometimes not having dinner the night before.
The meal may be the only good one the kid has gotten in 24 hrs.
The unemployment and wage cuts in Greece are visible in the hunger among these children.
The food is provided by a nonprofit - DIATROFI, a project of the Institute of Preventive Medicine, Environmental & Occupational Health, Prolepsis.
Run by Professor Linos and her staff of data analysts and researchers, it's a program that has a wall of documentation on its effectiveness - parent surveys for each school, focus group data and nutritional test data. The Program provides free healthy meals to students, while promoting healthy nutrition.
"We feed the kids healthy food and we teach them about health," says Professor Linos, a Harvard-educated physician with a warm smile, tireless energy and abundant love for these kids.
The sandwich bread is healthier than what is available in stores - made fresh with no preservatives. The wrapping of the sandwiches is covered with fun health messages, designed by the nonprofit's health communication and health promotion experts.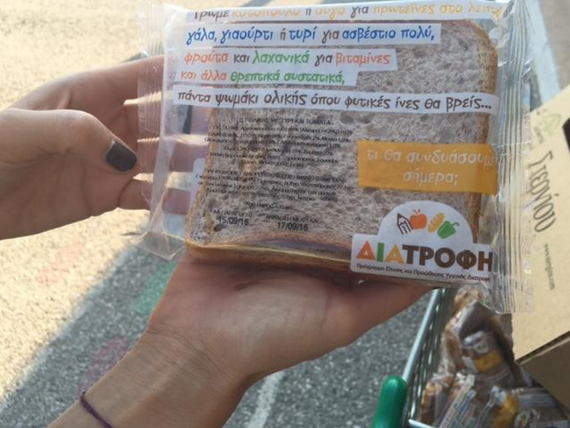 DIATROFI frequently conducts taste tests as well as sending the food to the laboratory to assess their nutritional value.
The apples were selected according to specific criteria by the nonprofit for weight and quality. No bruised apples. No blackened bananas were offered to these kids.
I took a bite of the apple - as crisp and as sweet as those that I get at my farmers market at home.
"We want healthy food to look good and taste good," said Professor Linos "so that the kids develop a habit of eating healthy food."
"Milk, yogurt, bananas, all of these are healthy foods and they are different from what we used to eat," commented one 4th grade student.
Children are eating this morning not just at this school, but at many other schools across Greece. Last year, 246 schools received food. Since 2012, the nonprofit Prolepsis Institute has been designing the food program, nutritional requirements, and managing all the logistics - contracts and management of food suppliers and truck delivery companies - to get the food delivered on time across Greece including on islands such as Crete.
It's not easy to raise money in Greece to feed the poor kids, Dr. Linos told me. Many of the kids needing food are from ethnicities - Syrian or Roma (gypsy) - that are looked down upon. And the ordinary people are also hurting from the economic crisis.
DIATROFI last year fed 20,528 students kids, including refugee children from Syria. This year they have more schools applying for food than they can fund.
I watched these children eat, sitting on the side of the schoolyard. It's such a simple, beautiful moment - to be with these children with big smiles because they are happy to eat.
This turned out to the best part of my trip.
I hope you'll join me and help these children.
Consider making a donation; The Stavros Niarchos Foundation, founding donor of the Program, doubles every amount raised. Every donation counts - 2 dollars could provide one meal to a child. You can learn more about them or make a donation at: http://diatrofi.prolepsis.gr/en/
By Perla Ni, CEO of GreatNonprofits
Support HuffPost
The Stakes Have Never Been Higher
Related
Popular in the Community