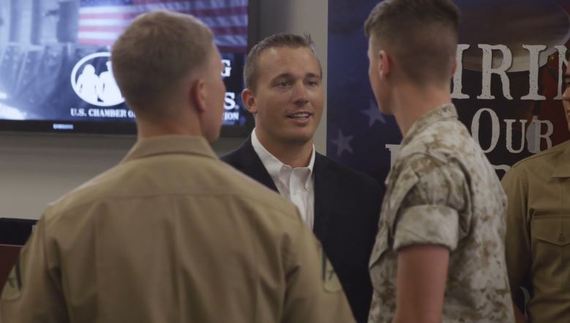 Since 2012, when I first began working with the U.S. Chamber of Commerce Foundation's Hiring Our Heroes initiative and Toyota to advocate for meaningful employment opportunities for veterans, I've spent a lot of time talking about veterans in the workplace. I've attended dozens of hiring fairs, lead workshops and talked to hundreds of employers and thousands of veterans.
The message I set out to share seemed obvious: veterans make great employees -- if only employers knew where to look for them and how to communicate with them about their experience in the military. As both a veteran and a business owner, I know this to be true. Thanks to their military experiences, veterans are resourceful problem solvers and strong leaders. These and many other valuable skills they've gained during service make them assets to companies of all sizes and industries.
However, what I have learned over the years is that not every hiring manager or small-business owner knows what to expect when hiring veterans. Many employers are motivated to hire veterans because it's a patriotic choice and they want to support those who have selflessly served our country. And that's great, because America's all-volunteer force depends on the young men and women who answer the call to serve, something they may be less likely to do if they believe they'll return only to struggle to find a job, or without the skills needed to take the next step in life.
My hope is that employers can begin to appreciate just how much their company stands to benefit from including veterans on their team. Hiring veterans is smart business, with real benefits.
Veterans are problem solvers. No matter how successful your company is, chances are there are times when your team is confronted with new challenges, or looks to find ways to answer old challenges with newer, simpler solutions. Veterans have the background to introduce novel solutions to these problems thanks to their training. The Institute for Veterans and Military Families (IVMF) at Syracuse University found that "military experience, on average, exposes individuals to highly advanced technology and technology training at a rate that is accelerated relative to non-military, age group peers." As a result, when presented with a new challenge or task, veterans typically have a deep pool of training and experience to dip into, for identifying potential solutions.
Veterans are successful leaders. When it comes to cultivating leaders, the military is the standard bearer. Your entire career path, from the day you show up for boot camp, is designed to make you a team player and eventually a team leader. Marines, sailors, soldiers, and airmen are responsible for increasingly larger and more complex programs and units, learning firsthand what works -- and what doesn't -- when it comes to coaxing the best performance out of their troops. And research has shown that these leaders continue to excel in the civilian world. One study found that military officers serve as CEOs of S&P 500 companies at a higher rate than their civilian peers. What's more, those veteran-led companies had higher-than-average returns. Even if you aren't looking for a CEO, it's hard to imagine a company that wouldn't benefit from high-quality leadership at every level of your team.
Veterans are loyal. Virtually every manager knows the frustration of finding, hiring, and training a new employee, only to repeat the process when that new employee leaves for a different opportunity. It's time consuming and costly to re-recruit, re-hire, and re-train a new employee, and it happens in nearly every industry and at every level. Veterans, in particular, are likely to feel a strong sense of professional commitment, and that same IVMF report indicated that commitment leads to reduced turnover -- which means less recruiting, hiring, and training for your organization. Put simply, loyal employees are good for your bottom line, and veterans are a loyal bunch.
Employers, as a veteran I appreciate your interest in hiring my brothers and sisters in arms. But as a business owner myself, I encourage you to not miss out on the opportunity to recruit veteran employees -- your bottom line will thank you for it!
Popular in the Community