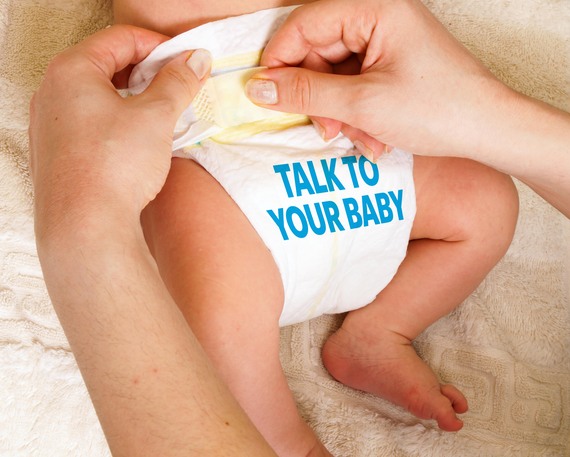 by Michael Feigelson and Marcos Nisti
The baby diaper market -- led by Proctor & Gamble and Kimberly-Clark -- is projected to reach USD 52.2 billion by 2017. As the market grows, so does the investment in technology. In a recent article about the industry, Lauren Coleman Lochner paints a portrait of scientists in lab coats using saline solution to identify 'pee-points' on the quest for a perfect diaper. No leaks, no rash. As fathers, we appreciate this commitment to excellence, but we also have a simple, inexpensive, low-tech request to the CEOs of the leading diaper producers -- help us remember to talk to our babies.
Neuroscientists at the Harvard Center on the Developing Child have found that simple interactions between parents and babies -- like talking and singing -- are critical to strengthening the developing brain. Research indicates that for optimal development, a baby should hear approximately 21,000 words per day (not counting TV and radio). When babies and toddlers are not engaged in consistent verbal interaction, it negatively affects their ability to learn throughout life.
To sleep-deprived parents, 21,000 can sound like an overwhelming number. Thankfully, there are innovators working to give moms and dads the nudge they need to keep the conversation going even in the inevitable moments of exhaustion and frustration.
Providence Talks is one example. The Rhode Island city provides a recording device to families that registers how many words a child hears per day. Families receive data on word count and home visits from social assistance organizations. The data and encouragement helps increase the richness of young children's auditory environment.
In Seattle, the Vroom program has identified hundreds of common events in daily life that -- with thoughtfulness and discipline -- can be transformed into 'brain-building moments.' The program recognizes that parents, especially working parents, are already very busy and aims to help them use available time more effectively. For example, when leaving home with your six-month old, let the kid flip off the lights.
One of the tips given to parents is to talk to their baby when changing a diaper. However, many parents -- even those who have heard and plan to follow this advice -- find themselves silent and single-mindedly focused on the task at hand. According to Princeton University Professor Eldar Shafir, "this gap between intention and action is a familiar policy challenge with desired behaviors often arising due to an insightful, sometimes minor tweak." This represents an opportunity for industry leaders to step in and provide a persuasive and well-placed reminder that can help moms and dads use the diaper changing moment to its full potential.
While the animals and cartoons on most diapers may seem an appropriate motif at first blush, parents are the ones who spend the most time looking at diapers. Therein lies the opportunity -- add a note on the front of the diaper encouraging parents to 'look up' and 'talk to your baby' or to narrate what they are doing as they change the diaper. Small prompts likes these at the moment of the diaper change may be just enough to remind parents that every second, a baby's brain develops 700 new neural connections and that this is a good time to help make those connections stronger.
With just a small tweak (at a low cost) each of the millions of diapers sold in this growing marketplace can help foster healthy brain development among societies' youngest citizens. Just give parents a nudge and we'll do the rest.
Michael Feigelson (@mfeigelson1) is interim executive director for the Bernard Van Leer Foundation, which focuses on early childhood development. He is a member of the World Economic Forum's Global Agenda Council on Behavior, a former Thomas J. Watson fellow and McKinsey & Company consultant, has degrees from Princeton and Wesleyan University, and is the proud new father of a beautiful baby girl.
Marcos Nisti (marcos@alana.org.br) is the CEO of Instituto Alana, which focus on children's rights. He is a partner of a Brazilian health company and a member of the Greenpeace Board, he is a lawyer and economist, pioneer of impact investment in Brazil, and saying farewell to diapers this week with his youngest daughter.
Popular in the Community