While Ted Cruz was happily meeting with home schoolers in Iowa, the residents of the Rio Grande Valley in his home state were getting ready to sign up for health care coverage under the Affordable Care Act. Cruz, a Republican, has been to Iowa four times in the eight months he has been in office but has made one appearance here in the subtropical region along the border. He continues to fight against Obamacare and the expansion of Medicaid in Texas.
But at a public sign-up and educational event at the McAllen Civic Center, almost directly south of Iowa by close to a thousand miles, hundreds of people lined up to see if they qualified for Obamacare. Community organizers brought in dozens of extra navigators from San Antonio to manage the crowd but processing was still expected to take about three hours. Several people turned around and went back to work simply because they could not afford the time.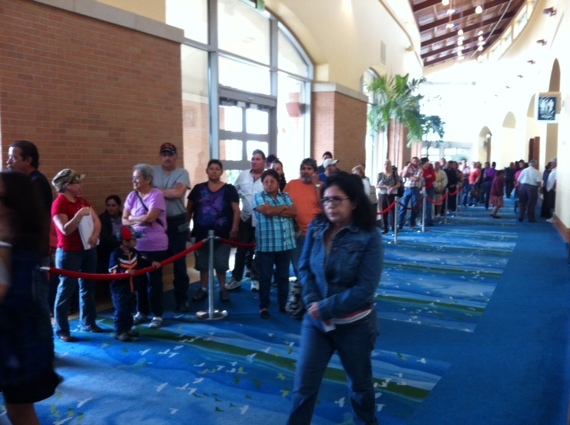 Out the door and around the corner
Although the economy is strong along the border, a significant portion of the population still earns minimum wage and survives on low incomes without health care. A large portion of the 97 percent Hispanic population here falls into the gap on the ACA and Medicaid. They don't earn enough to qualify for the ACA subsidy but they make enough of an income that they cannot get Medicaid. The expansion of Medicaid in Texas, which has been fought by the governor and the GOP, is estimated to insure almost another 3 millions residents.
The turnout at the McAllen event for Get Covered America was not a surprise to director Jim Medrano.
"We expected a tidal wave at the end," he said. "And we got it."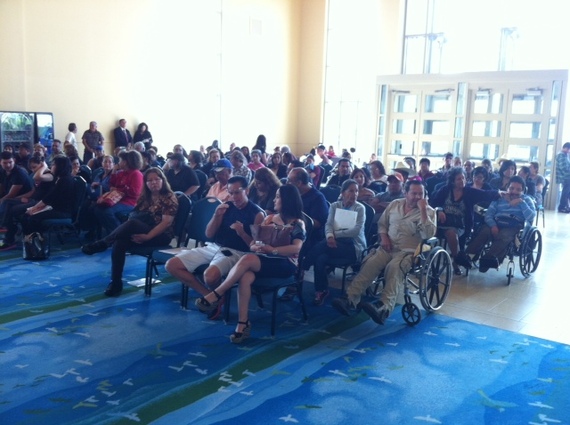 Waiting for ACA signup in McAllen, TX
The senator fighting to make sure Obamacare covers no one, instead of the 5 million who have already signed up, next travels to New Hampshire where he will continue to insist he is not running for president. In his one appearance here on the border as a U.S. senator, Cruz spoke at a country club to a business group. He then went for a photo opportunity at Anzalduas Park near the Rio Grande. A number of community interest groups have urged him to return to get a better understanding of the needs of residents along the border. But Cruz has not accepted the invitation.
He's been too busy not running for president.
Popular in the Community