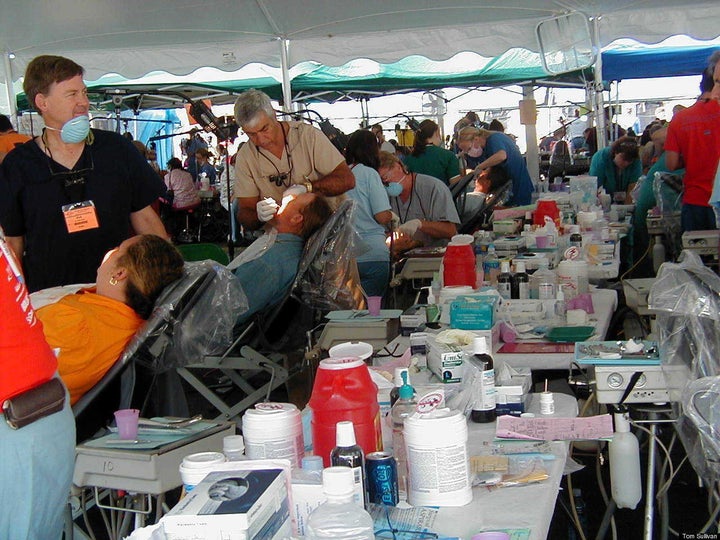 This weekend was the tenth anniversary of Remote Area Medical's free health fair in Wise County, VA. Stan Brock founded Knoxville-based RAM in 1985 to insert mobile medical teams into remote areas of third-world countries. Now over 60 percent of RAM's work is in rural areas of the United States.
More than one thousand people arrived before sunup this Friday or camped out in their vehicles for a chance at health care they cannot afford to buy. Most are the working poor and hail from Virginia, Tennessee, Kentucky and other surrounding states. Cars in the county fairgrounds parking lot held comforters and pillows, sleeping bags and sleeping people.
RAM's event is a county fair without the funnel cakes and cotton candy, but with the long lines and wait times you'd find at Disney World. First-come, first-served. Patients appreciate the help RAM provides more than your average Medicare patient, someone said, because they have invested their time in it.
Private doctors and nurses provide much of the medical manpower, alongside students and faculty from the University of Virginia and Virginia Commonwealth University. Local Lions Clubs help with the eye wear. Churches help with the food. There were 1,800 volunteers in all, about as many as daily patients.
A RAM "expedition" is like a MASH unit, a mobile field hospital with customized trailers, tents and desert-tan, soft-sided huts erected to shelter eye exams and minor surgery. Compressed air hoses snake along the concrete floor in the dental areas. Rows of laptops set up in the animal barn register patients' personal data and print tracking stickers for treatment forms.
Wise is at once inspiring and deeply disturbing. Fifty-six hundred patients received treatment in Wise last year. So many come that some have to be turned away.
Virginia Governor Tim Kaine checked in patients on Friday. He told the Kingsport, TN Times News, "A weekend a year is no substitute for health care reform... this exemplifies the need for health care reform in our nation."
But the reform will not be simple. In the last superpower left standing, thousands without health care wait in line outdoors for hours to get basic medical treatment provided by a volunteer organization intended to service the third world.
A week earlier, at the Cocke County, TN RAM expedition, founderBrock told CNN, "Nothing would please me more than for us to be put out of business here in the United States so that we can concentrate on these places where the need is so, so desperate."
Few Americans will see news from Wise, however. Aside from a couple of wire services and local press, the American mainstream media was largely absent for this year's Wise expedition.
CBS's "60 Minutes" ran a piece on RAM last year. CNN covered a much smaller RAM event the week before. They are done. Thousands of Americans waiting in the Appalachian pre-dawn to have teeth pulled is old news.
Meanwhile, reporters from German television, the BBC, Agence France Presse, RTL TV (Netherlands) and Kristeligt Dagblad (Denmark) sent teams to Wise County to document the spectacle of thousands of Americans getting their health care from a once-a-year field hospital.
When reason no longer persuades and empathy is dismissed as weakness, perhaps it is time for old-fashioned shame.
Another volunteer - an attorney - related this patient story: an older woman examined for new glasses asked if she would be getting them that day. She would. It would be her first new pair of glasses in a decade.
"You mean I'll be able to read my Bible tonight?" she asked. She hadn't been able to read it for years.

Popular in the Community