It's 7:30 PM, three days before the city of Atlanta's biggest game in over a decade, and all around the new Mercedes Benz Stadium and through the streets of downtown, things are quiet. The decorations are all there, a massive concert stage is lit up and ready for Kendrick Lamar, The Chainsmokers, Jason Derulo to perform over the next two days, but the people are gone.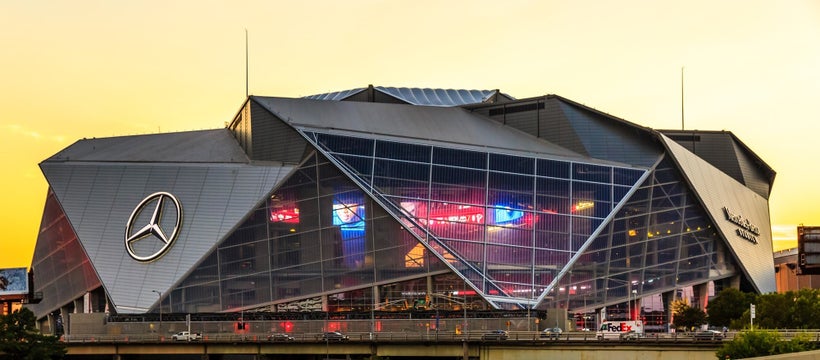 While an all-SEC championship game played in the heart of the South was a best-case scenario for Alabama and UGA fans, it was quite the unfortunate turn of events for those who were dependent on a weekend-long boom in outside visitors. Both universities are within a few hours drive of Atlanta, and large portions of their alumni live within the city itself. As a result, what was originally planned as days long event with travelling fans filling up hotels and bringing life to the city has turned into something much more compact.
The impact was plain to see on Thursday and Friday nights when bars that should have been full of rowdy fans were empty and hotel lobbies that were promised a wave of fans flying into the game were instead dead quiet. In fact, the University of Georgia decided to not even stay in the city of Atlanta for game week. They practiced at their facilities in Athens, bused in for media day, then turned around and went back.
"Absolutely this has had an impact," said one employee of a major downtown hotel. "Everybody wants to drive in and out, nobody wants to stay." And why blame them? Hotels have stuck with their hiked up event prices despite their lack of demand. For most people, a three-hour drive sounds better than a one-night, $800 stay in a hotel – a typical going rate to get anywhere near the stadium.
For those in Atlanta hoping the College Football National Championship would bring a Super Bowl like environment, it was a disappointing week. The hyper-localized nature of it has put an extra sense of indifference through many other parts of the country and sent a scare through ESPN who are well aware of the disappointing ratings the last all-SEC championship game drew. Of course, the blame for that can't entirely be put on the SEC-ness of it all. Georgia played in an already legendary game in Pasadena just one week ago. And Bulldog fans who splurged to see that once-in-a-lifetime event had only a few days to recover before national championship festivities began to kickoff. Contrast that with how the NFL does it, giving two weeks in between its biggest games for maximum exposure and hype, and it's not too hard to see why the revelries of this year's championship have felt more than a little dull.
There have also been a series of extemporaneous events, a certain Atlanta flair if you will, that have impacted this week as well. Cold weather has made any outdoor activity, especially at night, very unappealing. And expected rain and ice on Monday have forced many of the area schools and businesses to close in anticipation of a potential hellscape on the interstate. Not to mention, the President of the United States announced only a few days ago that he will be flying down to view the game in person, which has sent event planners scrambling and added a layer of unpredictability to it all.
Of course, the game this evening may be a classic, or Kendrick Lamar may be give an unforgettable performance in the shadow of the president, and everyone will forget about the malaise of the few days leading up to it. But with 2019 Super Bowl on the horizon, for many Atlanta businesses, it's better luck next year.
REAL LIFE. REAL NEWS. REAL VOICES.
Help us tell more of the stories that matter from voices that too often remain unheard.
This post was published on the now-closed HuffPost Contributor platform. Contributors control their own work and posted freely to our site. If you need to flag this entry as abusive,
send us an email
.