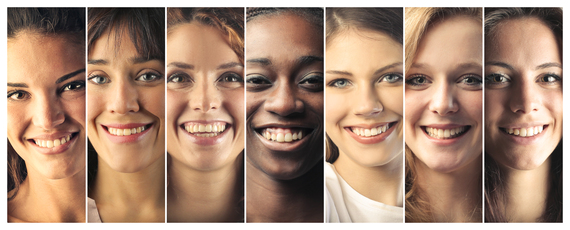 During the second Liberian civil war, it was the women who went to Ghana and sat outside the government buildings until the warring factions came to a peace agreement. It was the women in Iceland who went on strike for a day in 1975 and gained equal rights. Suffragettes coming together in England and the USA won the right for women to vote.
Now women, such as Gloria Steinem and Eve Ensler, are taking leading roles to stop violence against other women. Many admirable women are speaking out to bring much-needed justice around the world on every level.
A United State of Our Minds
Women's issues definitely unite women, bringing them together to solve issues facing women today. Is there something deeper that unites women and also men? Is there a field, or a state, of unity itself?
Every person on this planet has active and quieter levels of the mind. The active surface level is our thoughts, our to-do lists, and our plans. The quieter levels are our feelings and intuition. The content of these different levels of the mind are unique to everyone on this planet. No two people can have all the same thoughts and feelings all the time.
There is a state that exists beyond all thoughts and feelings. It is simply a state of pure silence. The unique attribute of silence is that my silence is the same as your silence. Silence is silence no matter who you are or where you live. Every one of the billions of people on this planet has this state of pure silence within, although every person is a different carrier, or container, of this pure state of silence.
Unified Field of Natural Law
Scientists have documented this state of restful alertness, inner silence, as a major fourth state of consciousness called Transcendental Consciousness, which is different from the waking, dreaming, and sleep states of consciousness. This state can be systematically experienced through the practice of Transcendental Meditation. Maharishi Mahesh Yogi, the founder of Transcendental Meditation, equated this state with the unified field of natural law in quantum physics. Unified field theories locate a single, universal, unified field of intelligence at the basis of all forms and phenomena in the universe. Millions of times more fundamental and more powerful than the nuclear force, the unified field is the ultimate source of the order displayed throughout the vast universe.
It is interesting to note that research shows that the experience of this field of silence creates more orderliness in brain functioning. Neuroscientists have found that during TM practice, the brain produces coherence in high-power alpha waves. This distinct brain pattern corresponds to the state of silence, or inner wakefulness, expansion, and bliss.
When one transcends, even from the first meditation, the alpha waves becomes synchronous. This coherence spreads throughout the brain and is strongest in the pre-frontal cortex -- the seat of your brain's executive judgment.
A coherent brain is a state of unity, a place where everyone can be united on the deepest level of life. When we are coherent and harmonious within, that coherence and unity will naturally spill out into the environment, creating more order and unity in our surroundings.
As women, we are the creators of life and as mothers the main nourisher of our families. Naturally inherent in us is the tendency to be nourishers and uniters of our world family. If women can also meditate together, this nourishing, uniting power will be amplified many times in the environment.
Many published studies show that when one percent of a given population practice Transcendental Meditation in an area the crime rate goes down and other positive trends increase.
Oprah said in the video, " We need to turn struggle into strength." Other women in the video said. "When we do better, then everyone does better." Of course, when we are happier the world around us is better.
We need to create change on every level of life, but the most fundamental and powerful change always comes from the deepest level. All change begins within.
As Michelle Obama said in the video, "we stand stronger when we stand together." We will truly stand stronger when we stand united in our silence within.

Ann Purcell is an author and has been teaching meditation around the world since 1973. In addition, she has worked on curricula and course development for universities and continuing education programs. Her latest book, The Transcendental Meditation Technique and the Journey of Enlightenment was released on March 13, 2015
Support HuffPost
A No-B.S. Guide To Life
Related
Popular in the Community