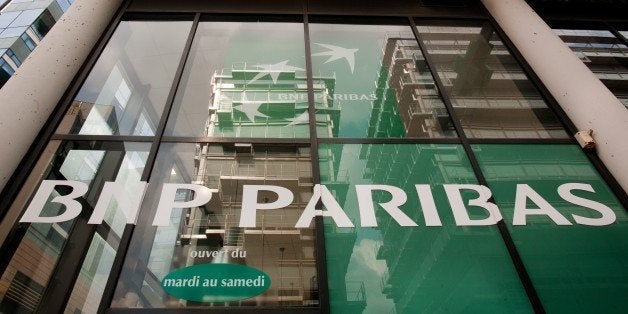 The United States has imposed a record fine on the largest French bank because of its trade relations with Cuba and other countries under U.S. embargo. This is a flagrant violation of international law and the sovereignty of the French nation.
After sanctioning the Credit Suisse bank with a record 2.6 billion dollar fine in May of 2014, the United States now has punished the French bank BNP Paribas with a fine of 9 billion and a temporary withdrawal of its banking license on their territory. Washington accuses the bank of having engaged in dollar transactions -- a currency commonly used in international trade -- with embargoed countries, including Cuba, between 2002 and 2009.
Indeed, Cuba has been the victim of an economic siege by the United States for more than half a century. This is something that affects all sectors of Cuban society, including the most vulnerable population groups, namely children, women and the elderly. In addition to prohibiting all bilateral trade (with rare exceptions) between the Caribbean island and the United States, the economic sanctions imposed in 1960 are also extraterritorial in nature and constitute an obstacle to the development of trade and financial relations between Cuba and the rest of the world.
However, under international law, it is strictly prohibited to apply national legislation extraterritorially. French law does not apply in Germany and Brazilian law does not apply in Argentina. Still, the U.S. legislation on economic sanctions against Cuba (and other embargoed countries) is applied worldwide and thereby affects BNP Paribas.
From the perspective of French legislation as well as international law, BNP Paribas has committed absolutely no irregularity. The financial institution is a French bank and therefore, not subject to U.S. law. The non-extraterritoriality of laws is a fundamental principle of international law. U.S. legislation may only be applied within that country and cannot cross borders. Moreover, the transactions challenged by Washington took place in subsidiaries of the BNP Paribas in Europe, not in the United States.
Christian Noyer, Governor of the Bank of France, was clear about this: "We have verified that all of the transactions at issue complied with the rules, laws and regulations at both the European and French levels." There has been "no contravention" by BNP Paribas "of these rules nor, indeed, of the rules established by the United Nations." (1)
BNP Paribas has already been forced to lay off several officials involved in these transactions, viewed as contentious from the perspective of U.S. authorities, and has pleaded guilty, even though no fault was committed. (2)
On this subject, the official position of France is extremely disturbing. Indeed, instead of defending the interests of a large company that has committed no crime in the eyes of national legislation and international law, the government of President François Hollande has implicitly accepted the United States perspective by recognizing the "offense" and merely denouncing the "disproportionate nature of the proposed sanctions." Thus, rather than defending national sovereignty and condemning the illegal extraterritorial application of U.S. law against the fundamental interests of the French nation, Paris is reduced to pleading for a less severe punishment. By meekly complying to Washington's injunctions France has renounced its independence and permanently tarnished its image on the international scene. (3)
Translated from the French by Larry R. Oberg.
__________________
Doctor of Iberian Studies and Latin American University Paris IV-Sorbonne, Salim Lamrani is a lecturer at the University of La Réunion, and journalist specializing in relations between Cuba and the United States. His latest book is The Economic War Against Cuba, New York, Monthly Review Press, 2013; prologue by Wayne S. Smith, Forword by Paul Estrade and translated by Larry R. Oberg.
Contact : lamranisalim@yahoo.fr ; Salim.Lamrani@univ-reunion.fr
Facebook Page: https://www.facebook.com/SalimLamraniOfficiel
Calling all HuffPost superfans!
Sign up for membership to become a founding member and help shape HuffPost's next chapter