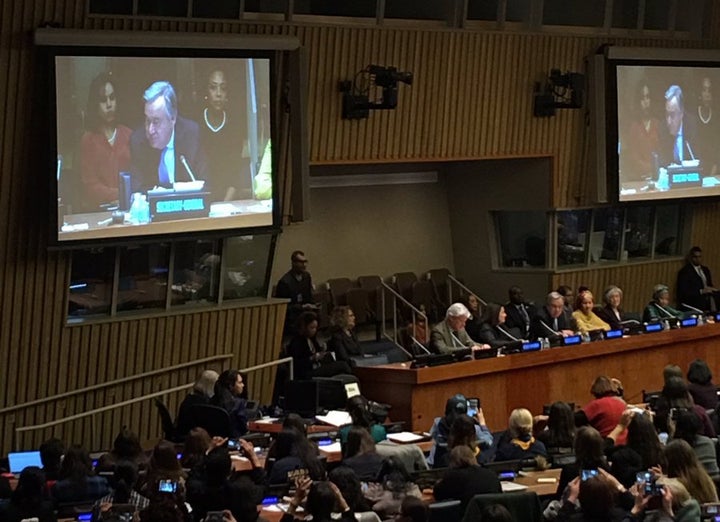 This year, gender equality advocates who traveled to New York from all around the world to take part in the Commission on the Status of Women (CSW) at the United Nations found themselves confronted by an attack against the very credo of what CSW stands for. The United States Mission to the United Nations had selected a hate group as a civil society representative of its delegation to CSW. The Center for Family and Human Rights (C-FAM) has been classified as a hate group for its violent rhetoric and its anti-LGBTQI (Lesbian, Gay, Bisexual, Transgender, Queer, and Intersex) advocacy by the Southern Poverty Law Center, an organization that monitors hate groups and other extremists throughout the United States.
While the global gender equality movement is not surprised that this is the next step of an administration that clearly doesn't believe in our collective agenda of equal rights for all (just look at the administration's curtailing of sexual and reproductive rights, the budget, travel bans, and the institutionalization of racist and misogynist agendas), this latest move to include a hate group in the official United States delegation to CSW adds insult to injury.
First, it is an insult to the very values the Commission on the Status of Women stands for. CSW is the principal body dedicated to the promotion of gender equality and the empowerment of women and has been instrumental in promoting not just women's rights but also global standards on gender equality for all. The United Nations is often criticized as a place full of contradictions. A place where member states that violate human rights on a daily basis can, within the U.N.'s walls, claim to support peace and justice. But CSW is different; it has become more than just a sterile mechanism. It is the biggest gathering of women's rights advocates and offers the unique chance for civil society organizations to truly engage with governments, U.N. agencies, and other groups to keep the collective goal of equality and women's empowerment on the global agenda. For the United States to officially bring a representative of an organization opposed to the most fundamental human rights and that sees homosexuality as a "threat to public health and morals" betrays not just its past support for human rights and LGBTQI rights in particular, but to the very role of the Commission, of ensuring gender equality for all.
Second, it is an insult to this country's leadership on defending human rights for all. In 2011, President Obama ordered U.S. agencies to promote LGBT rights in their implementation of U.S. Foreign Policy. On International Human Rights Day in December 2011, then Secretary of State Hillary Clinton proclaimed "gay rights are human rights" in Geneva. USAID launched the LGBTQI Global Development Partnership in 2013, and the Obama administration cut aid to Uganda when it passed an Anti-Homosexuality Act into law. The current administration is tasked to implement past commitments this country has made, including the United Nations' Sustainable Development Goals, that call for equal rights for all. Goal 5 on gender equality and women's empowerment, calls for the end of violence and discrimination against all women, whatever their sexual orientation or gender identity. U.S. Ambassador to the U.N. Nikki Haley stated in her Senate confirmation hearing earlier this year, "I will be a strong voice for American principles and American interests," but Haley has failed to represent American principles and commitments to human rights by including a hate group in the U.S.' delegation to CSW.
Last but not least, it is an insult to the advocates who risk their lives every day to ensure LGBTQI people can live free of persecution, abuse, discrimination, and criminalization. It is an insult to the global women's rights movement that has taken on the struggle of equality for all, regardless of a person's sexual orientation or gender identity. It is an insult to the memory of all those who have been murdered because they were considered "sick" or "illegal" by governments, communities, and sometimes even their own families, whether on the streets of Mosul, Iraq, or Burlington, Iowa.
Insulting as it is, gender equality advocates respond to insult by doing what they do best: continuing the fight. Over the next four years, we will work very hard to ensure that the Commission on the Status of Women remains an institution that celebrates gender equality and rights for all, and that anti-LGBTQI rhetoric is denied its legitimacy. The U.S. government has severed the very last ounce of trust it could claim with development actors and the women's rights and gender equality community.
But the fight for equality and rights for all continues. With or without the help of the U.S. government.
Calling all HuffPost superfans!
Sign up for membership to become a founding member and help shape HuffPost's next chapter